______________________________________________________________
Enter your T-Bird photo for the BATOC calendar  
**CLICK HERE**
your car and it's story, shot in a beautiful or meaningful location anywhere in the world.
 ************************************
******************************************
PREZ MESS
WELL….I GUESS IT'S OFFICIAL
We are now officially a "Virtual" club by joining the digital age with our first official "Zoom" meeting in December. It really was less of meeting and more of a Christmas Cocktail Hour, but it was very successful and quite fun. We actually had almost as many people in the Zoom meeting as we have in our normal In-Person meetings. So…way to go people…and let's make this a monthly event and make 2021 great fun.
Watch your emails for our Zoom meeting invitation and be sure to join the next BATOC meeting on Sunday, January 10
th

at 4:00 PM. And, for the foreseeable future we will pencil in the second Sunday of each month for our 4:00 PM Zoom Cocktail Hour.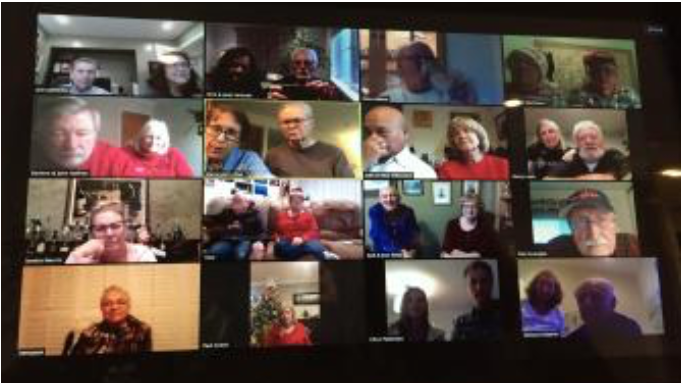 In other news, this year's BATOC calendar has shipped and has been a great success. We actually sold out of our initial order and had to order more to keep up with the demand. And here is my official Thank You to CTCI for making good on their promises and their efforts to promote the calendar after our ad was mistakenly left out of the December "Early Bird". Thank You CTCI. We shipped all the calendars on 12/11 and even though the USPS took their ever-loving time delivering it (in fact, some people have not received them yet) we are very happy with this year's effort. Thanks to EVERYONE who made it happen. If you have not ordered yours yet, get with it and order yours on the BATOC web site.
I also want to announce the nomination and acceptance of Jim and Maria Guthrie as official "Lifetime Members" of BATOC. This is an honor bestowed on very few members who have consistently contributed unlimited time and dedication to the well-being of the club both physically (leadership roles) and energetically as "pillars" of enthusiasm. Jim & Maria join our 4 other "Lifetime Members" including our founding members Skip Riggs and Lew & Faye Edwards, Don & Ann Gregory and myself. Congratulations to Jim & Maria.
And finally. Our annual charity donation of $500.00 ($250.00 loose change collection & $250.00 matching club funds) was voted on by the membership and made officially to the Food Bank of Contra Costa & Solano County. We are happy to make this donation and help individuals and families in need in our area. Thank You to everyone for contributing.
Here's to 2021. Happy New Year!
Dave
*****************************************
Already a member?  Plan an event.