History
BATOC was America's first Thunderbird club, founded in 1958 in Oakland, Ca. by Skip Riggs, the clubs first President.  Skip remains an important and valuable member to this day.
skip and jane 1950s
 

Our first meetings were held at a Ford Dealership.  In the subsequent early years, our monthly meeting place changed from restaurant to restaurant until we finally settled for several years at Art's Restaurant on Broadway in downtown Oakland.
In the mid-80's we moved to the Days Inn in Emeryville and in 1997 moved to our current location at the Buttercup Grill in Walnut Creek, Ca.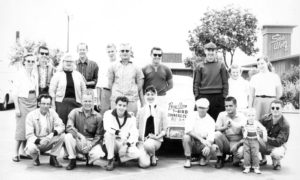 First group Photo 1950s
COME JOIN US
Our meetings are held on the second Saturday of each month* at the Buttercup Grill in Walnut Creek, Ca. to keep our members informed about upcoming club events and items of Thunderbird and club interest.
They also give everyone an opportunity to gather, meet, talk and socialize. This, of course, is a big part of any club and while we do talk cars from time to time, our meetings are social in nature and intended for the whole family.
This is also a perfect opportunity for us all to meet new friends and for prospective members to see what our club is all about.
*Because of our Christmas celebration, there may not be a regular meeting in December.
For more information or answers to any of your questions contact Dave at davehome@sbcglobal.net. Check out the contacts page for more information.
BATOC is a proud member of
Classic Thunderbird Club International