Pardon the INCOMPLETENESS.  This page is still under construction
Thanks for looking at our awesome BATOCWARE!
How to order:
Please  email Lisa Brill-Nadler and tell her what you want.  She will reply by email.
If it's in stock she will bring it to the next meeting.  If not, you may need to pre-pay. She will reply with the next steps.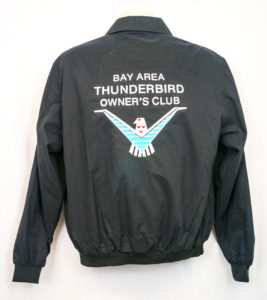 BATOC standard Show Your Pride eventware
The front is personalized for you with your name and a t-bird embroidered of the year of your car and in your car's color
100% polyester woven shell bonded to a water-resistant film insert and a 100% polyester microfleece lining
BATOC Duffel Bag   $35.00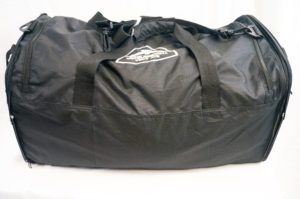 Port Authority Duffle Bag
Carry your BATOC event paraphernalia in style
BATOC Tote Bag   $20.00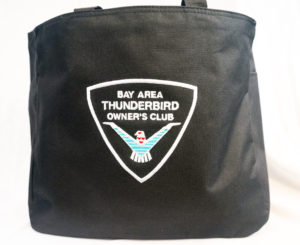 The essential bag for every event from Port Authority.
BATOC Polos  $35.00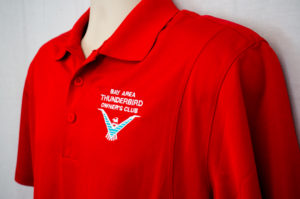 A BATOC polo for every pony under the hood might not be necessary …but maybe.
Available in Black, White and Red
BATOC Long Sleeve T-Shirts   SALE! $18.00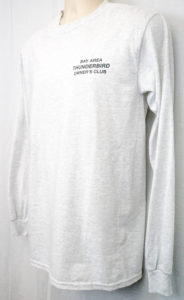 This is a limited edition shirt
Small and XL still available
Gildan "Ultra Cotton"
Grey only
BATOC T-shirts   $18.00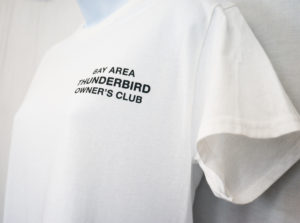 Been there, Done that.  For sure!
So,  …where is your T-Shirt?
Right here, the "must have-est" of all BATOCware
Gildan "Ultra Cotton" (ultra comfy)
Available in grey and white (shown)
BATOC Zipper Hoodie   $45.00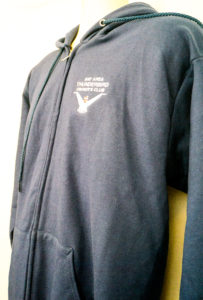 Oh So Comfy
The BATOC Hoodie Zipper Sweatshirt will be your go-to for Bay Area activities.
Chilly morning, Easy on.
Sunny afternoon, easy off.
From PORT and Company's ultimate collection
50% cotton / 50% polyester
100% great
BATOC Sweatshirt $35.00
Pictures coming soon
BATOC Caps   $20.00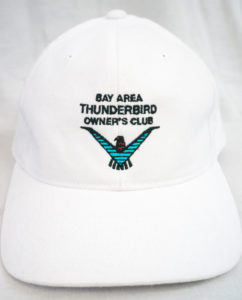 Stay Top-Down T-Bird Cool in the California sun with black or white all cotton baseball caps sporting the "original T-bird club"'s logo.
"The Classics" from Yupoong
100% Cotton