Recent events
*******************
February
2020 Super Bowl Party – (Guthrie)
Sunday February 2nd
All Super Bowl Pictures Click Here
Wow, the Guthries did it again.  These parties just keep getting bigger and better.  WE nominate the Guthries "worlds best hosts".  (if they had just arranged a 49ers win, it certainly would have been awarded without contention, now some little thing the Queen of England did might be serious competition) Let's see, there were great friends, food, great friends, more food, great friends, what am I forgetting?  Ah, football and alcohol, great friends, food…  You get the idea.
All seriousness aside,  what a wonderful day it was.  Even the final score couldn't couldn't dampen the spirit the Guthries instilled.  Thank you Maria and Jim!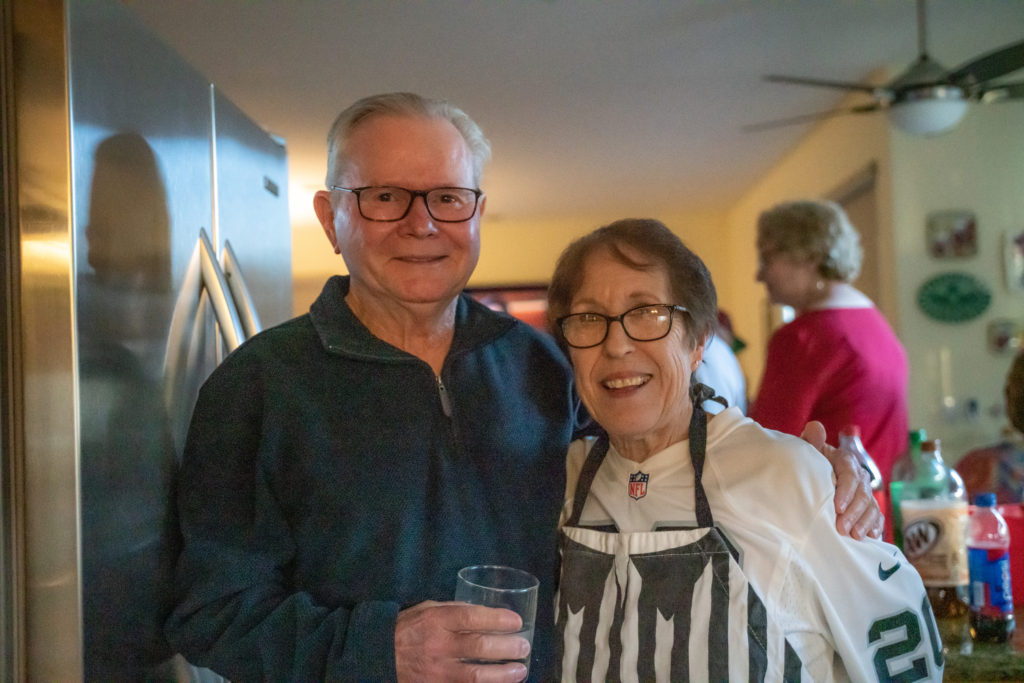 Our Hosts, Jim and Maria
*******************
January
Presidents 2020 Mystery Tour – Escape Room (Adams)
Saturday January 11th
All Mystery Tour pictures Click Here
A BIG SHOUT OF THANKS TO DAVE AND SUSAN FOR THE MOST AWESOMEST OF TIMES!!     
The mystery was unveiled and we got more than we bargained for.   Some of us were taken by terrorists and jailed, some to a carnival, some to a Casino with no way out until we broke the bank. We had to foil the curse of Rumpelstiltskin, and we had to investigate a Chicago murder.  All of us were locked up!
Sadly we cannot show you pictures of our ordeals as the missions were all classified.   We are able to report that, while only one group was able to escape, all were rescued and no PTSD symptoms have surfaced as of this time,  perhaps due in large part to a liberal slather of libations, smoked meats and musical fruits immediately after the trauma.
Sadly, the musical fruit was too late for our illustrious leader who lacked the gas to reach the enchanted house of Smoke and Musical fruit (aka Back 40 BBQ) and had to be rescued for the second time that day.
Still, some photographic evidence is available prior to our lockup and after subsequent rescues and escapes.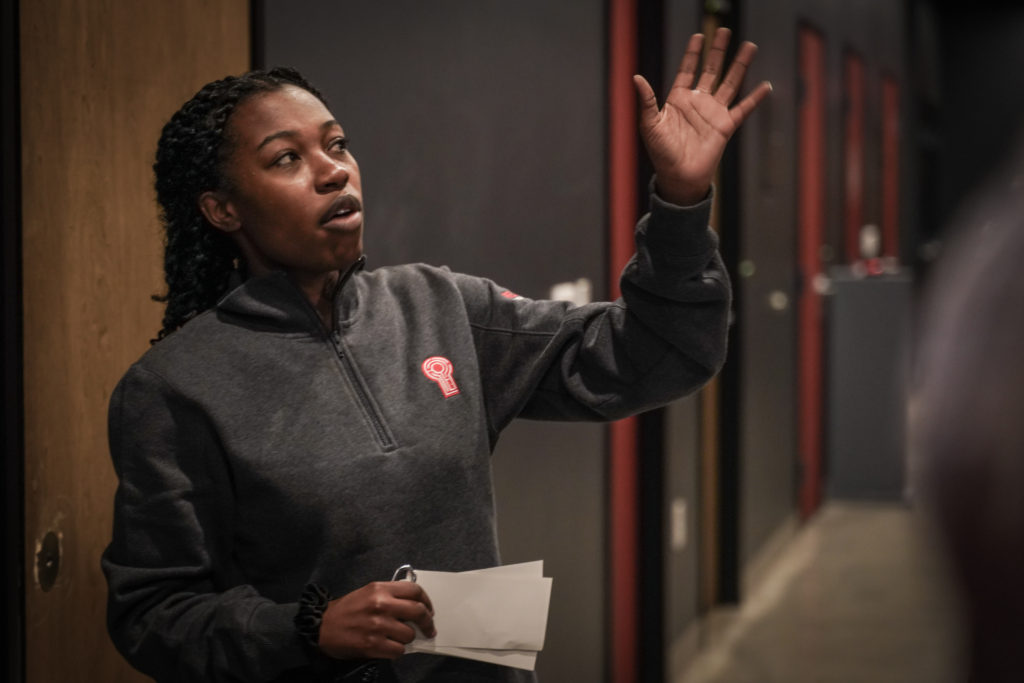 no
(Notice this sign is slightly different from the others)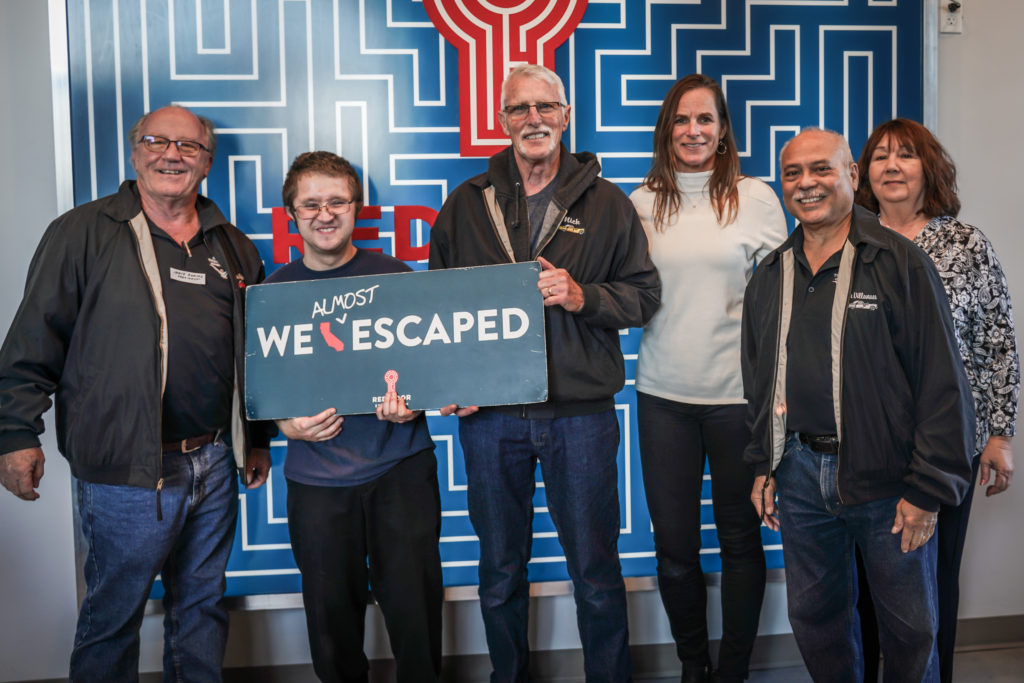 *******************
December
*******************
BATOC Holiday Party (Booth)
Sunday December 8th
To the many people who attended, I hope you had as much fun at the party as we did!  To Janet and all who helped her,  thank you so much for putting on such a wonderful event.
*******************
November
*******************
BATOC Cobra Experience and Cars and Coffee
SUNDAY, NOVEMBER 17TH
More Cobra Experience Pictures here
We had a grand time today, watching the museum great multimedia movie about Shelby, browsing the museum and later, lunch at the behind the plate musium.   It has been a Carroll Shelby weekend for us!
from their website:
"Unique to our museum is the 7.2 surround sound HD film not only about the cars themselves, but about the Ford and Shelby American story.  The ultimate goal is to educate you on the unbelievable accomplishments of Ford and Shelby American during the 1960's.  They started with nothing and won every major race including Le Mans in the GT class in 1964, and FOUR times in a row over-all from 1966-1969, for a total of FIVE times!  It is such a great part of racing history and this legacy must be told!"

*******************
Lunch and a Movie – FORD v FERRARI
SATURDAY NOVEMBER 16TH  (JUST IN TIME TO PUMP YOU UP FOR THE COBRA EXPERIENCE)
More Ford vs Ferrari pictures HERE
Flyer: Lunch and a Movie
directions to The Rebel Kitchen Click here
directions to Livermore theater Click here
Rebel Kitchen Menu Click here
Times and details to follow.
Ford vs Ferrari flyer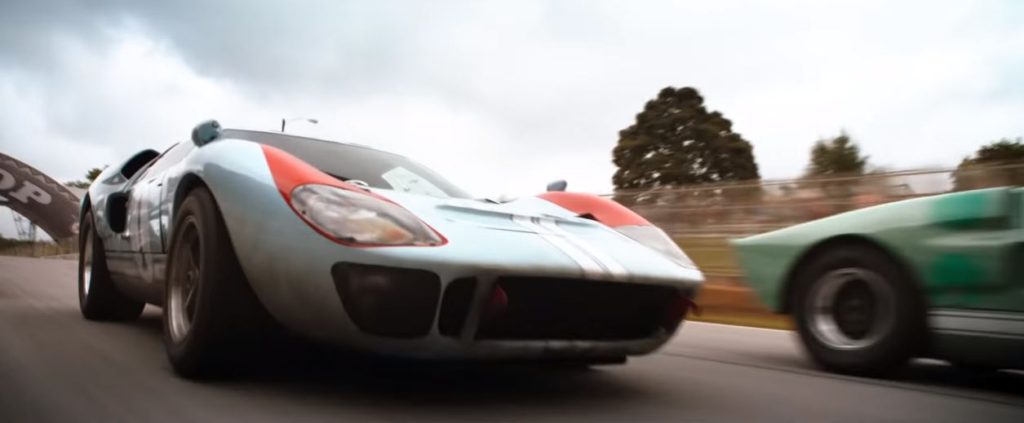 THIS IS THE STORY OF CAROL SHELBY'S FIGHT TO BUILD THE FORD MK IV AND RUN IT AGAINST FERRARI AT LE MANS IN 1966.
12 NOON: PARKING AT THE REBEL KITCHEN ACROSS FROM THE THEATER AND A VERY TASTY LUNCH.
Check out the menu attached. Parking for everyone in the small lot beside the restaurant, and they will hold the spaces in front of the restaurant for us too (first come first serve on the front)
2:30 PM: FOLLOWED BY THE FORD V FERRARI MOVIE AT THE LIVERMORE THEATER.  TICKETS ARE $8.50 EACH FOR THIS EVENT
5:00 PM: THEN, FOR THOSE WHO WANT TO CHAT, BACK ACROSS THE STREET TO REBEL TO DISCUSS HOW ARROGANT THOSE FERRARI PEOPLE ARE AND HOW COOL THE FORD PEOPLE ARE.  (WELL, AT LEAST SHELBY).

Lunch with Central Coast Classy Birds, San Luis Obispo
Saturday November 2nd 
BATOC was not able to attend this year 🙁   See you next year!
Time: 11:30 am
Lunch consists of: B.B. Q. Tri-Tip & Chicken or Vegetarian including Salad,
beverage, dessert,
Tax/Tip $27 per person.
JOIN US FOR ANOTHER GREAT TIME WITH THE CCCB CLUB IN SAN LUIS OBISPO.  WE ARE STILL WORKING OUT THE DETAILS, BUT SOME SPECIAL HURST CASTLE TOURS ARE IN THE WORKS.  
*******************
*******************
October
*******************
Thunderbird Migration – Alameda CA
SATURDAY, OCTOBER 19, 2019
Great event by the Northern California Vintage Thunderbird Classic Thunderbird Club. We all had a great time at event, the birds were beautiful and prolific.  The venue was fun, the people were awesome.
BATOC took home the 55-57 award.  I hear the Guthries are expanding their garage to hold this years awards. 🙂
All Migration pictures click here

T-Birds on the wharf – Santa Cruz CA
SATURDAY, OCTOBER 5, 2019
Great Show this year.  Thanks to the Monterey Bay Classic Thunderbird Club for putting on this great fundraser and to all the participants who make it great.
BATOC took home three awards with their beautiful cars
Dave Adams presented a $250 check from the club for the Partnership for Children.
Nick & Judy Verhoek 1955
Michael & Stella Ohayon retro (Mike and Stella ran off to make out on the beach and were not around to receive their award so don't look for a picture)
Jim & Maria Guthrie 1957
SPONSORED BY MONTEREY BAY CLASSIC T-BIRD CLUB
*******************
September
*******************
Ironstone Concours d'elegance – Murphys, CA
FRIDAY September 27th THRU SUNDAY september 29TH, 2019

*******************
August
*******************
Hearst Castle Weekend – San Luis Obispo, CA
FRIDAY AUGUST 23RD THRU SUNDAY AUGUST 25TH, 2019
Directions: To San Luis Obispo
A great time was had by all!   Details to follow.
Progressive Dinner Party #3
Saturday, august 3rd
All Progressive Dinner Party Pictures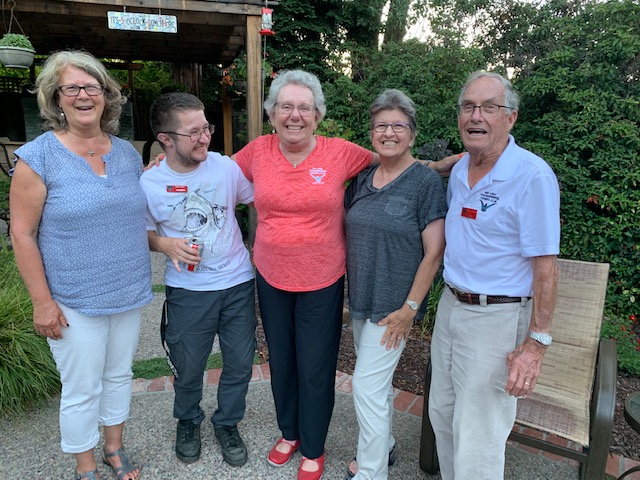 *******************
July
*******************
Hot Summer Sundays #1
Sunday, July 21st Downtown Danville
*******************
June
*******************
BATOC 61st Anniversary Party and Murder Mystery
SATURDAY, JUNE 22 BEEB'S SPORTS BAR & GRILL, LAS POSITAS GOLF COURSE, 915 CLUBHOUSE DR, LIVERMORE, CA 94551

This year's mystery theater was a 50's Sock Hop theme.
All the 2019 Murder Mystery pictures here
As you may recall, last year the Murder Mystery company had to make a new award.  We were the first ever to receive the "You Got Away With Murder" Award, as no one guessed the killer.  As Karma has a way of catching up with us, we discovered a Serial Killer in our midst.   Roger Canfield was discovered to be this years killer, and as we learned too late last year, he was also responsible for that murder.  Due to the double family feud laws (or is it double jeopardy?) he cannot be re-tried, but we know the truth.
Mystery Website: The Murder Mystery Company
Directions: Beebs at Las Positas Golf Course
*******************
May
*******************
CTCI Western Classic Roundup
Flagstaff, AZ
Wednesday, May 15 through Sunday, May 19

CTCI Convention Report
by Kathy and Tony Lloyd
We departed for Flagstaff on Sunday, May 12th (Mother's Day). We sent the first night in Needles, CA. After breakfast, we hit the road once again arriving in Flagstaff around 4 pm. We checked into Little America and got settled in. Tuesday we were on our own and we did a little exploring on our own. we also checked in for the convention. On Wednesday, May 15 Kathy took the bus trip to Sedona and had fun exploring all the little shops. Tony stayed behind and
washed the car. On Thursday, May 16 it was time to get serious putting the final touches on the car. We once again entered the Touring class. I leaned on the car for four hours and was quite pleased at how the little bird looked. We went back to our room to clean up for the Welcome Party. Tony was having a little problem with his mobility and I was lucky the hotel had a wheelchair that we could use. We got to the welcome party a little early a I wanted to be sure we got a seat. Tony was not doing well and a member of the Arizona Classic Thunderbird Club who is also a Nurse Practitioner told Tony he was suffering from Altitude Sickness. We left the party early as I had to tuck him into bed for a night of good night sleep. I left Tony in bed on Friday morning and proceeded to the judging. After the car was judged there were no other activities for me to participate in so I made my way back to our room as I was feeling a little tired. We both took afternoon naps. That evening was the Western BBQ which featured hamburgers, chicken, sausage, numerous salads plus dessert.
I was not feeling very hungry. After dinner, we were on our way back to our room when I had to step outside for fresh air. Unfortunately, I ended up getting sick. This time it was Kathy's turn to be tucked in bed. Unfortunately, I ended up getting sick. This time it was Kathy's turn to be tucked in bed. On Saturday, May 18 I told Tony that I really felt awful and we missed the driving tour and found our way to the local hospital. We were both diagnosed with altitude sickness. Kathy was a little worse than Tony. After promising we were going to leave Flagstaff, the Doctor finally released us. We got back to the hotel where the banquet was
just getting started. We took third place in our touring class. First thing Sunday morning we packed up the car for the trip home. We made it to Barstow, CA and settled in at the Hampton Inn. Monday morning we were back on the road and made it to Bakersfield where we stopped for gas. Tony was not able to get the car started as the starter took a crap. I found a 2014 copy on the CTCI Roster in the trunk and started calling anyone I could find in Bakersfield to answer
the phone. That's when we found our guardian angels, Michael and Kathi Parks. This was around noon. Michael had what was necessary to get the starter removed. He took Tony to a rebuilder. Kathi kept Kathy company. Thanks to their help the car was fixed and we were once again on the road home. The one thing we learned this trip is we do not do well in altitude. We do best at sea level.
***************************
Cinco de Mayo
Well, there wasn't much planned in May, so we had an impromptu gathering on Cinco de Mayo weekend. This group is always ready to party! We met at Mexico Lindo Restaurant in Pleasanton and had a delicious dinner of Margaritas, Chips, and various Mexican specialties. It was a fun evening.
*******************
APRIL
*******************
BATOC Whale Watching Trip
Sunday, April 14, 2019 All Day – Moss Landing, CA
Great time, Great food, BIG whales.
What a day on the water.  "The High Spirits", operated by Blue Ocean Whale Watch, and Captain Kate Cummingsteated us like the royalty that Kim Dixon actually is.
Kim set us the most fantastic day ever.   A school of dolphins running formation, seals, and whales all over.  Top it off with an outstanding meal at Phil's fish house and you get a day to remember.
*******************
March
*******************
Oakland Aviation Museum takes the little birds under their wings
Sunday, March 17th 10:00 AM to 4:00 PM – Oakland, CA
Directions: 8252 Earhart Rd, Oakland, CA 94621
See all the pictures from this event.  Click here
NorCal Vintage Thunderbird Club invited BATOC to take part in a great event, the Open Cockpit Day at the Oakland Air Museum. Nick Verhoek organized a fun and (don't tell anyone) educational day at the OAM,  We ate and explored and chatted and bought bargain books.  Some of us even got to play Indiana Jones on the flying boat "City of Cardiff" that appeared in Raiders of the Lost Ark movie.  As you can see in the pictures, the guys are nearly indistinguishable from Harrison in our sexy handsomeness. (eat your heart our Blake Shelton).
The museum had a truly great event.  The Friends of Ken Band. played some great music.  The folks loved the old birds and planes (not us) and fun was had by all.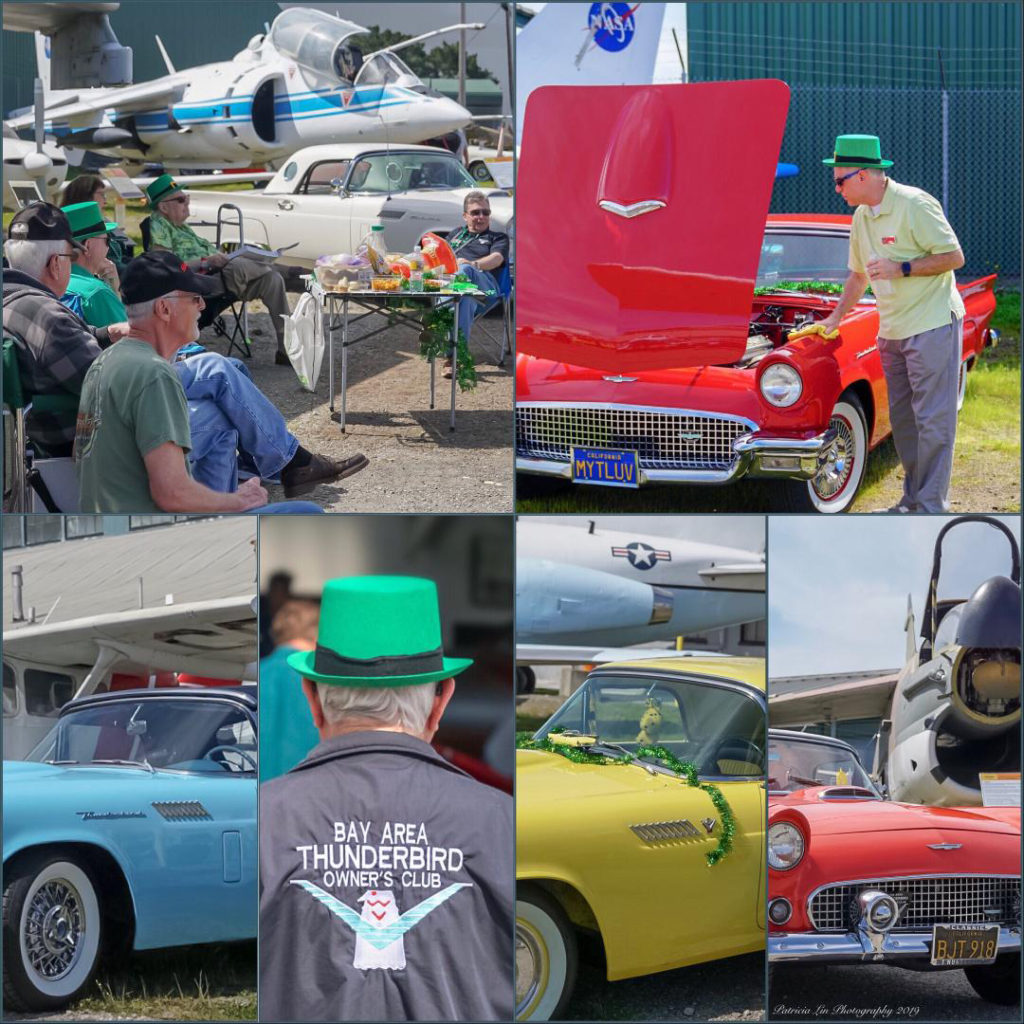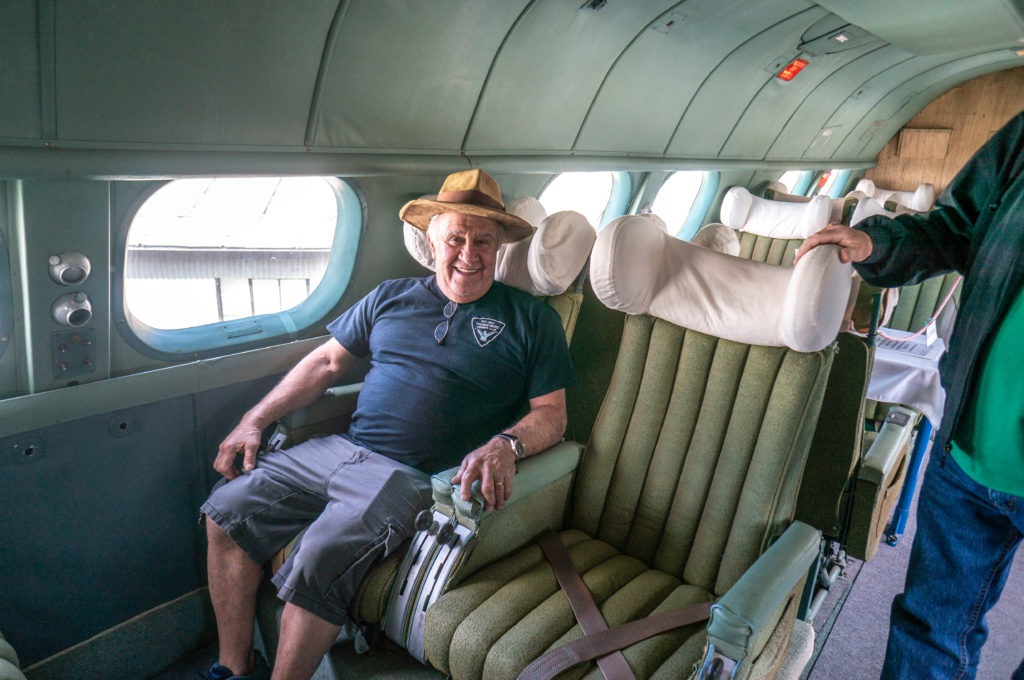 ---
FOOD
A food vendor and eating area will be set up so you can spend the day and have lunch.
Open Cockpit Day invites museum visitors to sit in various aircraft.
Santa Clara Masonic Lodge will off refreshments for purchase.
St Patrick's Day Fun Lunch at First Street Alehouse
First Street Ale House in Livermore
Saturday, March 16th 12 Noon to 2 PM
Small group, big fun.  We had a great time with our friends at the Alehouse.

*******************
Bowling for Fun
MARCH 9TH, DIRECTLY AFTER THE MEETING
Granada Bowl, 1620 Railroad Ave, Livermore (directions)
Dinner afterward at Castle Rock Restaurant, then desert at the Guthrie's
A fun-filled day planned by Maria and Jim Guthrie
See all the pictures: 2019 bowling for fun pictures
STRIKE, SPARE, OR GUTTER BALL
NO MATTER YOUR SKILL – THERE was FUN FOR EVERYONE!

*******************
February
*******************
SuperBowl LIII
Sun. February 3, 2019
Flyer; 2019Super Bowl
Another great Super Bowl Party at Guthrie's home.  Next year, we watch the game too!  Super Bowl Sunday – Record Setting Victory
Maria and Jim Guthrie threw their annual Super Bowl bash. There was a tremendous turnout with wonderful goodies and fun times for all. Well, you have to hand it to Brady, Belichick and the Patriots – they are a true dynasty. Brady is now the oldest quarterback to win a Super Bowl, and Belichick is the oldest coach to win one. They are a great team. The LA Rams didn't quite have it this year, but being such a young team, we will probably be seeing a lot more of them in the future. We enjoyed celebrating Tony Lloyd's and Maria Guthrie's birthdays as well. Thanks to the Guthrie's for making it a wonderful day!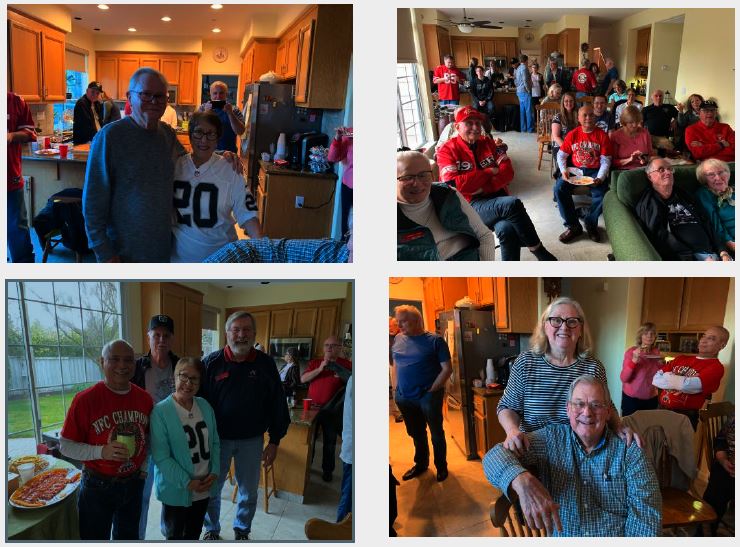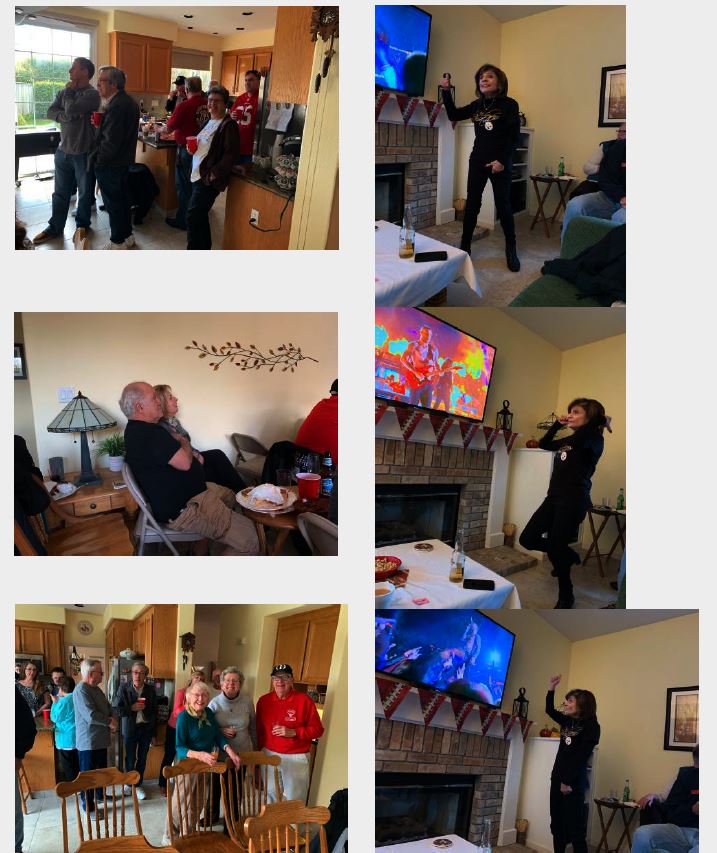 *******************
January
*******************
Presidents Mystery Tour
SAT. JANUARY 19, 2019
Flyer: Mystery tour 2019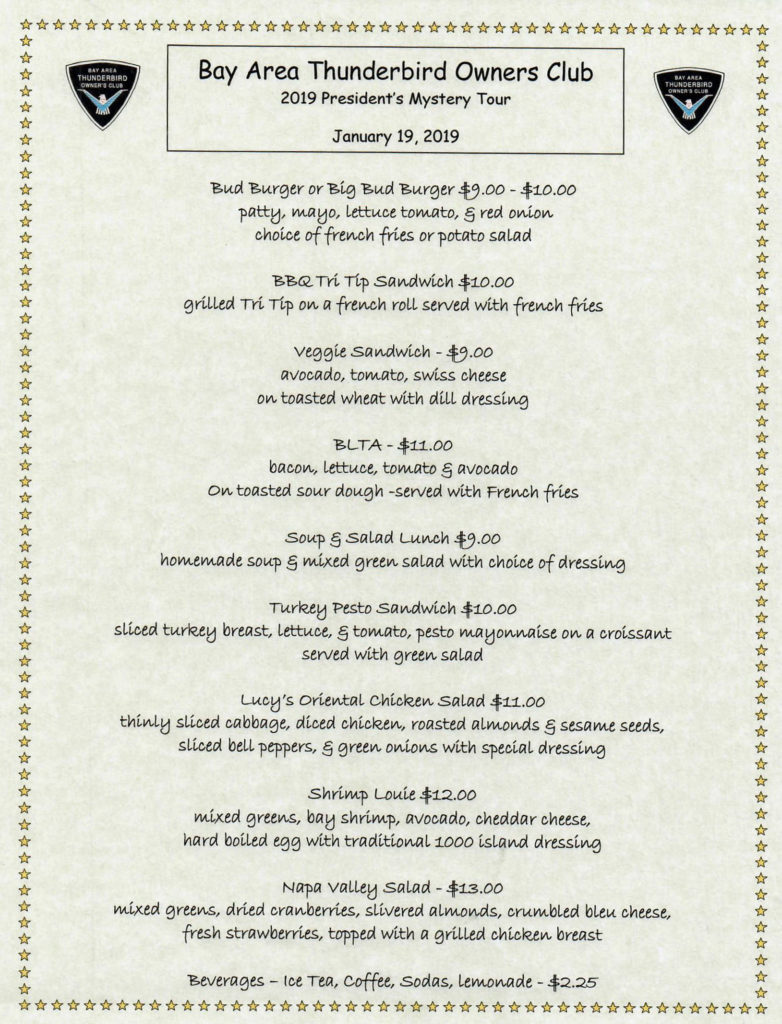 THE FIRST BATOC CRUISE OF 2019, WE CARAVANed THROUGH SOME NEW BACK ROADS TO WIND OUR WAY THROUGH FARM COUNTRY AND LEARN THE REAL MEANING OF FARM TO TABLE AT THE CALIFORNIA AGRICULTURE MUSEUM IN WOODLAND. A FABULOUS COLLECTION OF TRULY AMAZING VEHICLES FROM TRACTORS AND HAY SQUEEZERS TO PLOWS, DOZERS, STEAM ENGINES, AND ANTIQUE BUSES. EVERYTHING THAT GOT IT FROM FARM TO TABLE…..IN THE GOOD OLD DAYS.
AND THEN, OF COURSE, WE had A FABULOUS AFTERNOON LUNCH FROM THE FARMS OF NORTHERN CALIFORNIA IN OUR DESTINATION TOWN OF WINTERS at Bud's Pub & Grill who even made us a custom menu.  Bud, you have been holding out on us!


*******************
December
*******************
Dec 14 – BATOC Holiday Party  Phil and Vi / Kathy
201812 – Christmas Party flyer
Directions: Zeo Fraedo's, 611 Gregory Ln, Pleasant Hill, CA .
The Christmas Party at Zeo Fraedo's, 611 Gregory Ln, Pleasant Hill, CA. was a rollicking success.  Phil and Vi put on a superb program for us.  Kathy's decorations were just amazing. The food was outstanding.  The prime rib was the best I have ever had, and I like prime rib.   The toys for tots pile was overflowing.  The gift exchange was totally out of control as usual.
Thank you Phil Vi and Kathy for a truly memorable event!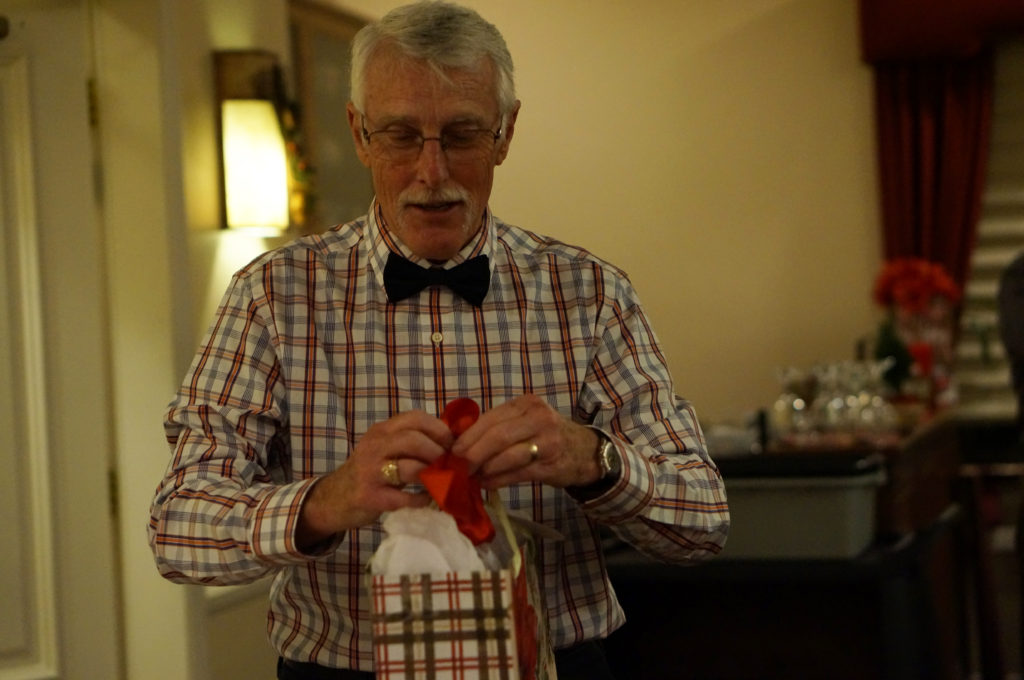 Click here to see all the 2018 Holiday party pictures
*******************
*******************
October
*******************
Oct 5 – 17 Route 66 Caravan
So exciting it has its own page(s)!
GET THE 2019 BATOC RT66 CALENDER FOR YOU, YOUR FAMILY, AND YOUR FRIENDS
**CLICK HERE**
Route 66 – Trip of a Lifetime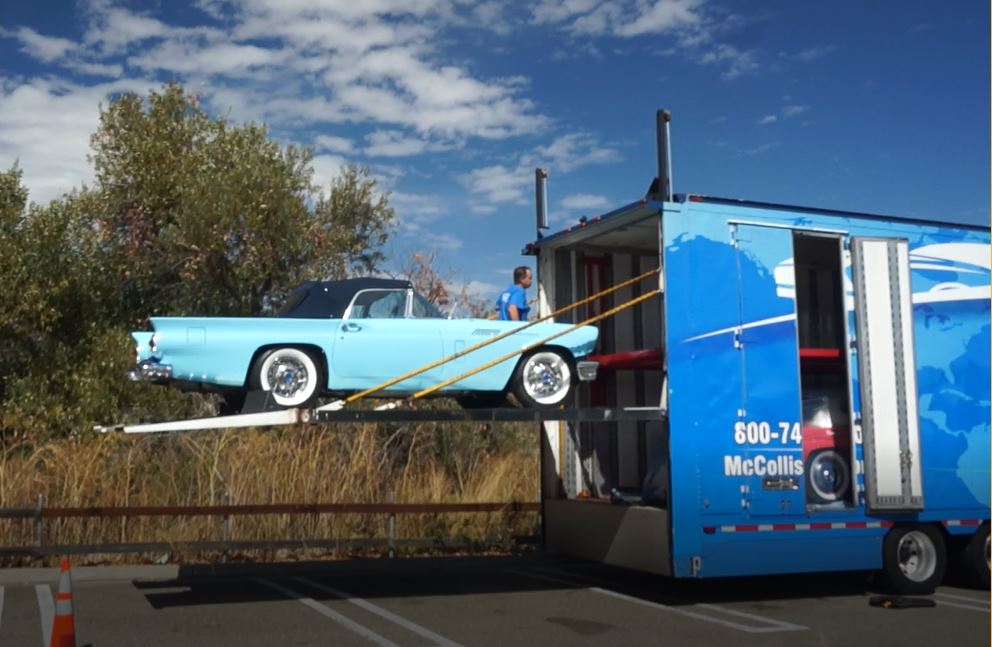 Eight couples started the long Route 66 journey on October 5, 2018. Below is a rundown from Jean's newsletter of all the great sights they saw along the way. It truly was a spectacular trip, and we encourage any of you to take it someday. There are many more photos of the trip on batoc.org October 1, 2018 Shipping Day: McCollister's Shipping did an awesome job of taking care of six of our cars as they traveled from Livermore, CA to Amarillo, TX. We decided to start in Amarillo, TX because starting from Chicago would have taken a little too long.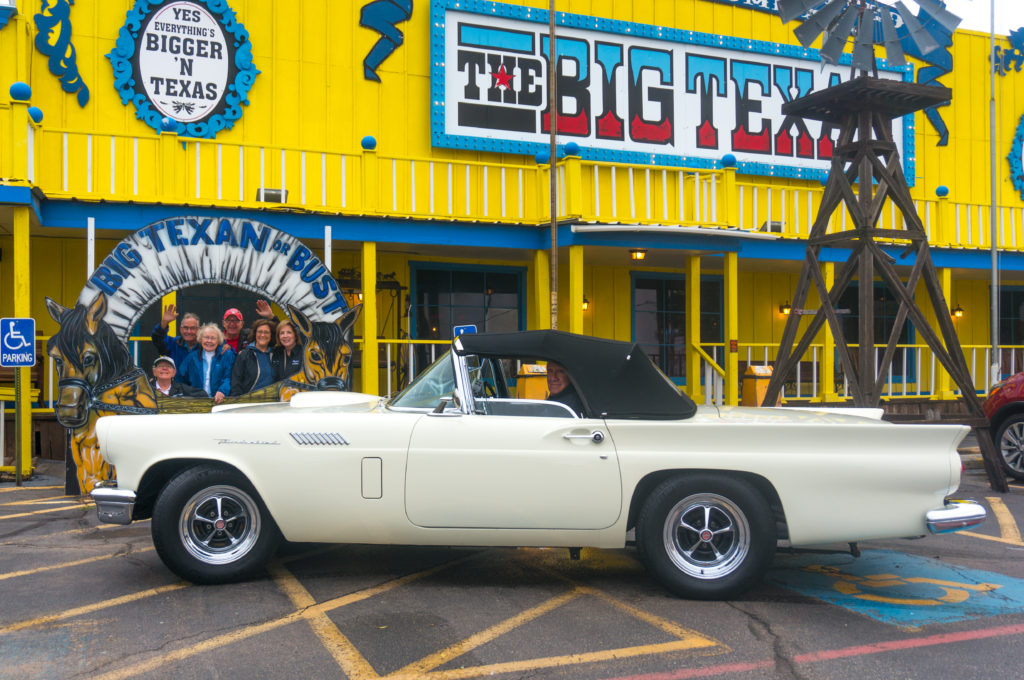 Amarillo, Texas Oct 5-7 4 Twelve Route 66ers met up in Amarillo, Texas, where the cars were delivered in excellent condition. We stayed at the "rustic", Big Texan Inn and Steakhouse. We got a big Texas welcome at the airport in the steer limo. Weather was rough, and no one even attempted to eat the 72 ounce steak to get a free dinner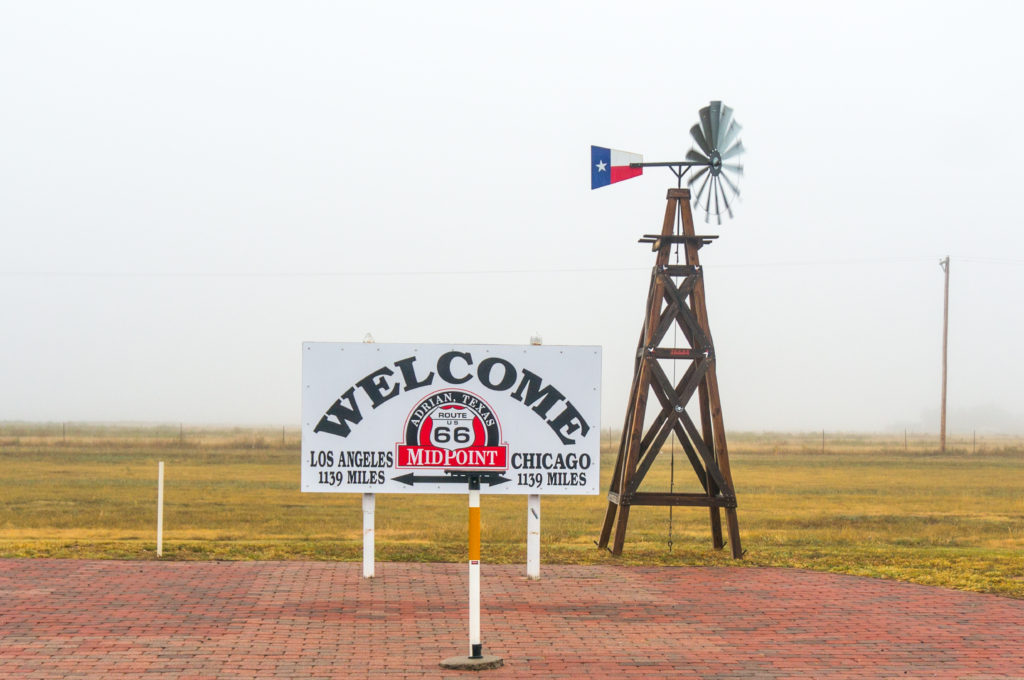 MidPoint Café – Adrian, Texas Oct 7 This little café marks the halfway spot on Route 66, between Chicago and Santa Monica. The place is so nostalgic. There were some French travelers there who were doing Route 66 and were enchanted with our cars, as was everyone else.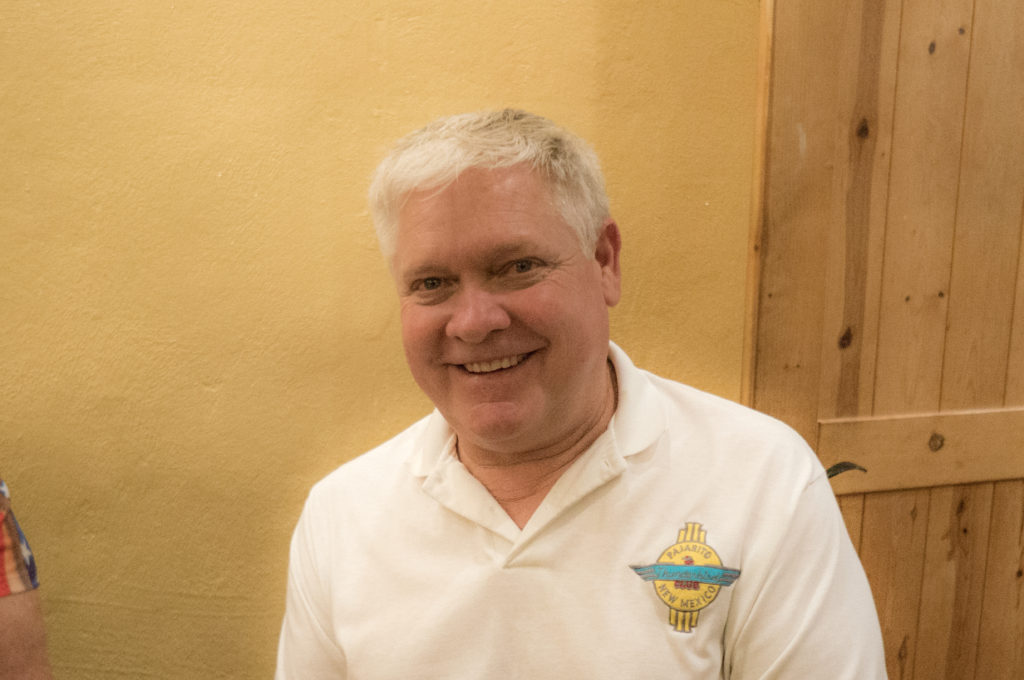 Santa Fe, New Mexico – Oct 7-9 When we arrived in Santa Fe, President of the Pajarito Club, Sam G. de Baca, was there to greet us. He spent the next couple of days with us, as did several members of his club. We had some nice dinners both nights in Santa Fe. Maria enjoyed her two margaritas at Tomasita's!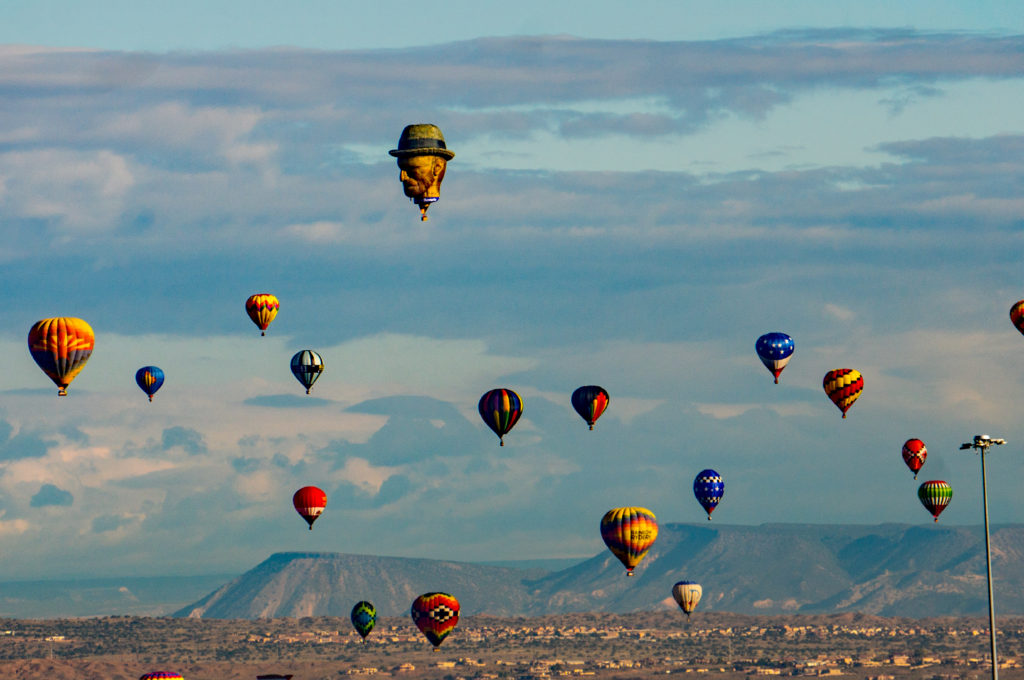 Albuquerque, New Mexico – Oct. 9-10 – Nuclear Museum, Balloon Festival The Pajarito Club were gracious hosts. Activities included Tour of the Nuclear Museum and dinner at El Pinto. The hot air balloons were a sight to behold. Luckily, we could view them from our room at the Marriott Pyramid Hotel in Albuquerque.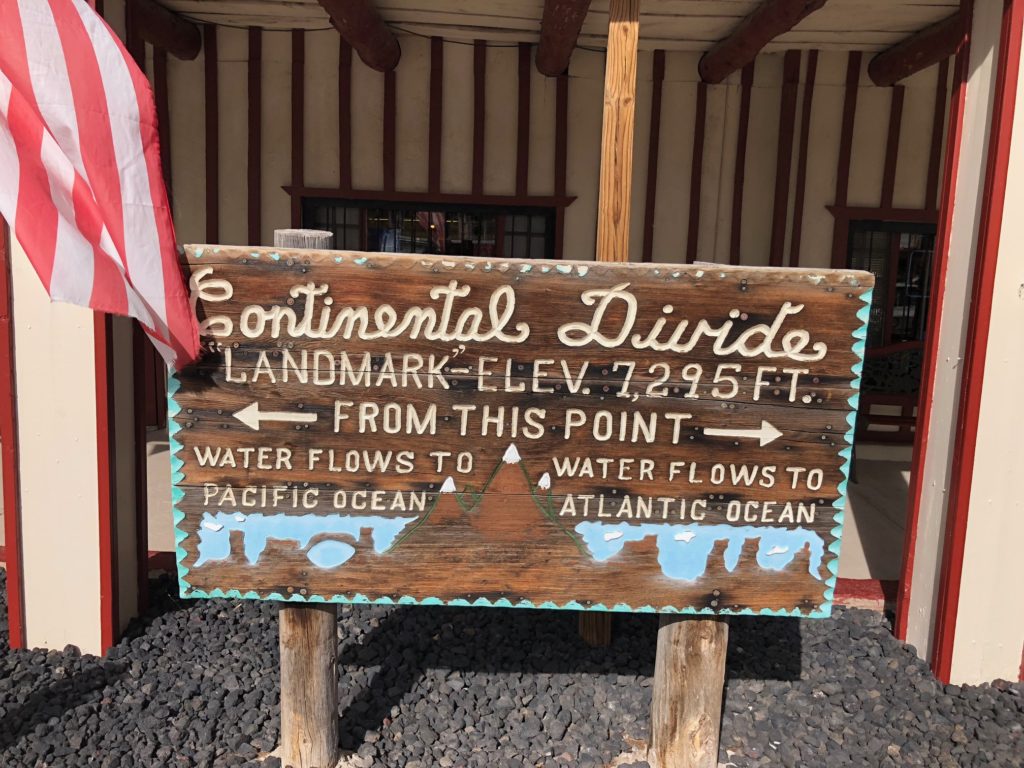 Gallup, New Mexico – Oct. 10-11 On the way from Albuquerque to Gallup, we passed through the continental divide. The Continental Divide is the geographic area in North America where the rivers flow in opposite directions. Lewis and Clark first noticed this on their exploration. Later we arrived in Gallup where we stayed at the "quaint" El Rancho Hotel and enjoyed a great dinner.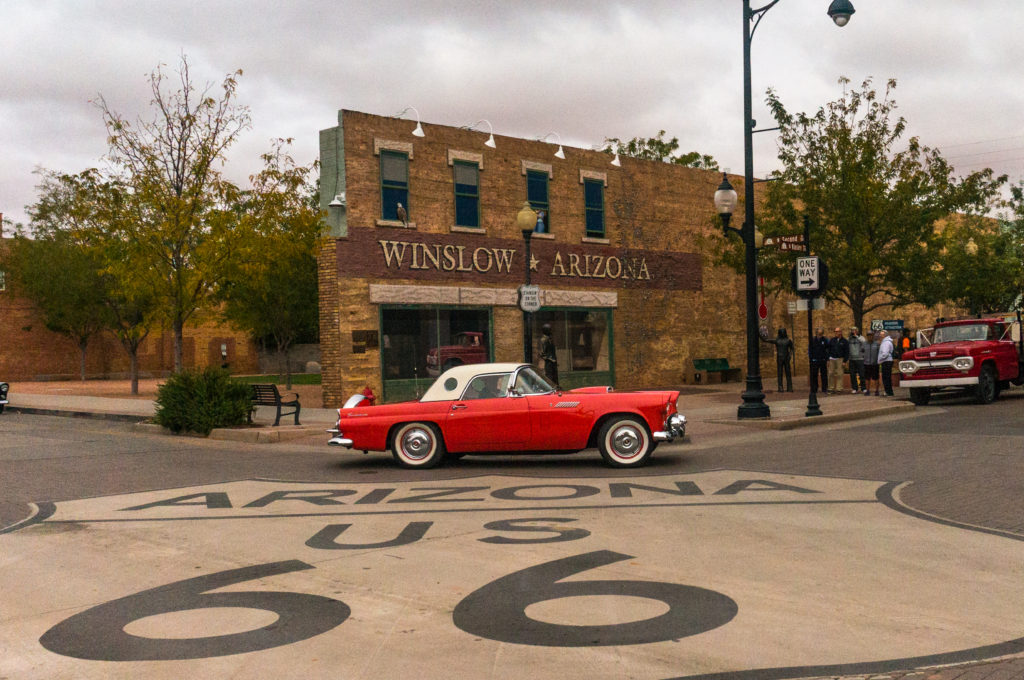 Winslow, Arizona– Oct 11-12 On the way to Winslow, Arizona, we drove through the Painted Desert and Petrified Forrest. These were wonderful sights. Once in Winslow, we, of course, had to "Stand on the Corner" there! We stayed at the La Posada Hotel. There we had drinks at the Martini Bar and dinner in The Turquoise Room. It was a very fun evening.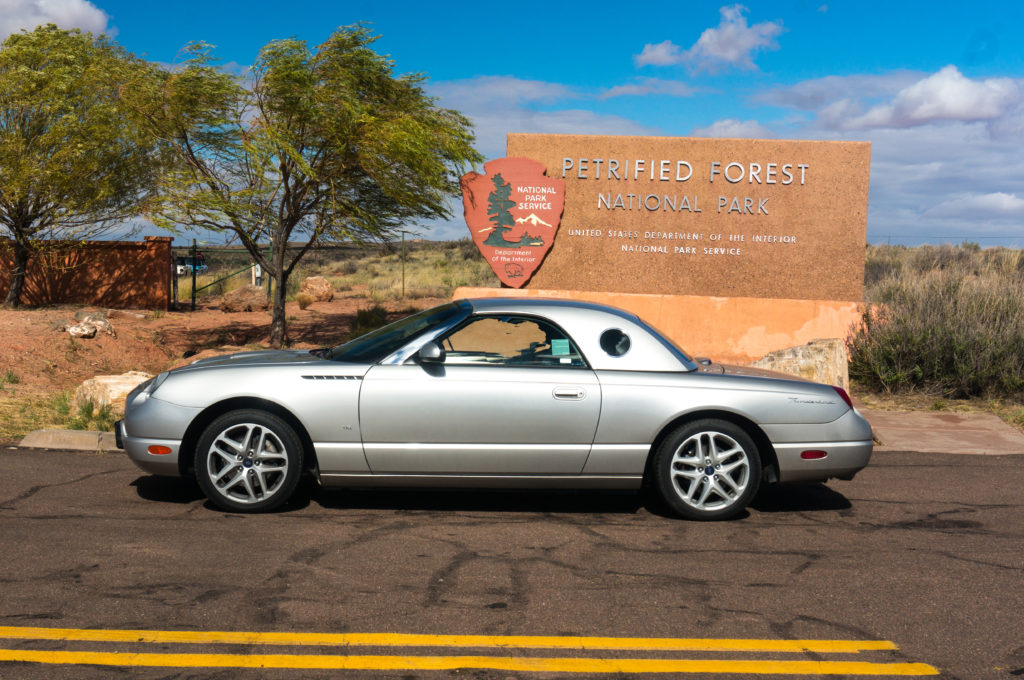 Williams, Arizona – Oct 12-13 On the way to Williams, we stopped at the Meteor Crater. We also stopped in Flagstaff for coffee and cocoa at the Rendezvous Lounge. Paul and Marianne Grech were able to meet up with their Granddaughter at Northern Arizona University. We stayed at the Comfort Inn in Williams and had dinner at the Pine Country Restaurant.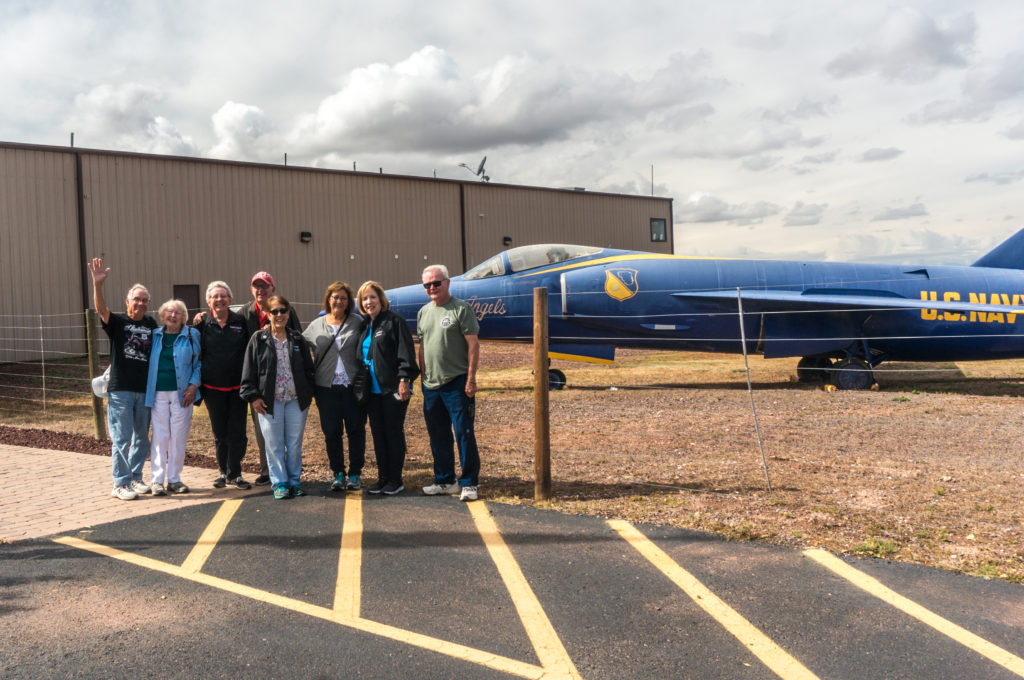 Kingman, Arizona – Oct 13-14 The highlight of the trip for many of us, was the Planes of Fame Museum, 30 miles north of Williams. Our pilots and plane mechanics really enjoyed seeing all these relics. We also visited the oldest Route 66 gift shop in Seligman. We stayed at another Comfort Inn when we got to Kingman.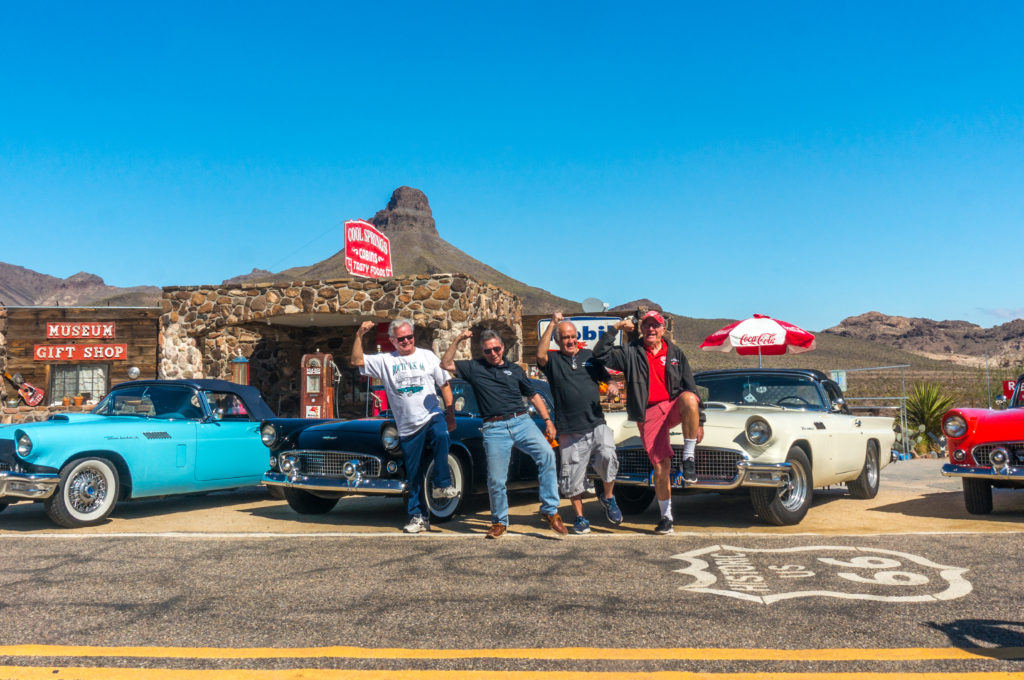 Barstow, CA Oct 14-15 On the way to Barstow, we just loved seeing all the wild donkeys. In Oatman, there were many more donkeys wandering around. They were so friendly. While there, we saw a staged gun fight in the street. Some South American bikers liked the Birds, and asked for a photo with Guy. The Hampton Inn Barstow, was a very nice hotel. We really enjoyed all the special customer service there!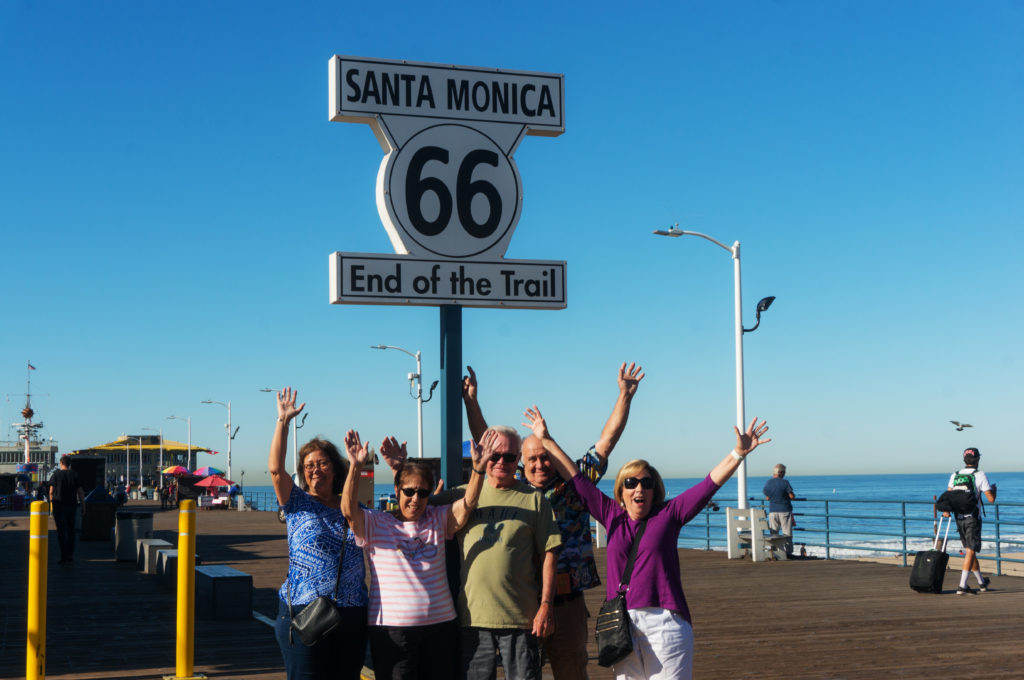 Santa Monica, California Oct 15-16 We had an unbelievably traffic free trip from Barstow to Santa Monica. Along the way we stopped at the Wigwam Motel. The proprietors there were so nice. Maybe we can stay here next time. We also stopped at the McDonald's Museum in San Bernardino. They took a photo of the Guthrie's car in front of the place, and said they are going to hang it up there. We arrived at the nostalgic Sea Shore Motel in Santa Monica. After a few drinks at Lulu's, we had dinner at Finn McCool's Irish Pub and watched Monday night football. It was sad to see our journey coming to an end.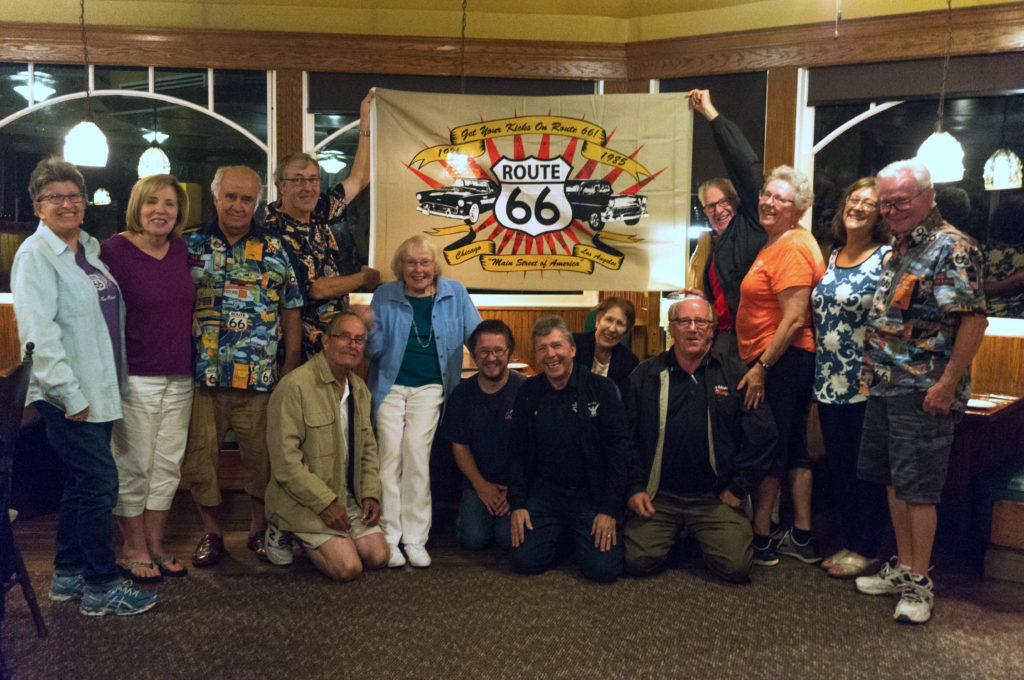 San Luis Obispo, California Oct 16-17 Our final lap of the trip was up the beautiful California coast to San Luis Obispo. The Apple Farm Restaurant and Inn were just lovely. It was a great way to end a wonderful trip with good friends. President, Dave Adams, drove down to meet us and hear about all our adventures. Here's to another great road trip somewhere soon .
a few pictures to tease you:
*******************
September
*******************
Saturday, Sept 29 – Birds on the Wharf, Santa Cruz
Monterey Bay Classic Thunderbird Club host of the annual event "THUNDERBIRDS ON THE SANTA CRUZ WHARF" with an assist from BATOC, featuring the classic 1955-1957, the 1958-1965 vintage and the retro, 2002-2005 Thunderbirds. Each year about 100 Thunderbirds and hundreds of people participated in the show. Spectators from throughout the area come to view the classic Thunderbirds, join in the events and participate in the raffles. Additionally, Thunderbird clubs from all over California and Nevada caravan to the wharf in Santa Cruz to participate. Many stay the weekend. The ocean, the mountains, the wharf, the restaurants, and the retail stores all create a powerful attraction.
Sept 22 – The Ironstone Concours d'Elegance
BATOC WINS! – The Guthries walk away with the coveted top thunderbird ribbon! Congratulations Bud and Maria!

Sept 20 – TUCKER showing at Blackhawk Museum, Danville, CA
This was a great event.  Steve Tremulis, nephew of Alex Tremulis-Preston Tucker's Chief Stylist spoke a length and presented slides from his family history during the Tucker development.  Very interesting stuff.   The movie was very good, but the presentation made the program.  
Sept 17th – CTCI Convention – Knoxville
Our loyal CTCI Convention attendees, the Lloyds, did it again. They had a problem right from the get-go in Bakersfield, but were able to get that
solved. Then, it was on to Knoxville! There was one other small glitch while at the show (a cracked gas pedal), but one of the visiting vendors
got one for them in an overnight delivery. While at the convention, they had a fabulous time. They can't say enough about the wonderful
hospitality and great events that the Tennessee group arranged. And the best news, they got 3rd Place in their class. Gil Baumgartner,
honorary member of BATOC and CTCI authenticity Co-Chairman, was there too with his family (see photo to right). They all had a great time.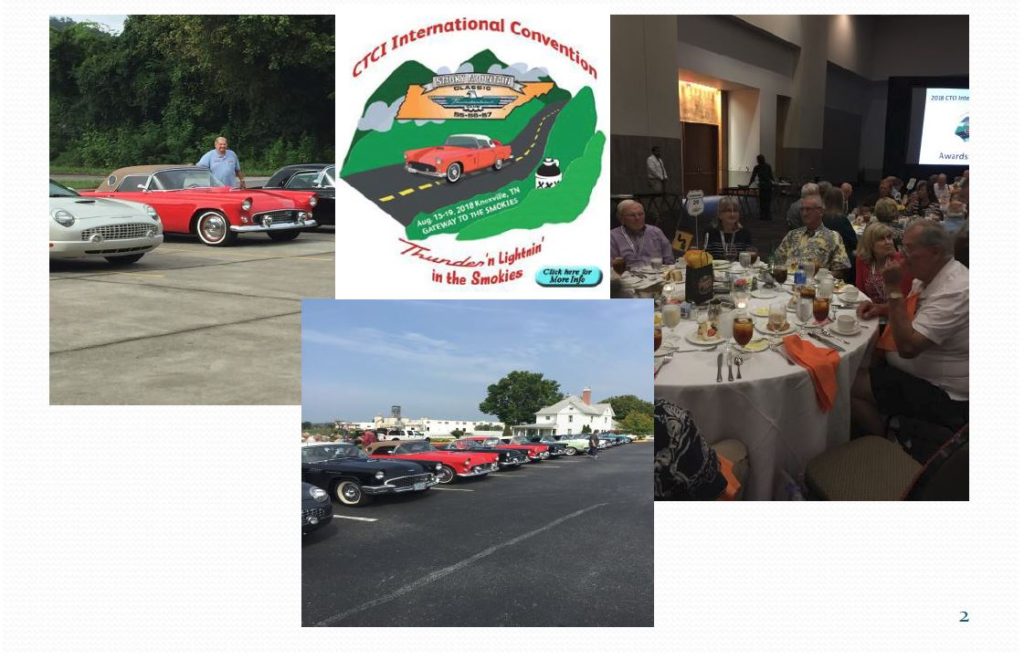 *******************
August
*******************
Sunday, August 19 – Hot Summer Nights #2 – Danville

The birds ruled at DANVILLE's 24TH ANNUAL HOT SUMMER SUNDAYS CAR SHOW IN HISTORIC DOWNTOWN DANVILLE.  T-birds (and maybe other CLASSIC CARS I don't remember), GOOD FOOD at Kick'n mule (and they gave us lots of time to work up an appetite), Libations at Elliot's (after all, they were there when out birds were a gleam in Henry's eye), MUSIC, AND FUN.
The Guthie's took home the Town Choice Award!
our president lusts after a Lincoln
No wood trim in this baby's interior, It has granite! How classy is that!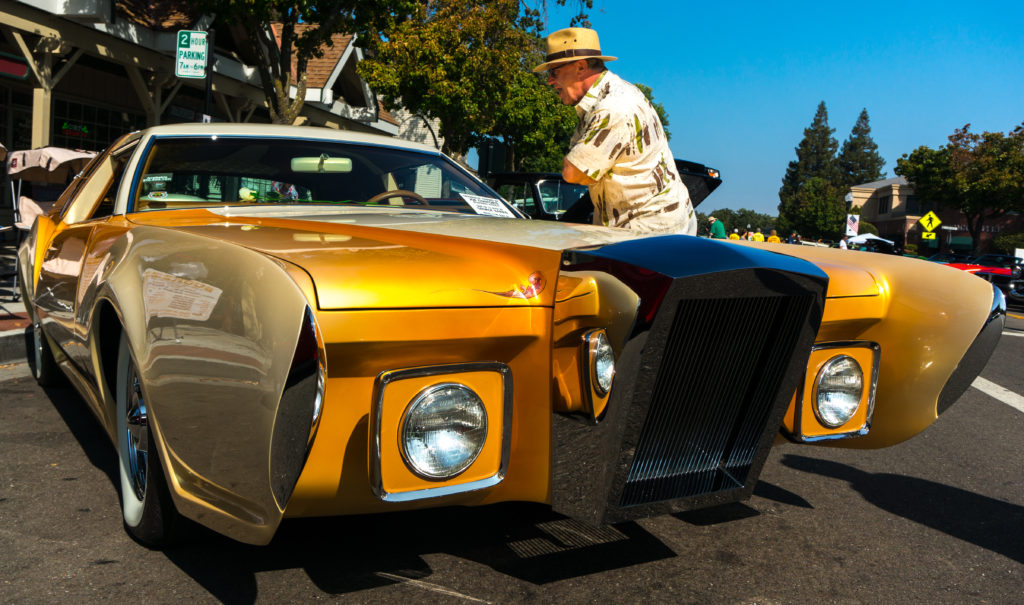 We set up shop in an abandoned store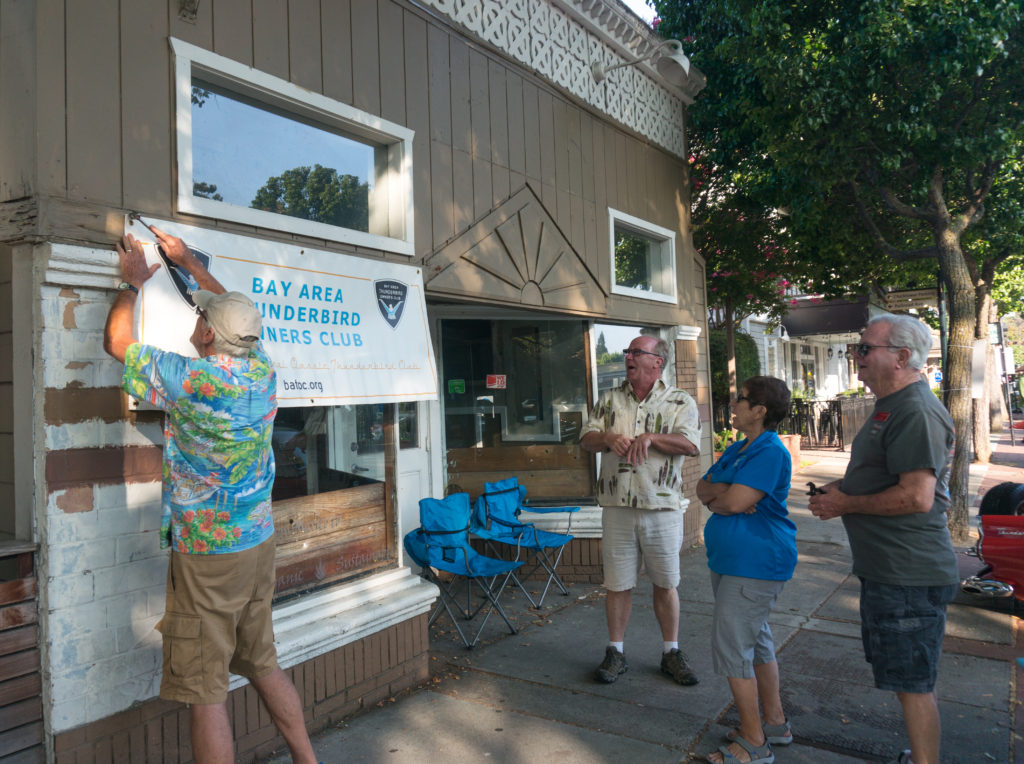 We got ready for our adoring public (park and they will come)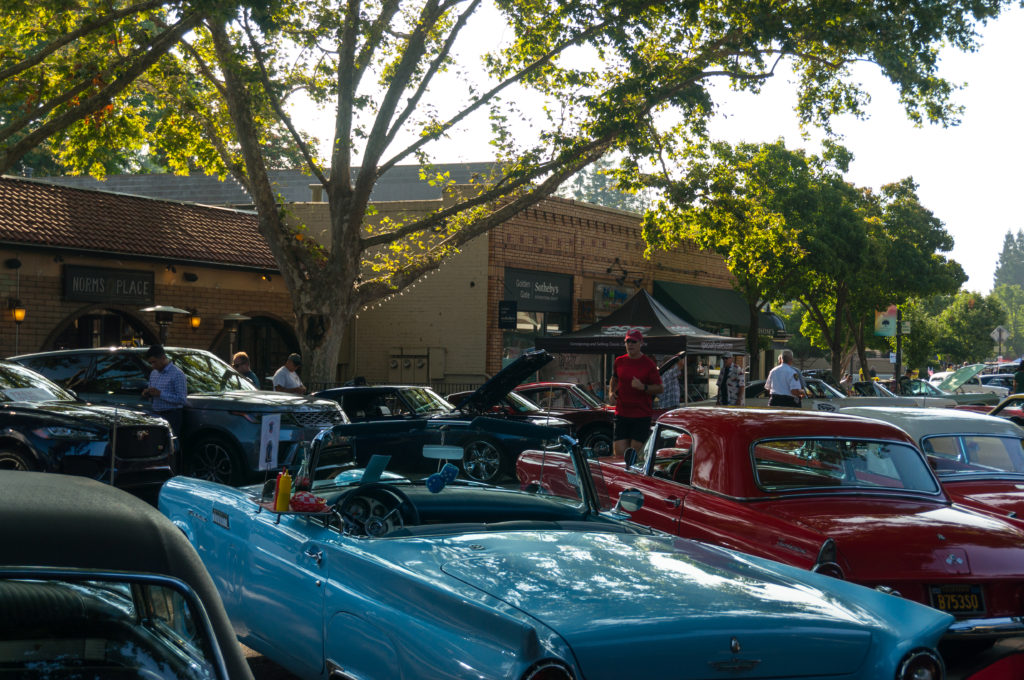 And they adored them!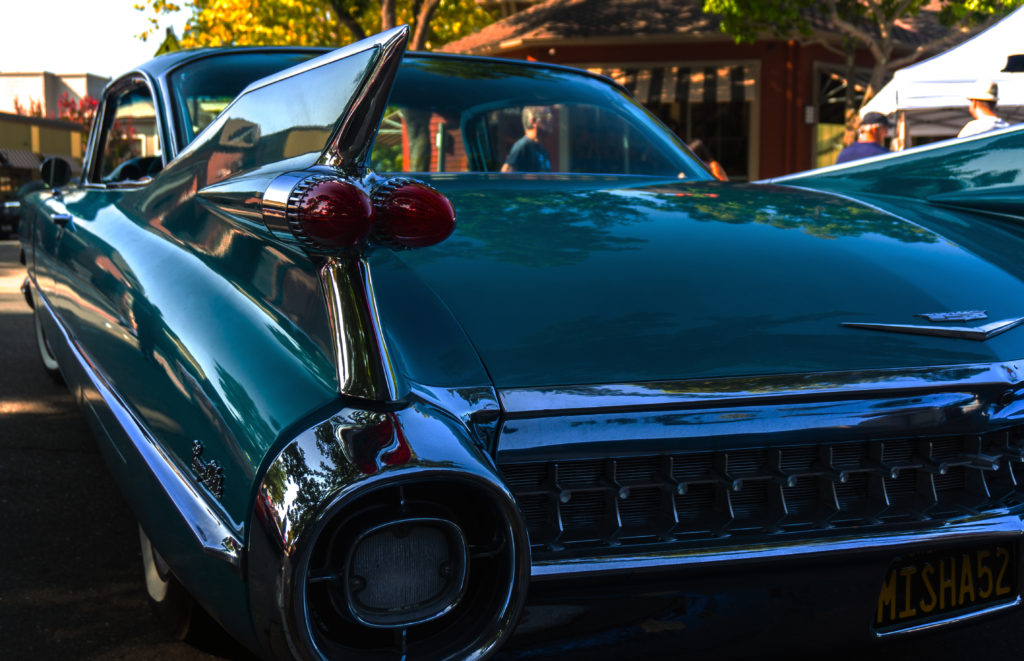 Wait, it's got big wings, but not a T-Bird
Ok, almost as sporty but, not a bird…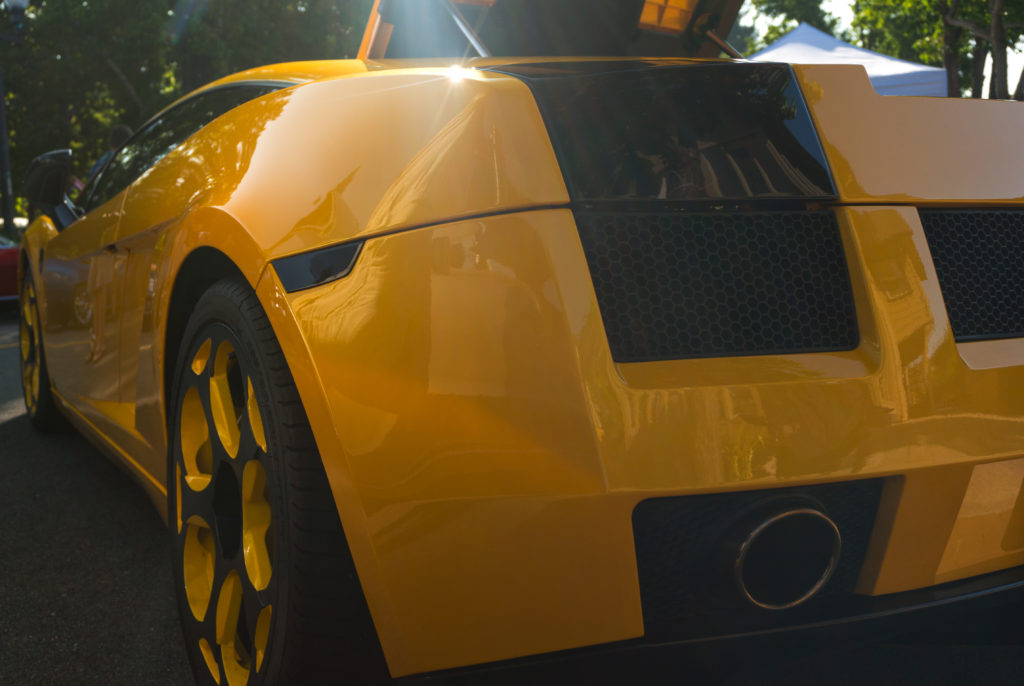 Ah, there they are!
Flyer: Hot Summer Sundays
*******************
Wednesday, August 15 – Sunday, August 19, 2018 – CTCI International Conference, Knoxville, TN
we'll update this when we hear back from the folk at the event.
CTCI FLYER: Room announcement 9-29
2018 CTCI International Convention Knoxville, TN
The hotels for the 2018 Convention can now take your reservations. The Knoxville Convention Center will be the center of all activities, so there is no "host" hotel as at most conventions. We have two hotels available for occupancy and both charge the same rate of $125. The Holiday Inn World's Fair Park is across the street from the Convention Center. The Crowne Plaza is just a short walk or free trolley ride away. The CTCI Board Meeting and Membership Meetings will take place on Wednesday afternoon and the Welcome Party will be Wednesday evening.
You can use the information below to make your reservations (they can be canceled later if your plans change). The website works well for the block dates. You can also use the phone number if you are staying within the block dates. If you are planning to stay for nights outside of the convention block timing (Tuesday through Saturday) please note the comment below.
Hotel: World's Fair (Downtown Knoxville) Holiday Inn; Call-in Code (800-264-1579): The block code is CTC On-line reservation link: Hold down the "CTR" key and then click, or just click on the link below:
2018 Classic Thunderbird Club Convention Booking Link for the Holiday Inn World's Fair Park
For dates outside of the block timing please use this number (866-910-2844). Pricing is the same $125. ONLY in the event of "Special Requests" or other problems, use the following number (865-934-3290). PLEASE NOTE: Your confirmation may mention a standard parking rate of $12. We have negotiated a lower rate and a free nearby lot. Many downtown lots offer free parking after work hours and on weekends. Cars entered in the Convention Center will enjoy complimentary parking at the Holiday Inn for nights not housed in the Convention Center.
===============================================================================
Hotel: Crowne Plaza Hotel; Phone: 865-522-2600 (ask for Jamie Julius and mention the Smoky Mountain Classic Thunderbird Club) Use this same number for dates outside of the block timing. Pricing is the same $125
On-line reservation link
Parking at the Crowne Plaza is $10 or free at the lot near the Convention Center.
Hosted by Smoky Mountain Classic Thunderbird Club
If you have problems, send an email to our Chairman – Bill Long at "tbirdbill@yahoo.com"
*******************
Saturday, August 18 – Progressive Dinner Party – the sequel
WE HAD SO MUCH FUN LAST YEAR, WE JUST DID IT AGAIN!   IF YOU WEREN'T THERE OR YOU DON'T REMEMBER, CLICK HERE TO CHECK OUT LAST YEARS PICTURES.
This year we started the evening at Gregg and Lawrence's beautiful home, for Fresquila (a complicated but delicious beverage, who's recipe, known only by Lawrence and perhaps a few Tibetan monks, available only at Gregg and Lawrence's) and amazing hors-d'oeuvres. The view from their deck is spectacular, the company was as always, the best.
Next, we traveled to Ed and Donna Benson's home for an outstanding meal, great company and the beauty of their home. Ed sets a high bar for himself (fortunately his guest bar is within comfortable reach) but perhaps this time prepared his best PDP meal yet. Meatloaf! Really, meatloaf! the most awesome-est meatloaf ever with magical mashed potatoes and mushroom gravy, and a perfectly baked asparagus.  We didn't want to leave, but still ahead was…
Desert doesn't quite describe the spread Eran and Lisa put together for us.  Miles and miles and miles of decadence might better paint the picture of the cakes, pies, and delectable treats they had prepared.  Even better was the way they shared their beautiful home full of family history and storied art pieces.  Every corner of the yard and every corner of the house has a story.
July
*******************
Sunday July 22 – Hot Summer Sundays#1 – Danville
TIME CHANGE! MEET AT 7:30

It was a lovely Sunday in Danville July 22, for the newly revised
Hot Summer Sundays in Danville Car Show. We had a great turnout, as usual. Thanks to the organizer, David Miller, the Ford Thunderbirds were front and center on the main drag of the show. We had a lovely lunch at the Tower Grille, and sat by our cars in the shade and enjoyed visiting.
Saturday, July 21 – Day at Coppola Winery
Coppola Winery Tour and Tasting
Eight Tbirds and 27 club members attended the event. Our Tbirds attracted a lot of attention at the winery. We all had a wonderful experience there. The memorabilia from Director Coppola was so interesting. The Godfather desk was on display One of us touched it despite (or because) of a sign that said not too. (what rebels we BATOcers are) along with a Tucker automobile, Oscars, and props from the movies. We all gathered at the bar in the winery for libations. Then we caravanned to Railroad Square in Santa Rosa, where we roamed on our own for lunch and browsing at the local shops and the railroad history museum.
Thanks to our hosts,
Nick and Judy Verhoek!
*******************
June
*******************
Sunday, June 24th – 60th Anniversary Party at Tilden Park
My, how time flies when you are having fun.  We CELEBRATED 60 years of fun at BATOC's 60-year anniversary party at Tilden park.
BATOC BBQ Flyer

*******************
MAY
*******************
May 26 – Memorial Day BBQ to Die For
And a necessary dictionary of 1920's slang to interpret the flyer: 1920s slang
It was a come as you are or dress up in your best 1920's garb while we do some Wine Tasting, Drive our Birds, enjoy great BBQ and solve a Murder Event.  Too many gangsters and flappers to count.  And one of us got away with murder!
Iconic shot of the day: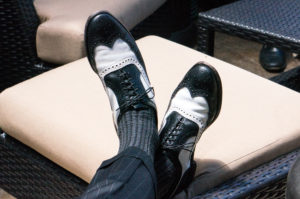 All of your arrival photos, your T-bird in the vineyard photos and the event photos are  on the all event photo page above
I cant tell you how much fun we had, but as they say, a picture is worth a thousand words so lookiy here:



***************************
Two if by sea
Califorina Coastal Cruse (not cars this time)
Well, we cruise in our cars, but this was different – we cruised on the water. On April 29, four BATOC families (Haffners, Canfields, Jenkins/Egli, and Bensons) boarded the Grand Princess in San Francisco for a seven-night round-trip voyage down the CA coast to Ensenada. We were also joined by Janet Booth (whom many of us know) and her sister Karen. After a day of cruising, we stopped at Santa Barbara where some of the group took a hot rod limo tour of the area. Yes, an actual stretch hot rod. Others just wandered around. Perhaps the most group fun we had was the next day when we all took the ferry from Long Beach to Catalina. In Catalina, we rented two speedy golf carts (a primary means of transportation on the island) and zoomed around over hill and dale to see the sights – and I do mean zoomed. We finished off the visit with pizza and beer at a waterfront dive bar. Thursday brought us to San Diego where six of us took the Old Town Hopper Bus to see the sights. Highlights included the Del Coronado, Old Town and Alex the bus driver – what a character! Lastly, we visited Ensenada where the Haffners took a four-hour tour. (What is there to see in the place that takes four hours?) The Bensons whiled away the time to drink beer and Tequila at Hussong's. Another day was spent traveling up the coast to SF and then a quick trip home
– mostly by BART. As busy as the ship tried to keep us, we all had time to gather together at 7:00 for dinner, catch up on the day's events and get to know each other better.
A grand time was had by all. Too bad more couldn't accompany us. BATOC'ers
*******************
April
*******************
Flash Event!   ( we have to do more of these.
If you go somewhere fun, let's set up a flash event and all join in)
T-birds and good friends as far as the eye can see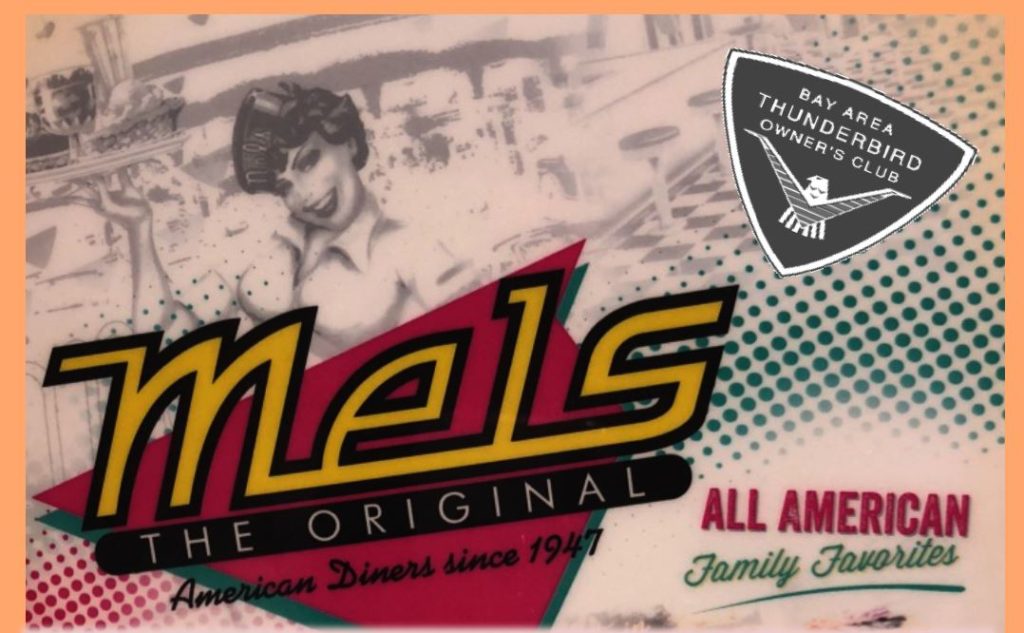 It is always fun to remember the old days of hanging out with our cars and having hamburgers and milkshakes with our friends. Well, we can still do that today, especially with the recent opening of a Mel's Diner in Livermore CA. We were able to have prime parking right in front of the restaurant. It was a great time, bringing local people in the area to stop by and admire our great cars. Then, we got to enjoy our Mel Burgers and Milkshakes. What a super outing. Thanks to Mary Cummins for organizing such a great event.
T-birds (and a cousin or two) and good friends as far as the eye can see!
BATOC Princess Cruise
Ed will tell us all about it  and we will post soon!
*******************
March
*******************
Saturday March 10 – Bowling for Tires
We all had a ball bowling Saturday.  We didn't all get a pin, however.
Dinner was at Castle rock in Livermore.  De-licious!  Service was great. food was great.
Maria did a great job with the whole event, picking the activity, picking the restaurant, and especially with the after party deserts at the ever gracious Guthrie's home.
It was enough to bowl you over.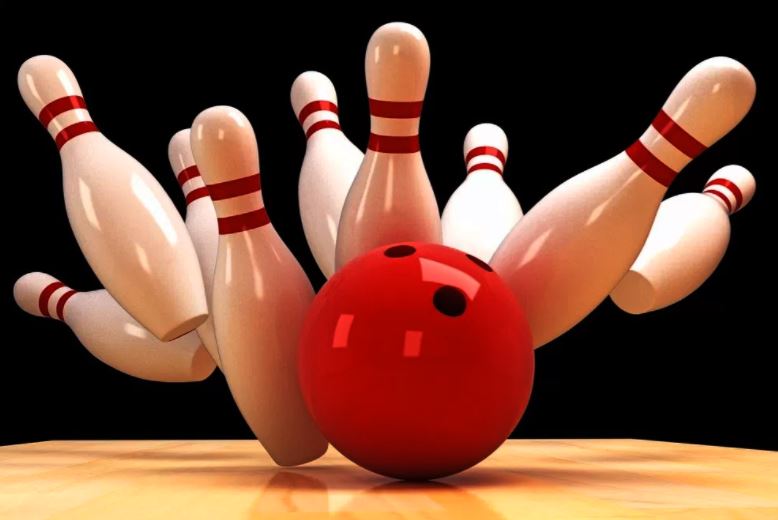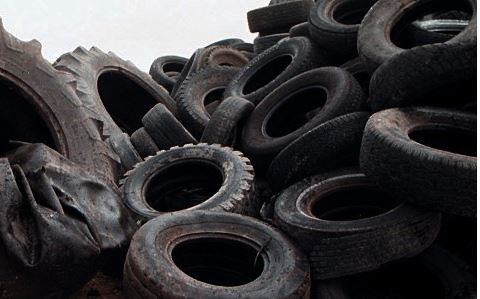 OK, it isn't bowling for tires, but it is bowling and  it sounds cool, right?!  You get it?  Tires, T-Birds. T-Birds roll on tires?
Anyway, the Guthrie's are still working on this.  Well, on the bowling.  Not on the tires.  Whatever.
********************************************
January
*********************************************
Super Bowl Party
another super (bowl) party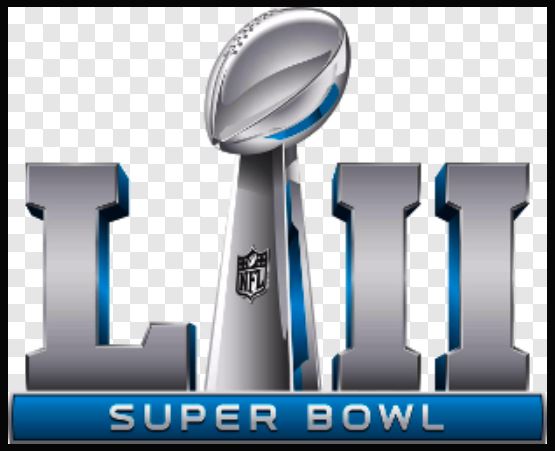 *********************************************
January
*********************************************
Sunday January 14 – President's Mystery Tour
"Wait a minute would'ya.  Reading the instructions.  when I said I'd navigate…  this is a bit different than the t-bird, and no, i don't think google maps will work here"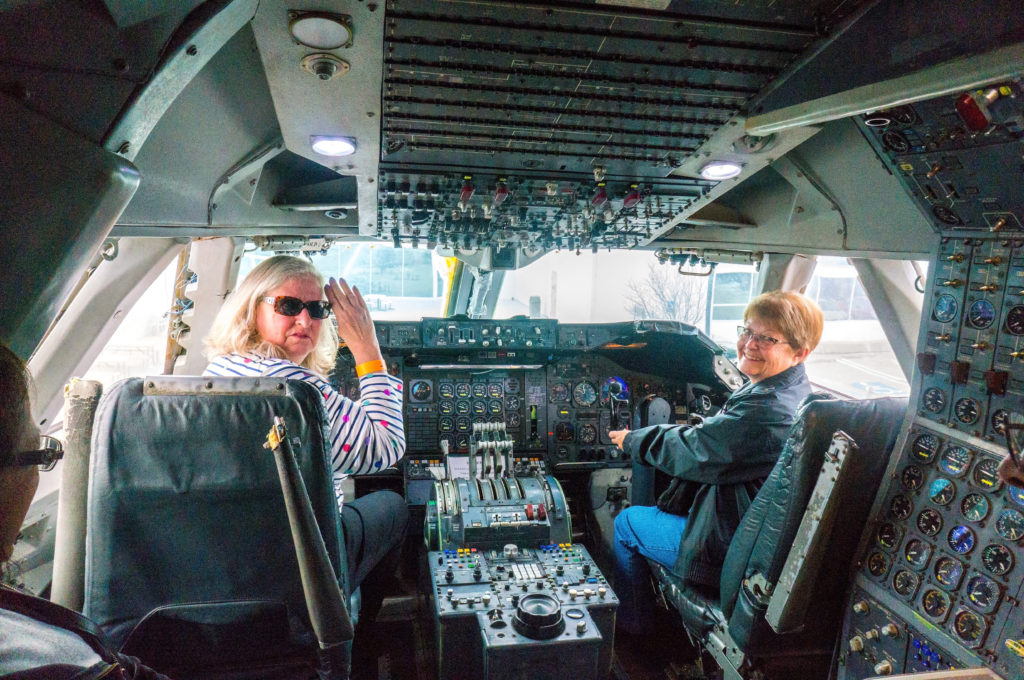 *********************************************
December
*********************************************
Friday Dec 22nd – BATOC Holiday Extravaganza
View and download the rest of the Christmas party photos here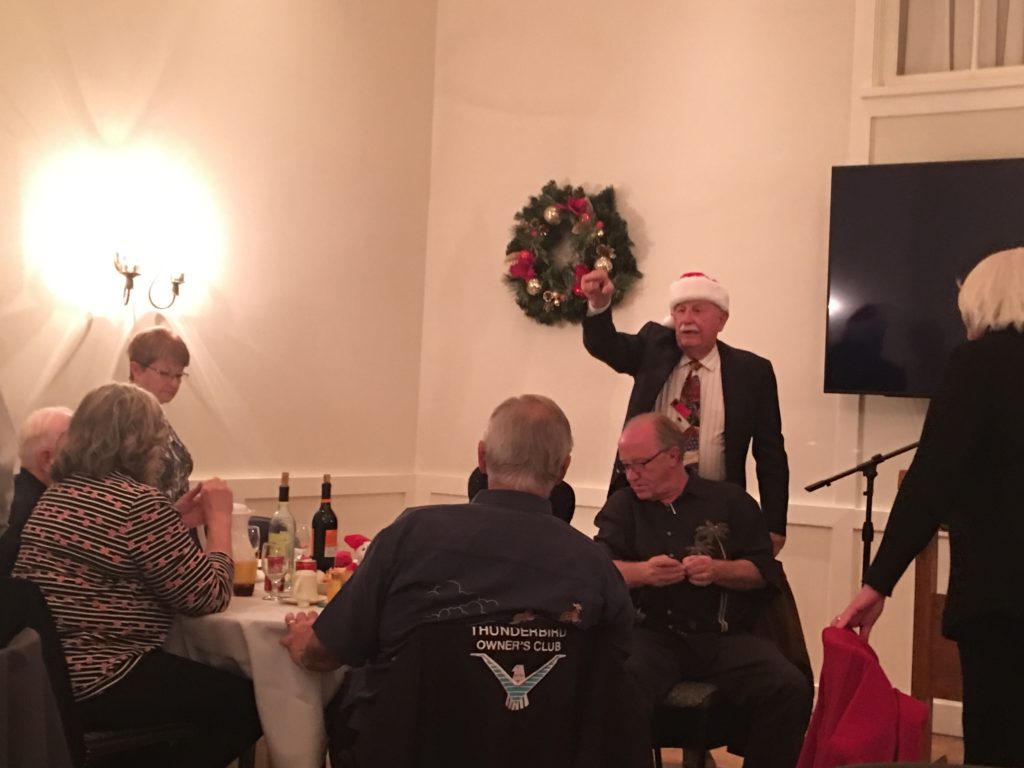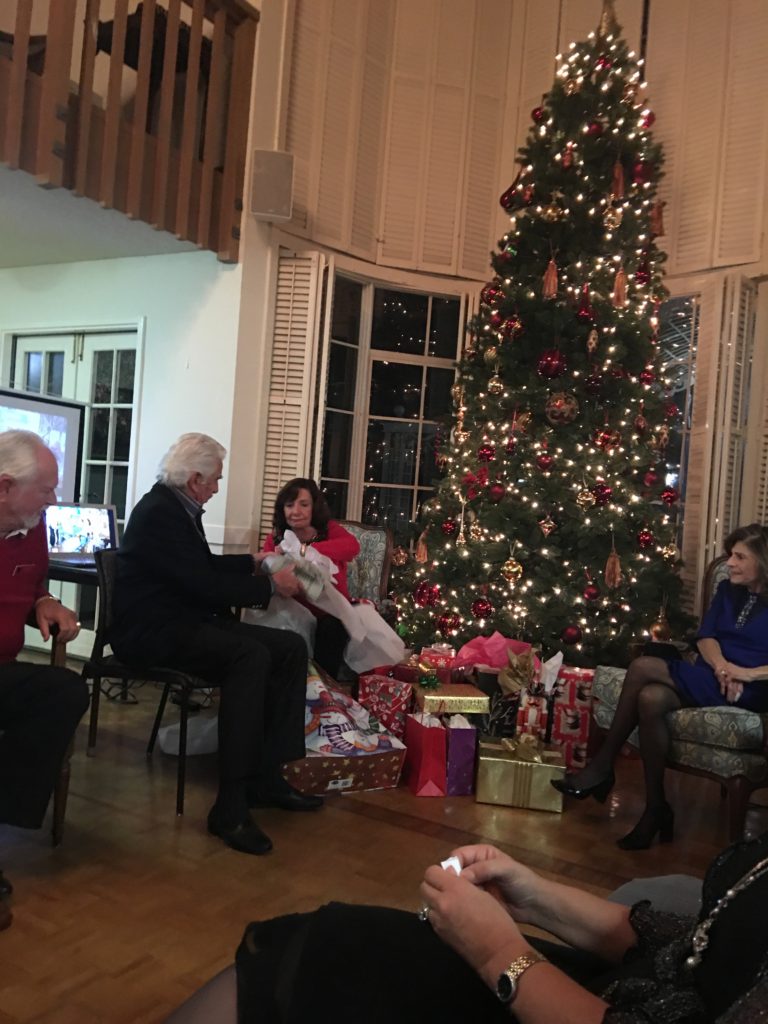 As usual, the BATOC Christmas
party was a total success. Thanks
go out to Diana & Jack Starr for
putting on a truly special event. We
were able to enjoy the beautiful
Rossmoor Dollar Clubhouse, and the
catering was superb. But the best
of all was the gift exchange. We had
much frivolity with the snatching of
gifts from each other as usual. We
also had a large number of
children's toys brought for the Toys
for Tots Drive. A great time was had
by all!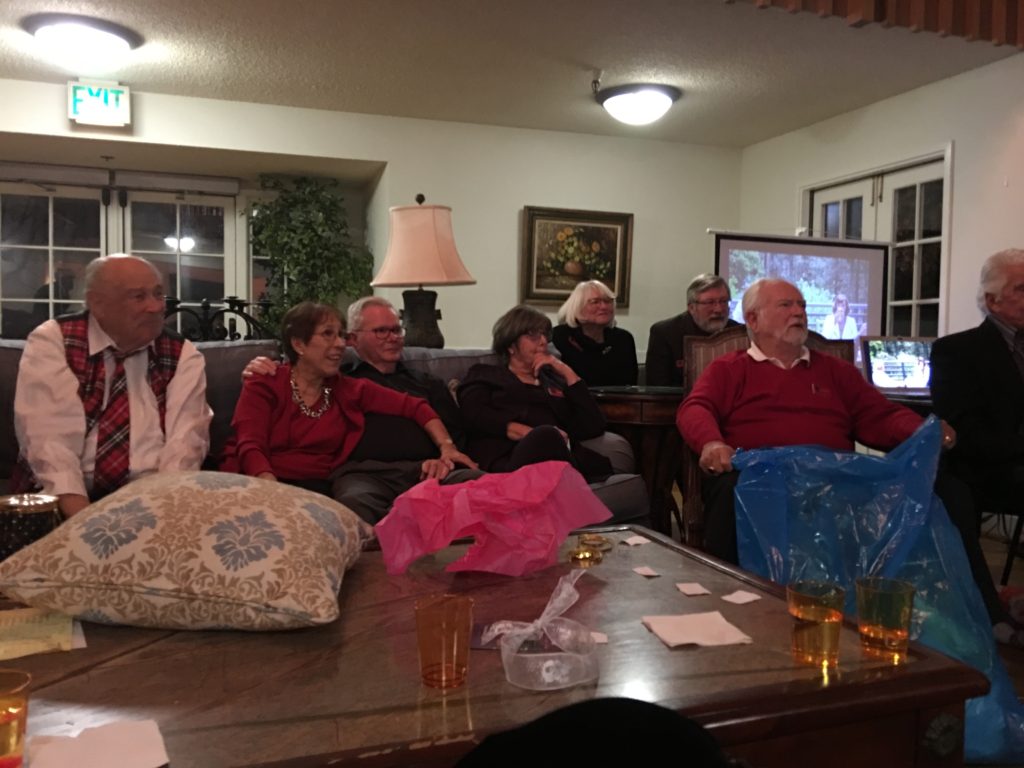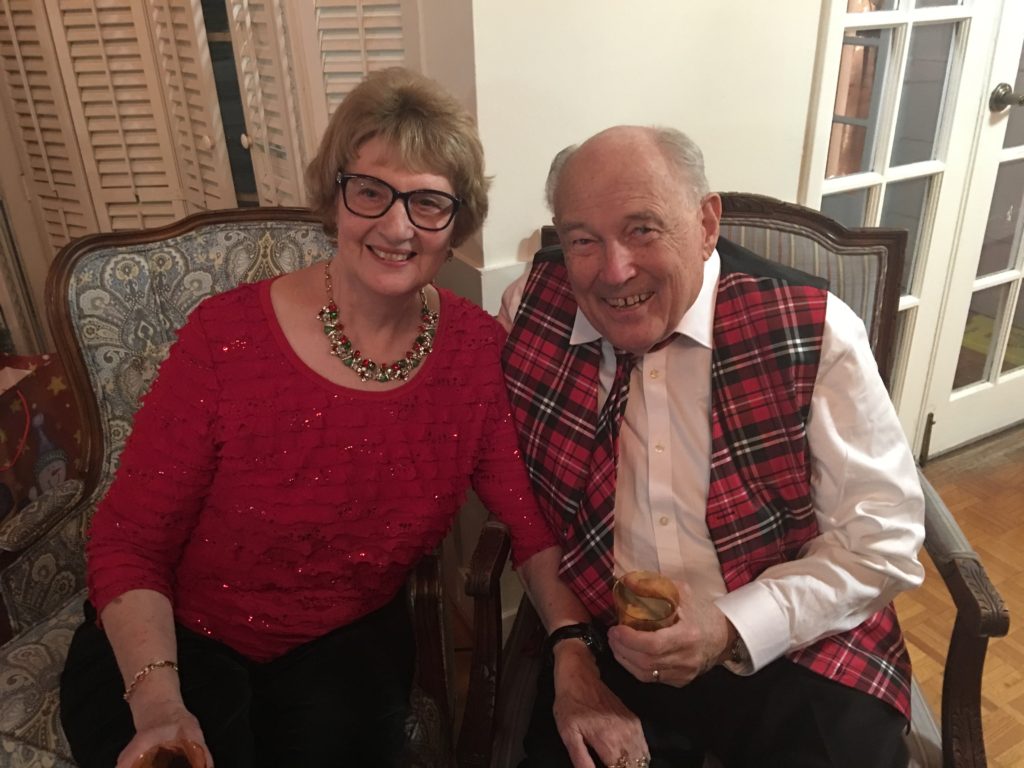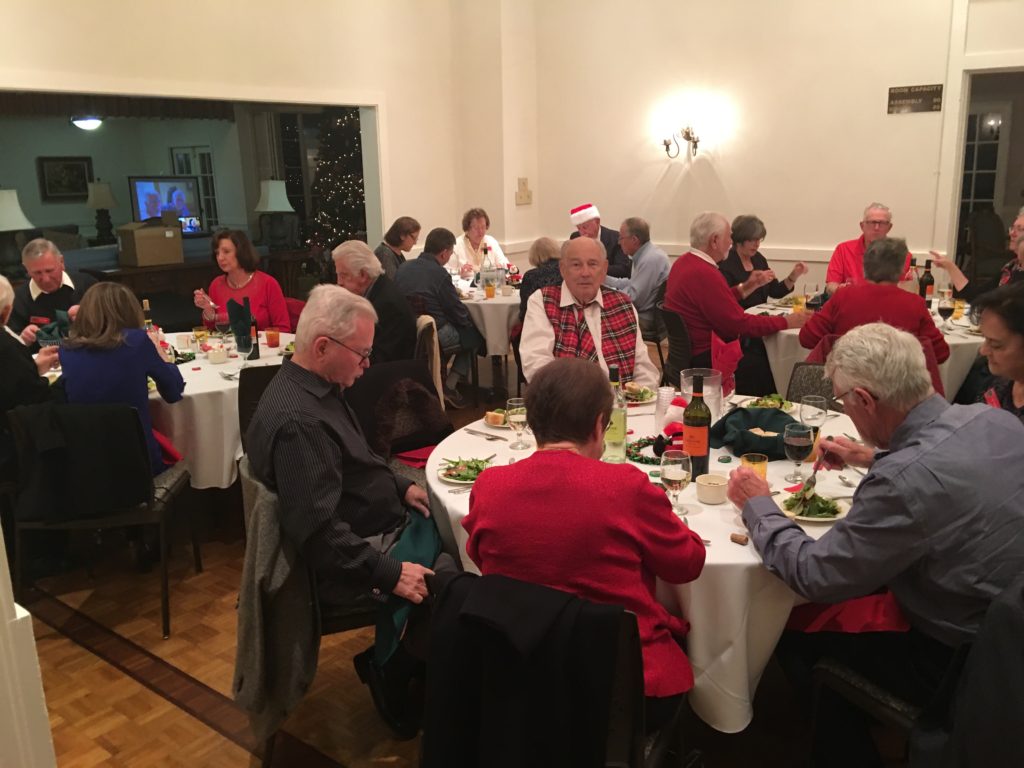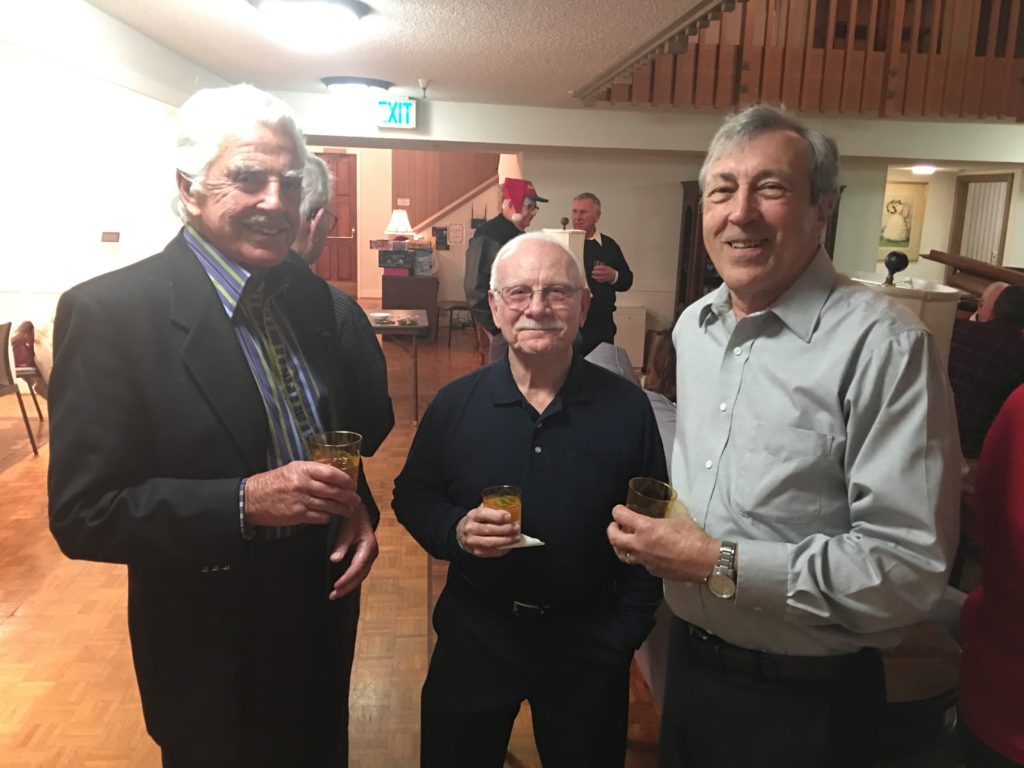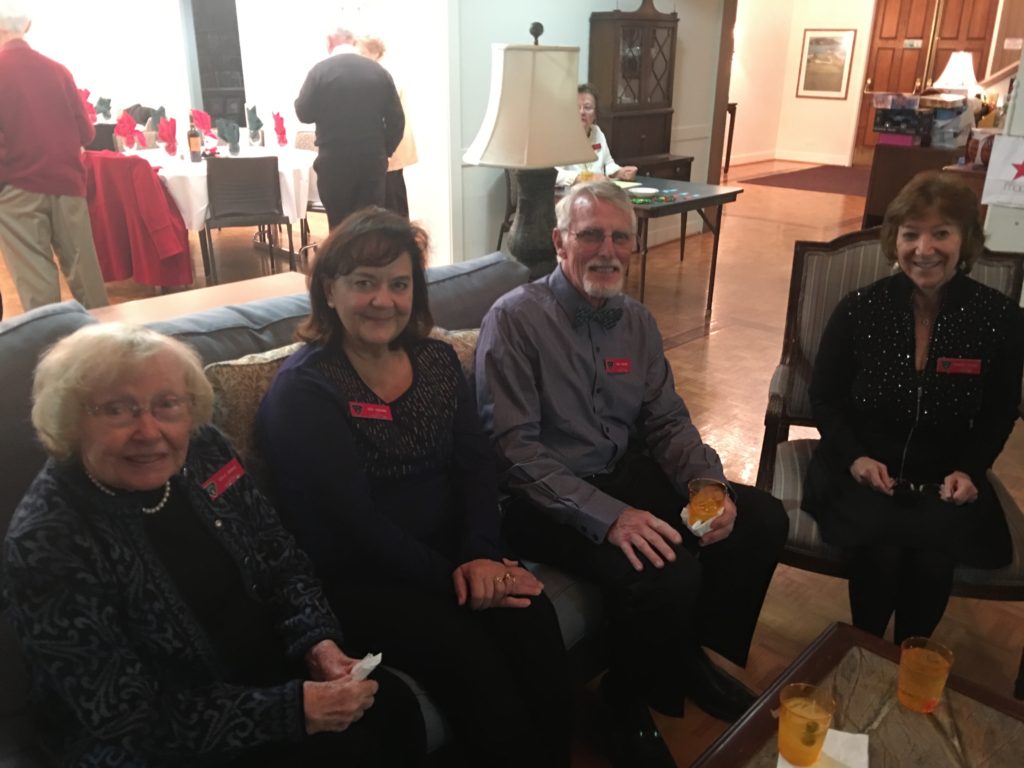 *****************************************
November
*****************************************
Saturday, November 18th
Rosie the Riveter Museum, and the SS Red Oak Victory
Flyer: Rosie the Riveter WWII Home Front Visitor Center
On Nov 18th BATOC visited the SS Red Oak Victory ship at the site of the Richmond shipyards. The Red Oak was a supply ship built during WW11. One of the last ships built in Richmond it was retired and sent to the mothball fleet where it stayed for years until it was brought back to the shipyards and became a part of the park's system. It is slowly being brought back to its former glory by a dedicated team of volunteers. BATOC enjoyed docent led tours of the ship. The docents were very informative and shared some stories about the ship and it's history. Before it was mothballed all the doors and hatches were welded shut and it was vacuumed of air so when they cut open the access to the inside of the ship everything was just as it had been left when it was decommissioned. Like a big floating time capsule with all the correspondence, letters, maps and all existing paperwork from back in the day.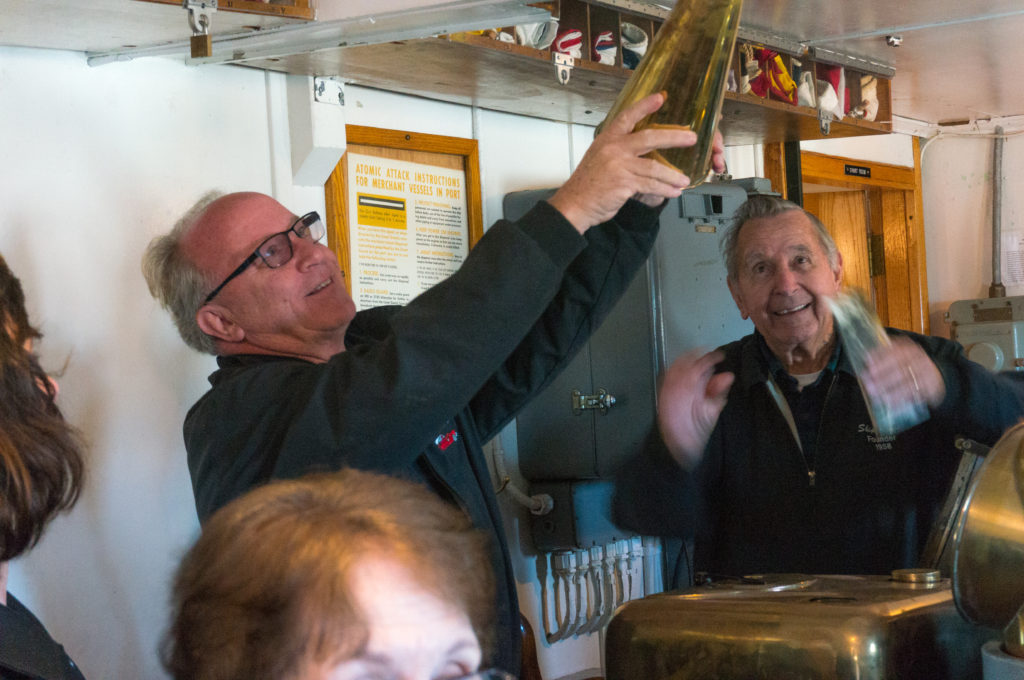 After the ship tours we visited the Rosie The Riveter Museum, also run by the park system. The museum celebrates the contribution women made to the war effort. These women were not just volunteering at the local USO for some GIs to have someone to dance with when they were in town. They were working in the down and dirty jobs in the shipyards and factories churning out military product that was needed overseas to continue the fight against the enemy.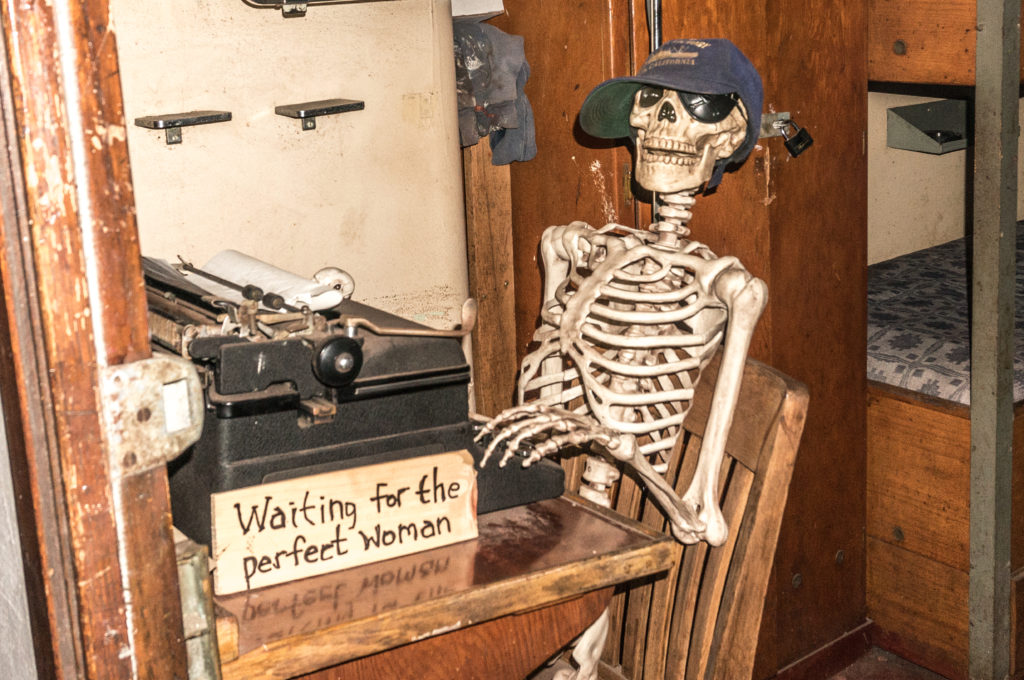 I'm sure nearly everybody knew, or knows, someone that was a Rosie. I'll bet they all have stories to tell. Nice that they have a place like this to showcase some of them so they are not all lost to time.
After enjoying what there was to see it was time for lunch at Assemble. The restaurant is on the site of the former Ford assembly plant in Richmond.
I think everyone had a good time and probably learned something as well. Thanks go to Greg Canella for putting a good outing together for the club. Job well done!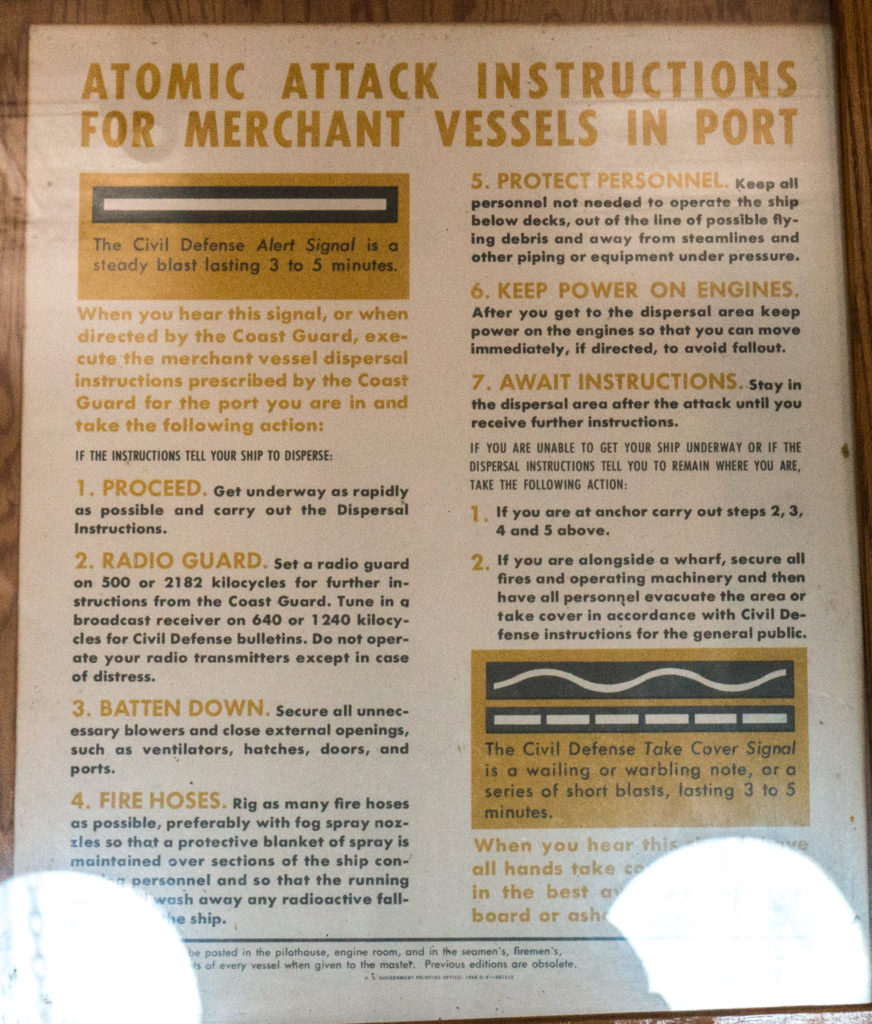 *****************************************
October
*****************************************
Friday, Oct 27th thru Sunday, Oct 29th
Run to the Avenue of the Giants
Flyer – Run to the Ave of the Giants
NO, NOT THE BASEBALL TEAM.
On Oct 27 a few brave souls embarked on a journey up north to Humbolt County to experience the grandeur of the Avenue Of The Giants. The largest, and some of the most beautiful, trees on the planet reside practically in our own backyard. Why would we not? The weather was fabulous and the scenery could not be beat.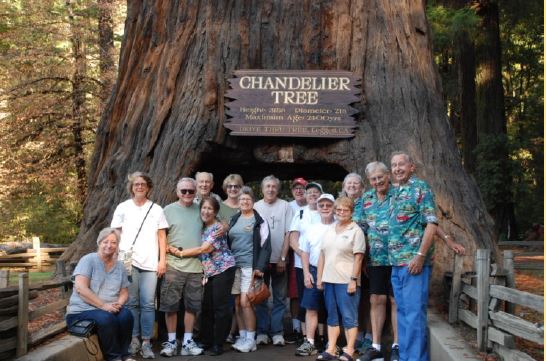 Most of our group started the day with a good break-fast at Mel's Diner in Pinole after which we hit the road on our adventure. We were 7 Tbirds and 2 x brands. 16 travelers in all. The first leg was to Healdsburg to pick up lunch at Big John's Market which were ready for us when we got there. This route took us up through the area of some of the devastation of the recent wildfires that rolled through northern California. We were running topless so the smell from the fires was still pretty strong. Pretty frightening to see in person. They are
already rebuilding so things are on the mend. The next stop was Underwood Park in Leggett for a nice picnic and the drive thru Chandelier Tree for some awesome pics. After lunch we headed north to Piercy for a stop at the Grand-father Tree (estimated 2500 yrs old) and "tour" of the Log House and get some much needed gas. Next stop was Confusion Hill to grab an ice cream and check out some of the ginormous carvings around the parking lot. It was time to make a run for the Miranda Gardens Resort and check in to our accommodations. We had dinner reservations at the historic Benbow Inn. A really neat, very old hotel that many of the early Hollywood types frequented. A step into the lobby and dining room is like a step back in time. Dinner was awesome and the service was first rate.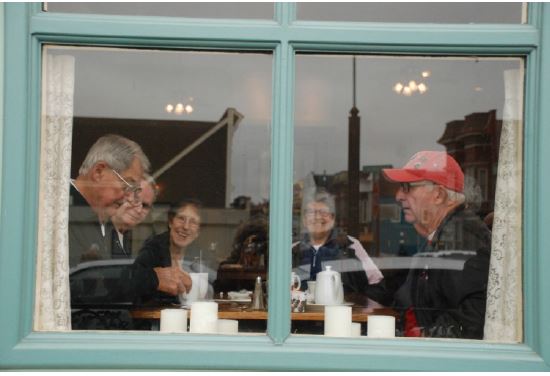 We decided on the café across the street for breakfast before setting out for the day. Since the Miranda is already 6 miles in on the Avenue of the Giants we thought it best if we made our way to our northern most destination and work our way back so we set out for Fern-dale. Ferndale is a fairly typical small town except for the architecture. Most of the businesses and homes are built with a very ornate Victorian style. Let me tell you, all the beautiful Tbirds parked on Main St, in the middle of Fern-dale caused quite a stir. It was like the biggest thing to hap-pen to that town since the big flood in '48 (or whatever). Seemed like everyone in our group was able to find some-thing that interested them. Some went shopping. Some wandered around town to see the sights. Some found their way to the Palace bar (surprise) for something to warm up the insides. The funny thing was Kim and I wandered in and had an Irish coffee and it was pretty quiet with only a couple of local pa-trons in the place. We left and walked down one side of Main St and back up the other side (all of 3 or 4 blocks). By the time we got back up to the Palace it seemed like the rest of our group had discovered the place but when I walked in it seemed like a totally different place. The bar was full and lively. The music was cranked up. It was as if when BATOC walked in the place woke up and said, "alright now it's a party!"
We departed Ferndale and headed back to the big trees. I had read about the Dyerville Tree that the National Forest Service listed as the biggest living tree in the world (17 feet dia., 385 feet high ) until it fell over in 1991. Well, if you're going to see big trees, you have to go see the biggest one, right? So the next stop was Founder's Grave. It involved a nice little walkabout to find it and you know what? DAM IT WAS BIG! By then it was getting late so we headed back to the Miranda for the evening. Pizza was bought and consumed and I have to thank Tom and Lita for allowing all of us to invade their cabin for dinner and breakfast the next morning too. Very gracious.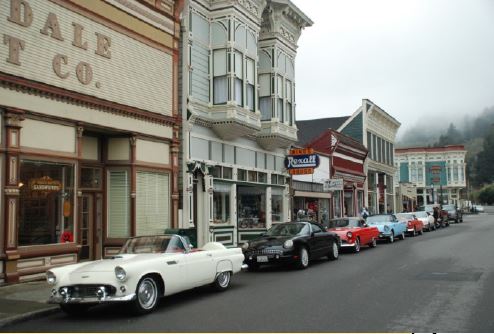 Sunday it was time to roll out and head home but we still had a couple stops to make on the way. One was a little roadside yard art/trinket store where Bigfoot is apparently a major attraction and you can get any size, shape or color of carved redwood bear that you could ever imagine. Next stop was Richardson Grove that at first seemed like it wasn't going to be much but turned out to be a hidden gem. From the lodge/ranger station/gift shop to the gorgeous walking trails to learn-ing about the history of the place and the many things and events the place had been through the years. Very cool and an awesome place to get some great photos. The last stop on the tour was in Hopland at Jackson Keys Winery. Amanda (a native of Walnut Creek) was very welcoming and poured our tastings out on the porch of the house that was built in 1880 while we tried our best to polish off the rest of the snacks we had brought. Most enjoyable.
I'd like to thank everybody that made the trip and I like to think everyone had as good a time as we did. Now it's up to somebody else to come up with something for next year. BD
*****************************************
SEPTEMBER
*****************************************
Saturday Sept 30th
Santa Cruz Birds on the Wharf
74 T-birds and one T-chick
setup begins early
The show beginsAnd the crowd rolls in


BATOC has a Winner!! Congratulations Nick!

the T-Chick: (We aren't sure where the T-hen was)
*****************************************
The Ironstone Concours d'Elegance
and a side trip or three
Much more than just the incredible trip to ironstone. Stay tuned for all the details coming soon.
Flyer: Ironstone2017-Registration-Packet
We stayed at Angels Camp / Cedar Inn, Best Western in Angels Camp! and  Travelodge Angels Camp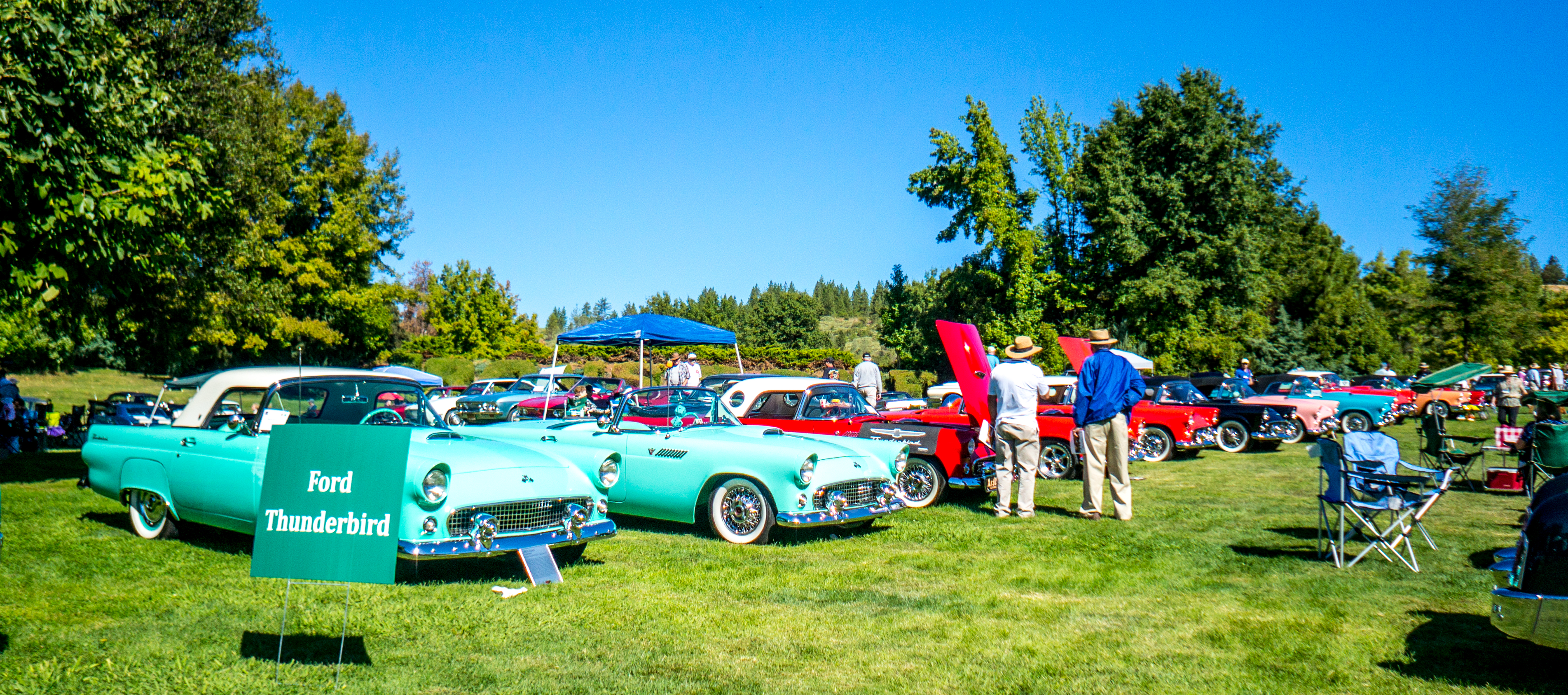 We left Tracy and drove to Copperopolis for a trip to the past.  We searched the wall for the dollar BATOC left years ago, told stories, sampled libations, enjoyed each other and the absorbed the ambiance.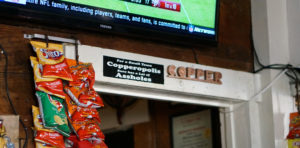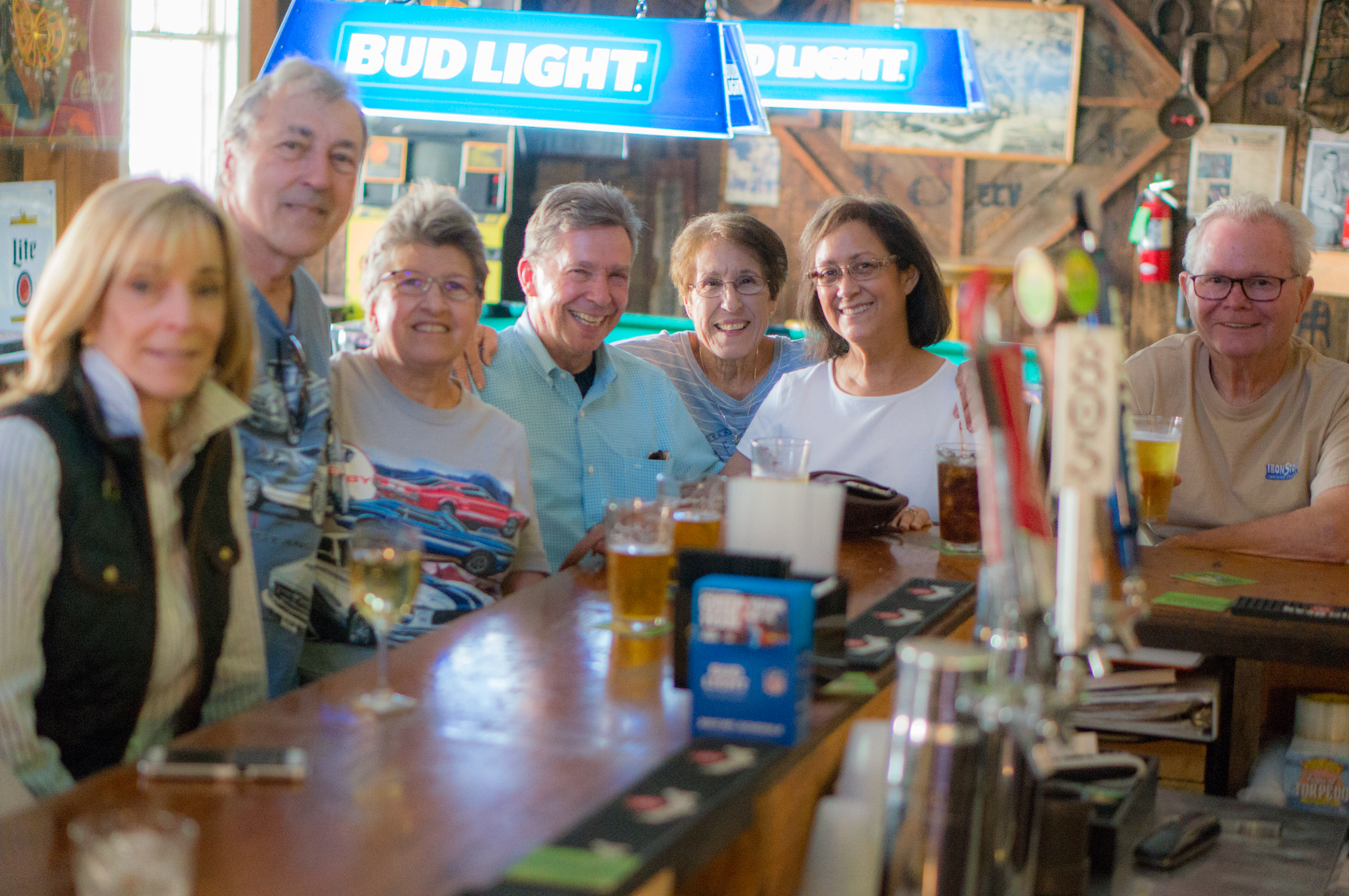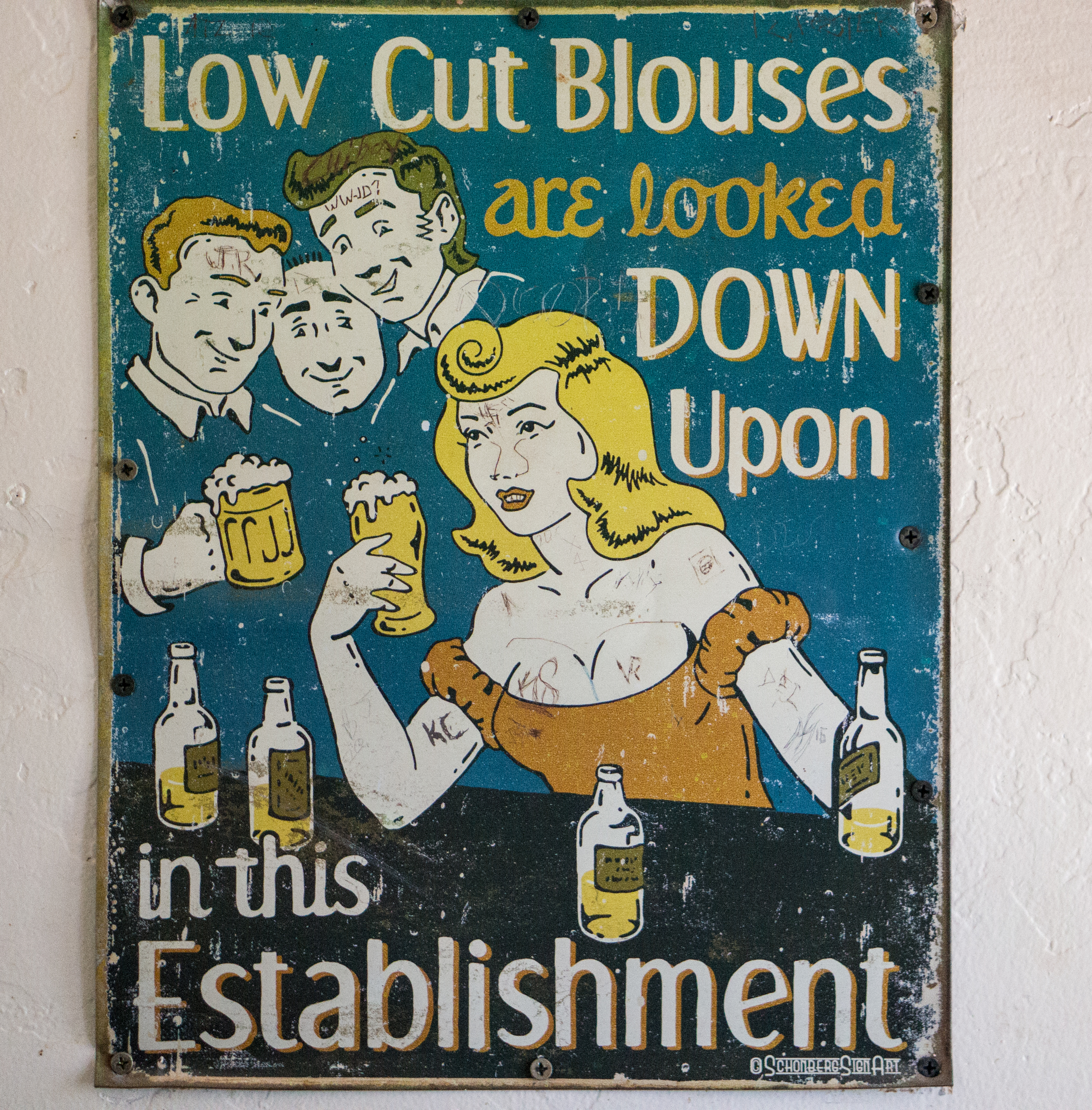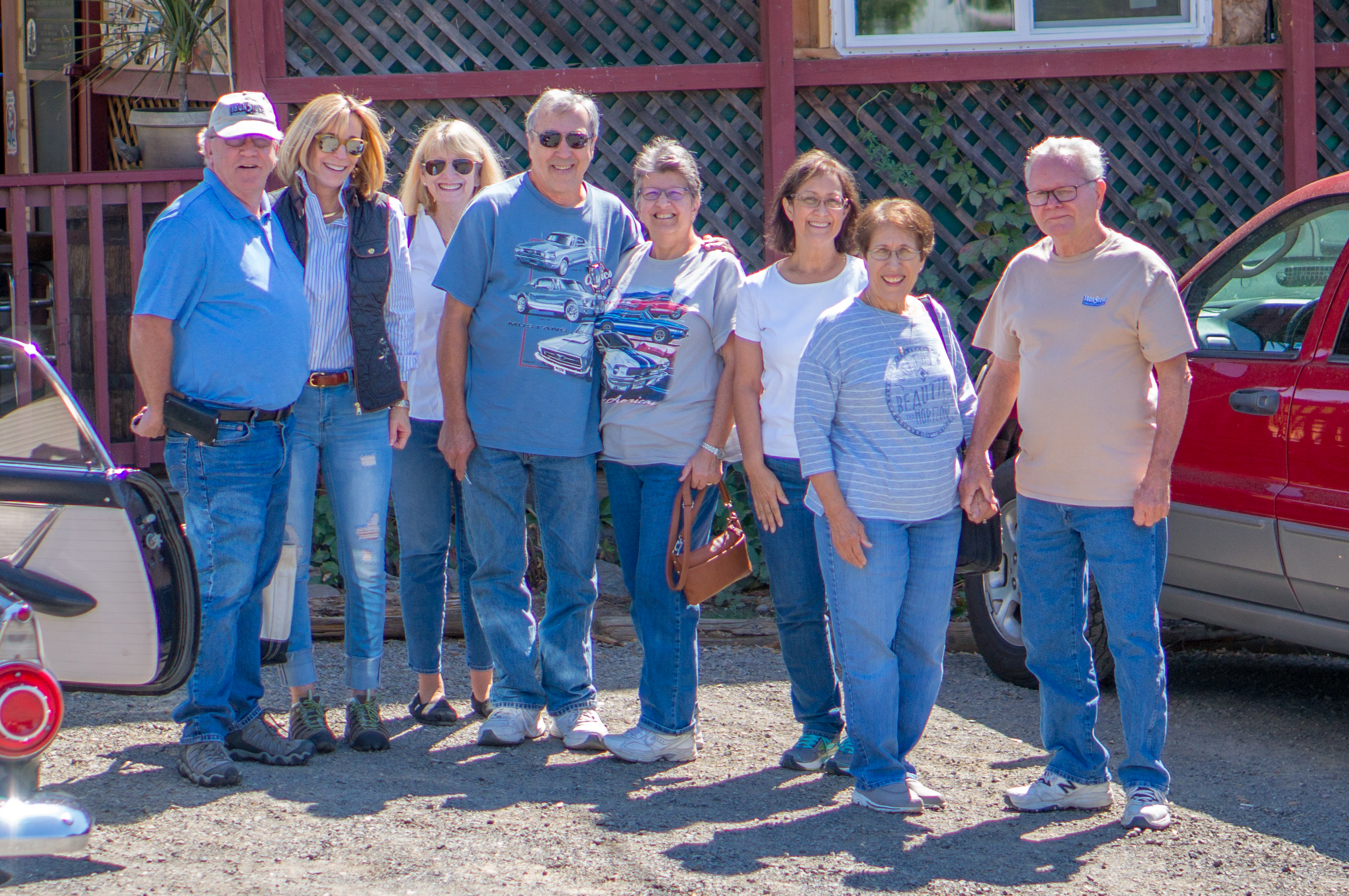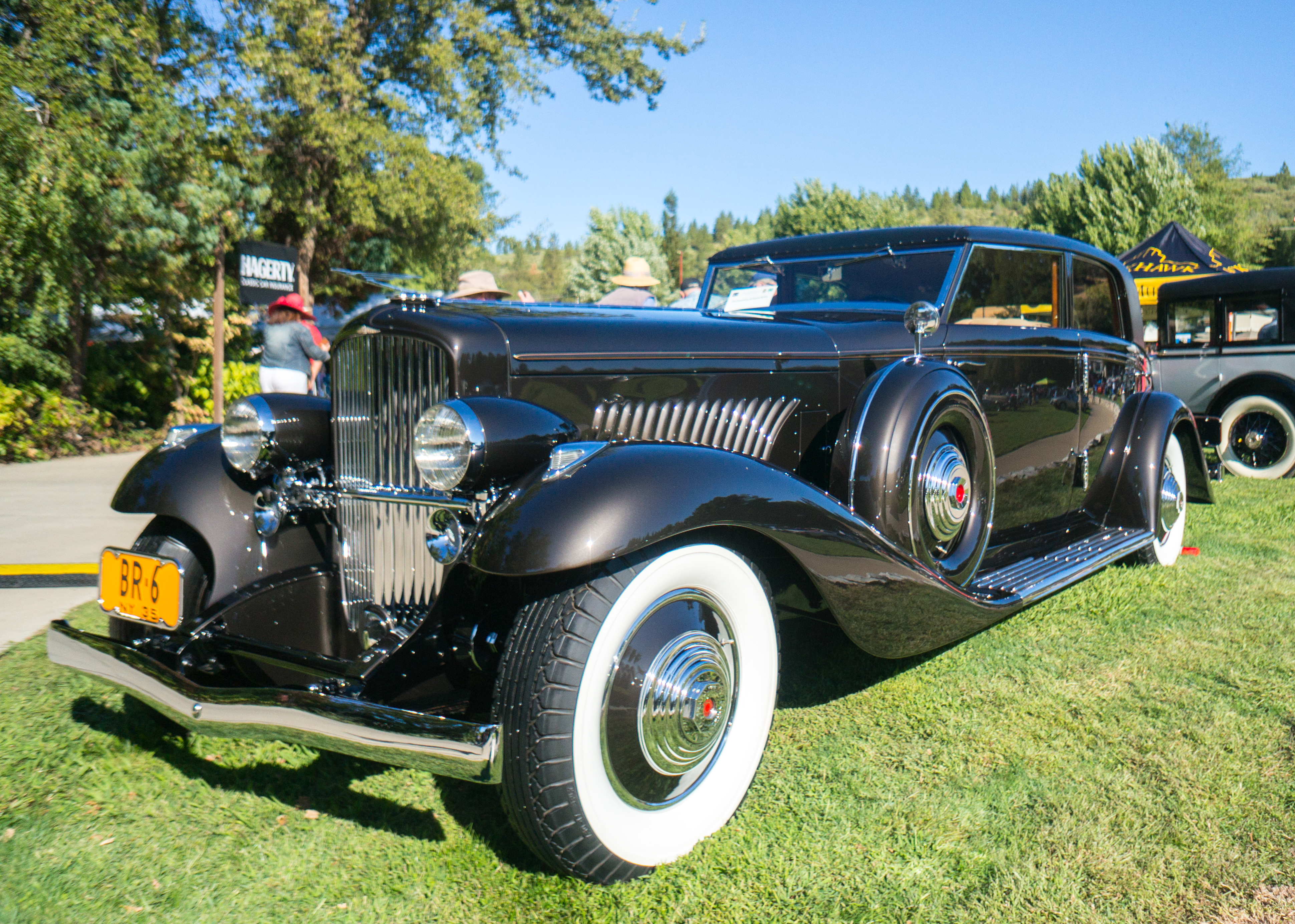 On to Murphy's and the Hotel.  (We cant show those pictures)
Then to the show in the morning to spend the day with the most interesting people and amazing cars imaginable.  Mary suprised me by buying me a perfectly restored Duesenberg (NOT!)
We saw cars swimming, cars with wheels missing, cars with houses behind them, and on and on.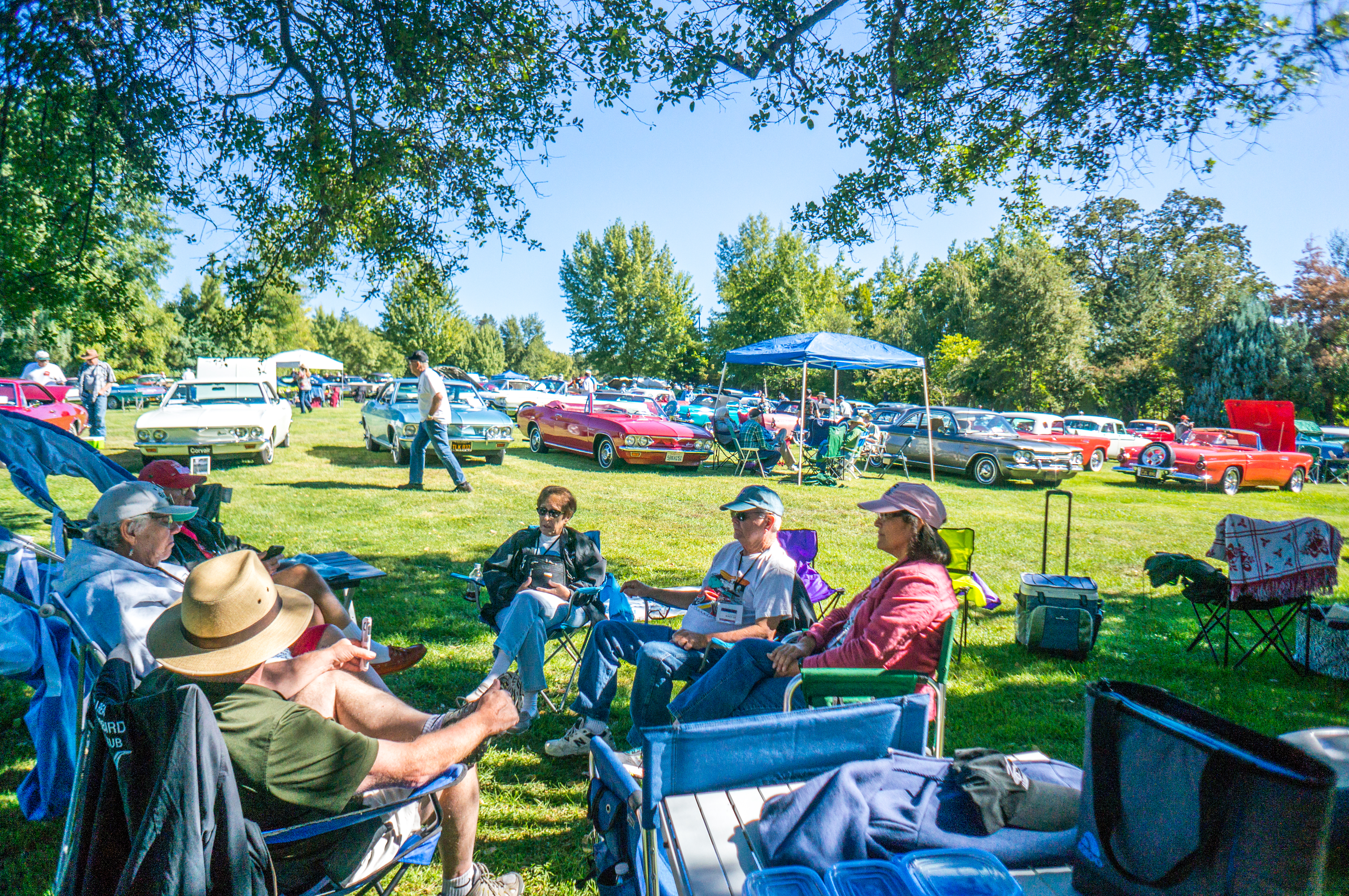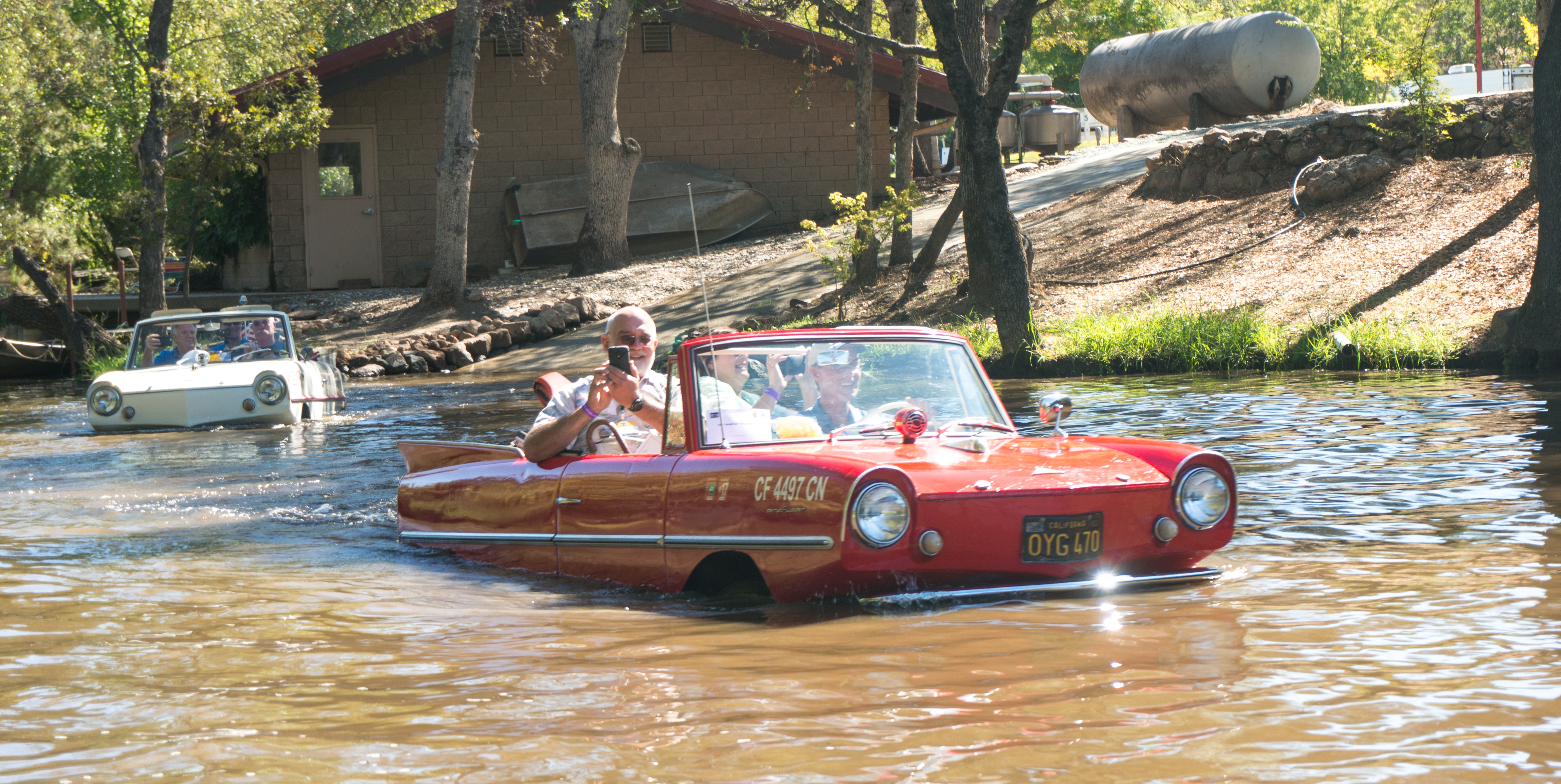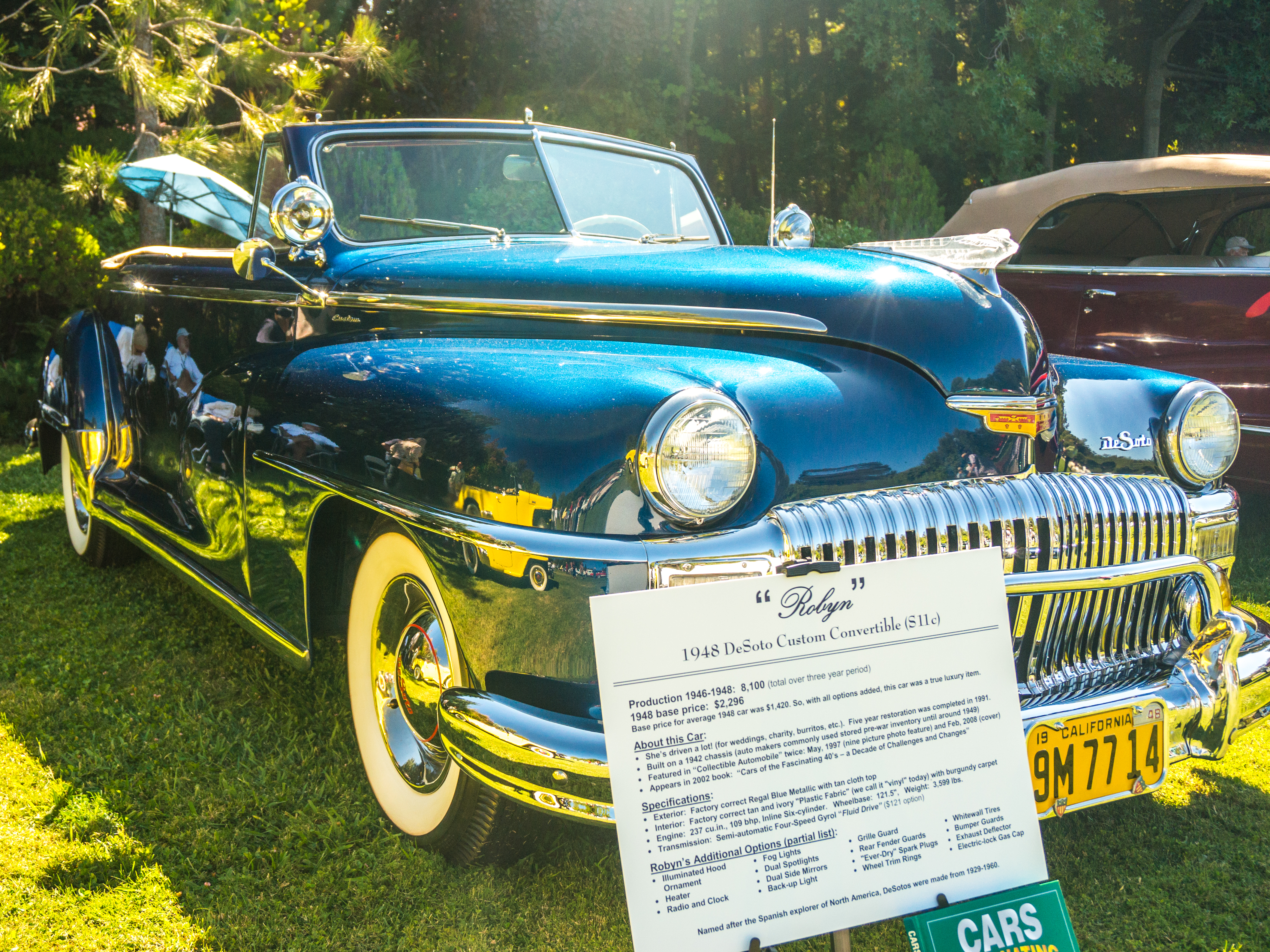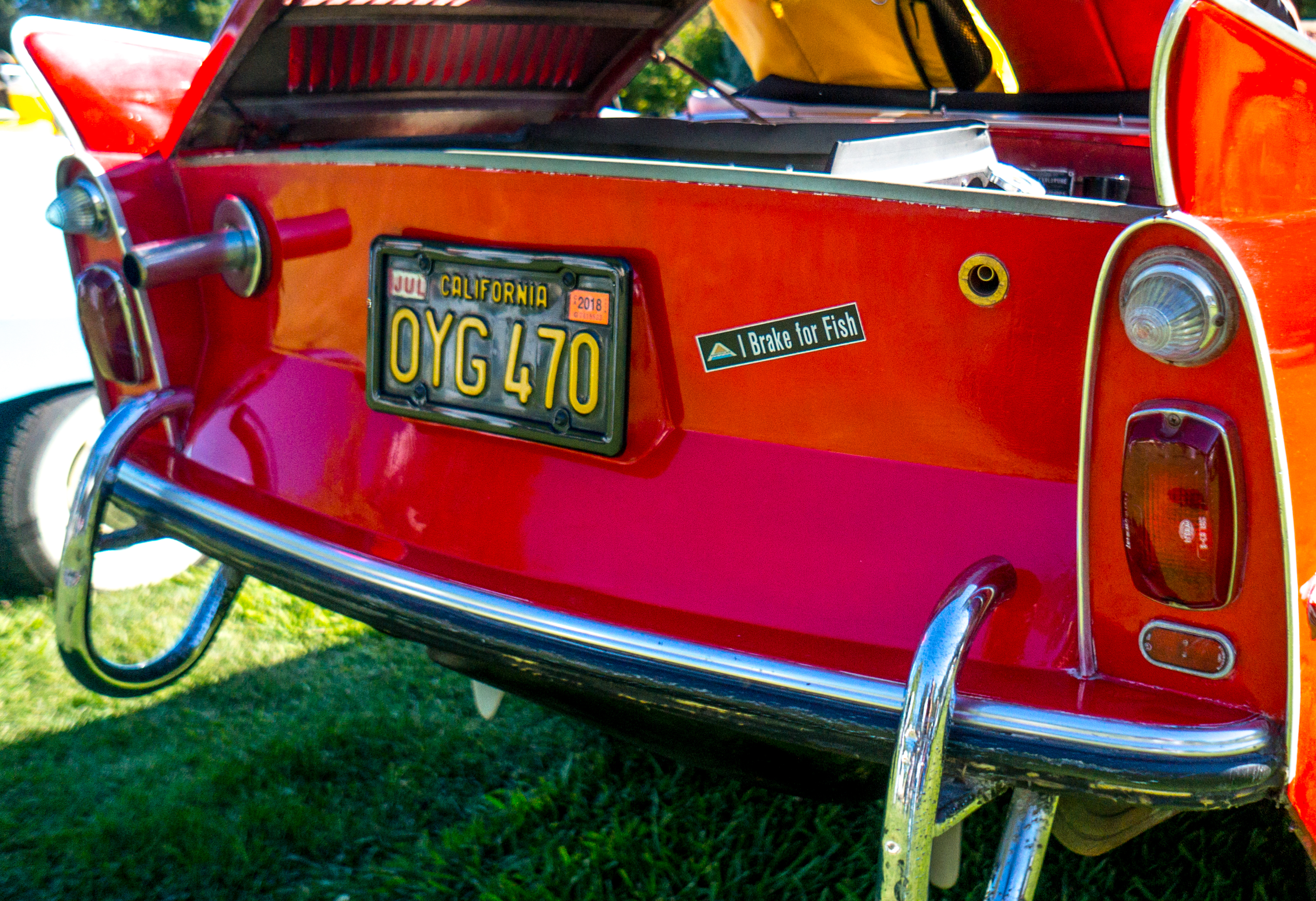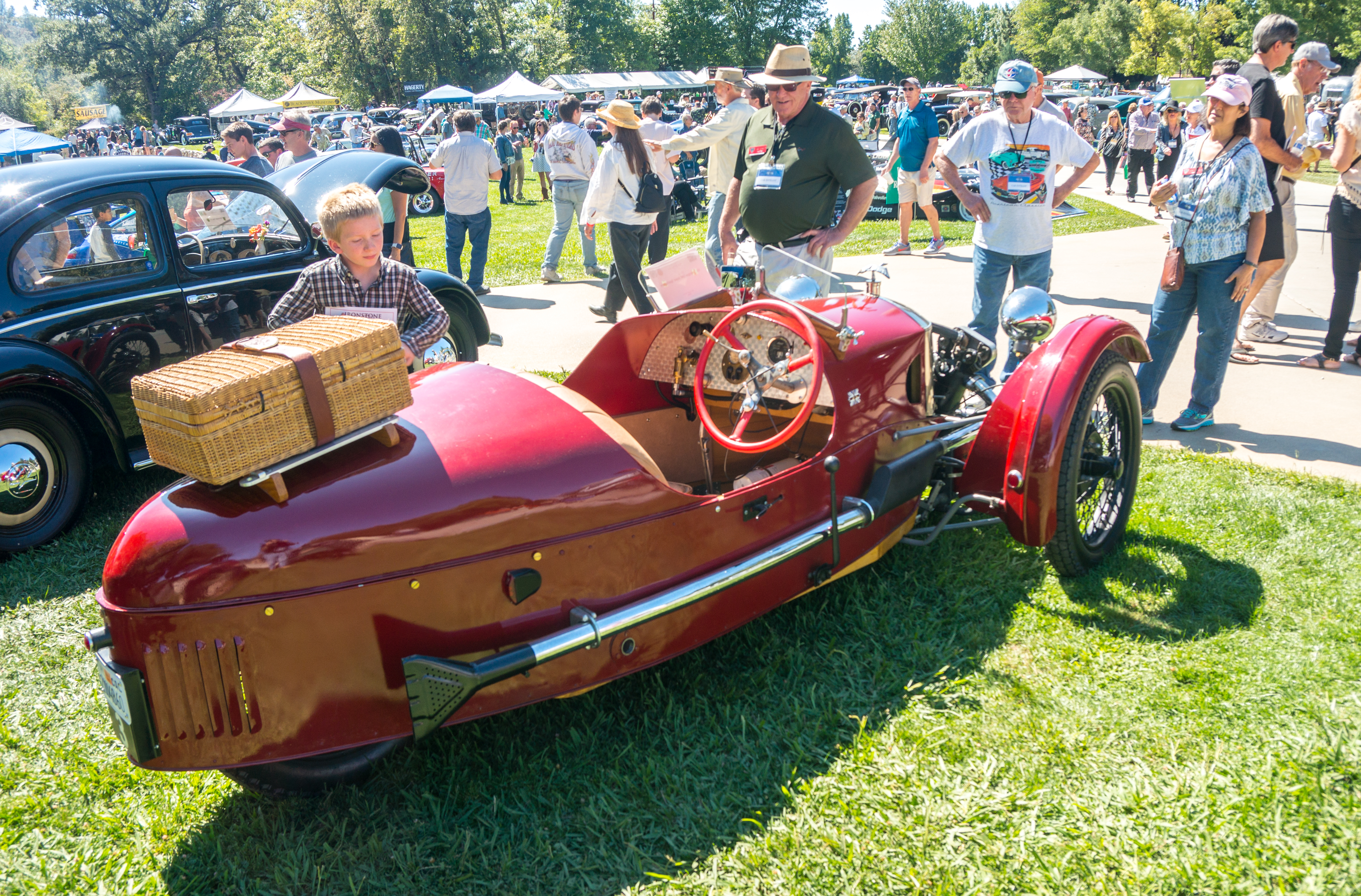 After the show we dropped into Angels Camp for dinner, ice cream, and of course a beverage or two.
Then off the next day for Fricken good time at the Twisted Vine Winery where rubber chickens roost in the trees and Frikens pose for pictures with you. .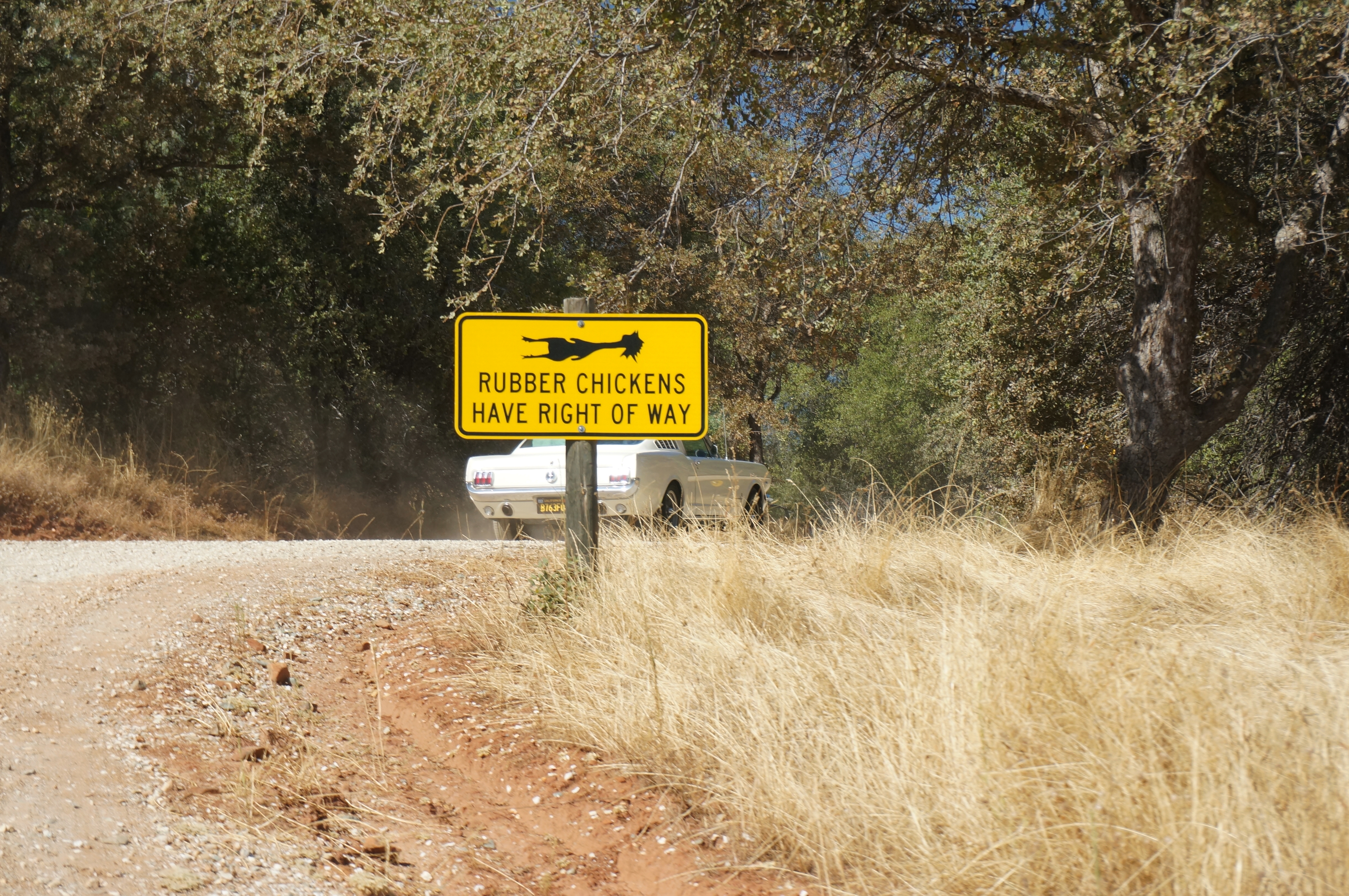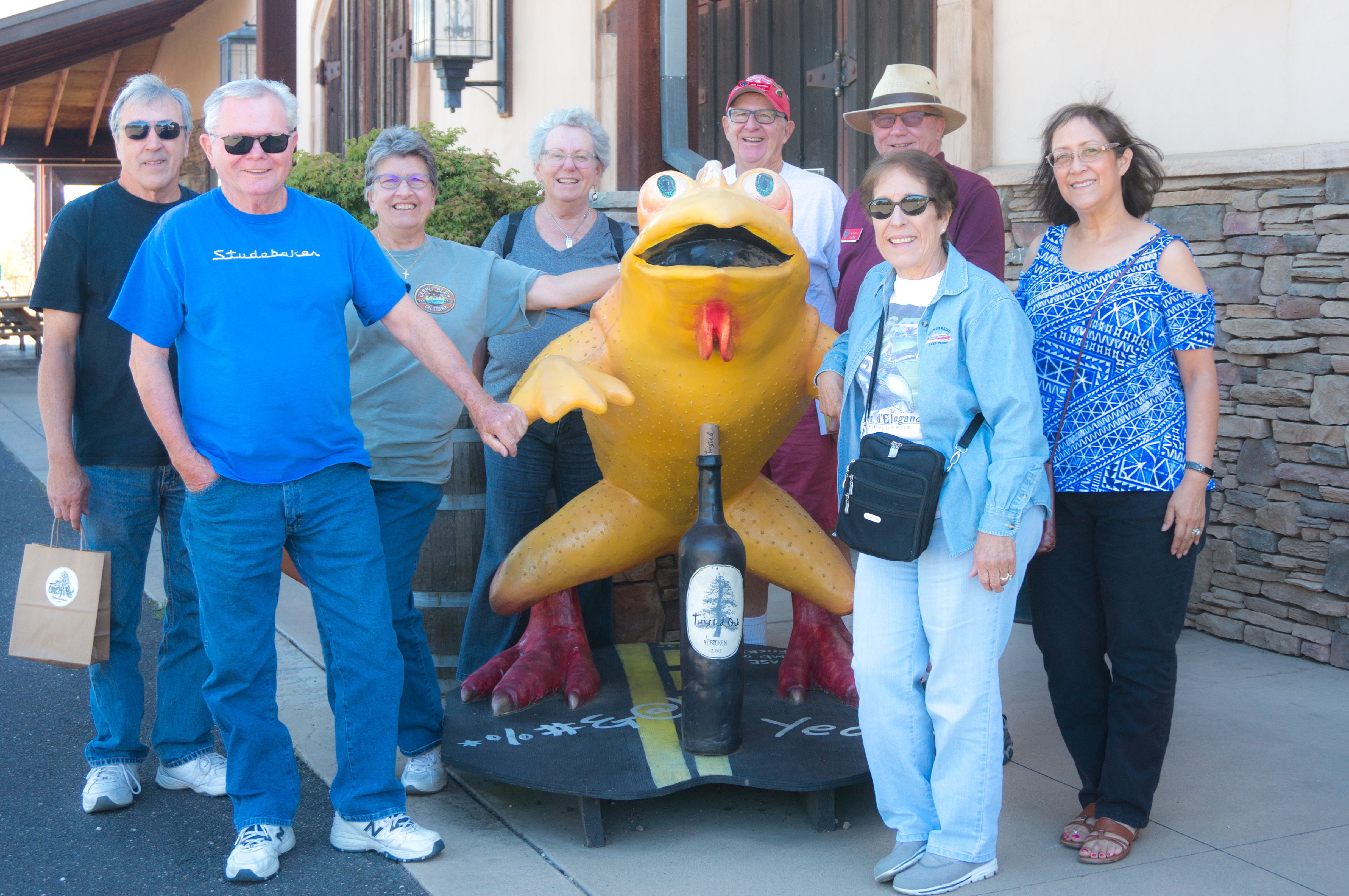 Then to Columbia for a real trip into the past.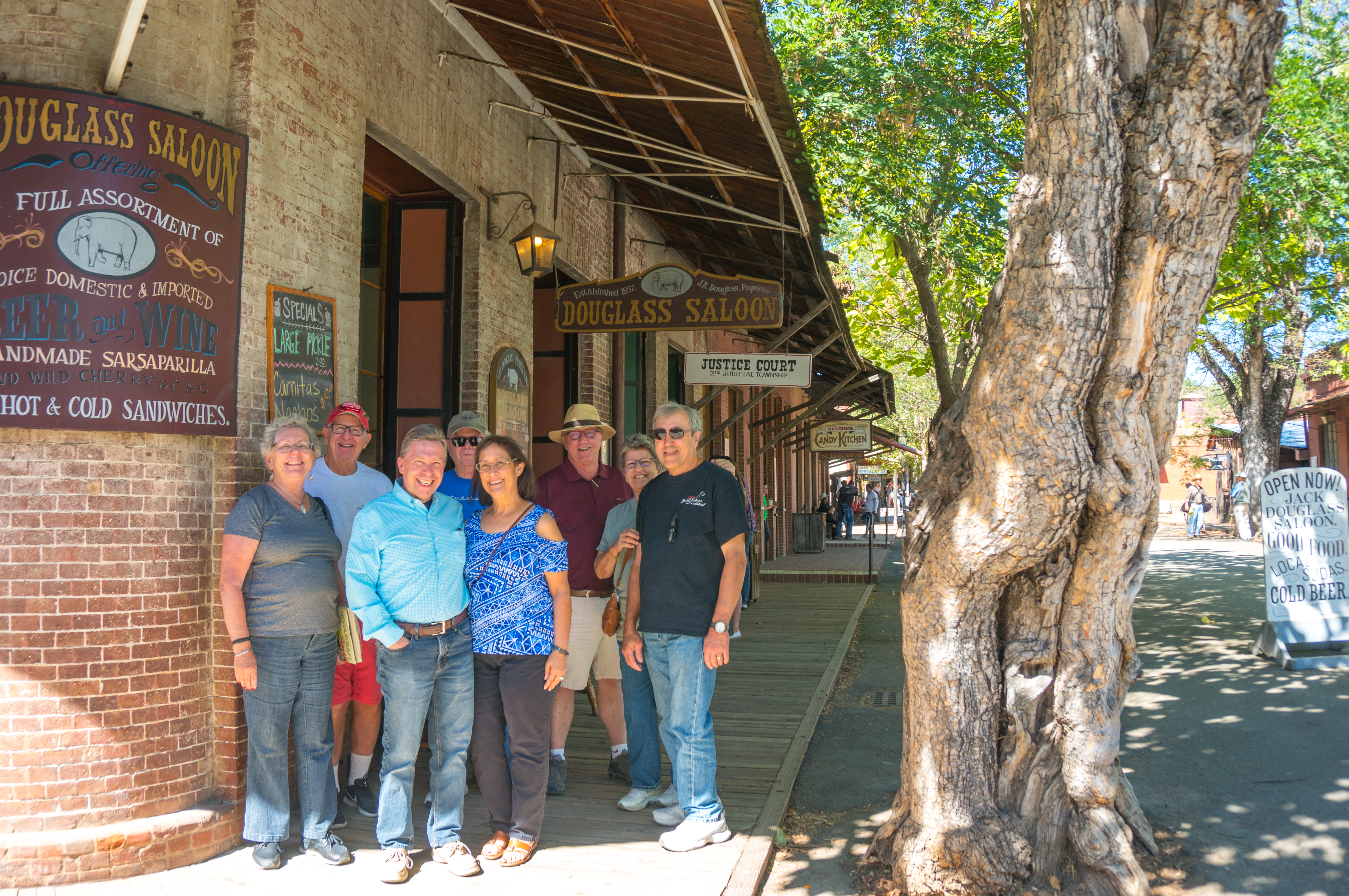 ********************************************************************
August
********************************************************************
Sacramento Train Ride
lots more pictures here
Thanks to Dave for great company, a gorgeous drive along the Sacramento river, a c

on

gen

ial 

t

rip on vintage rail cars even older then our own.  And for a delicious lunch on the beautiful Delta King, followed by libations at the Hood.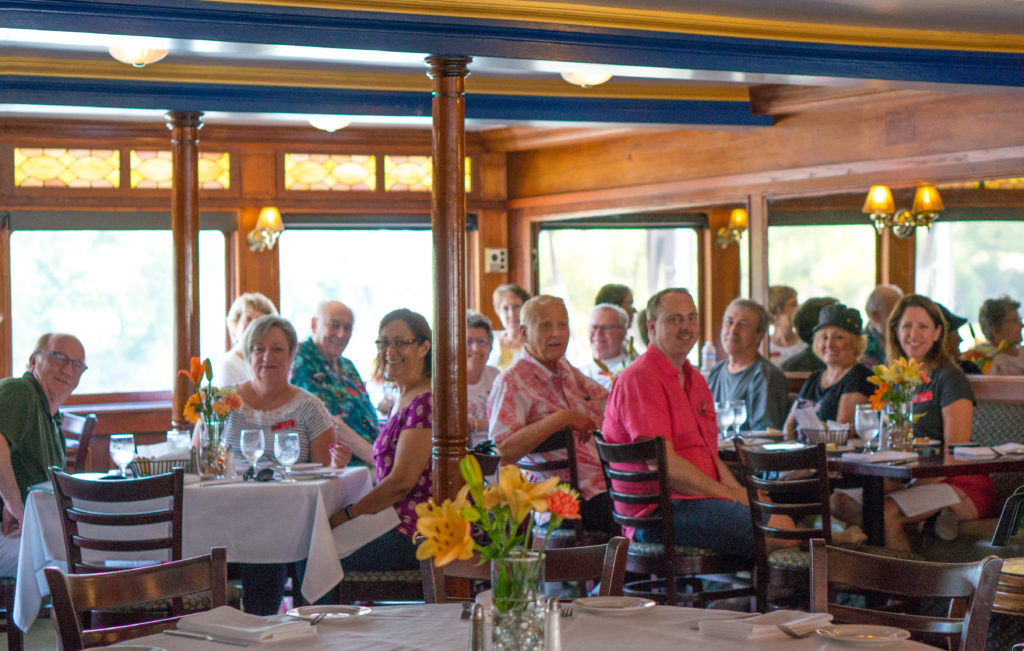 Many more pictures here
********************************************************************
Hot Summer nights August 8/10/17
Check the picture page if you attended.  Your car is probably in here. 
A flock of lucky thirteen t-birds, joined by a few friends, descended upon the the sovereign(ish) city of Danville.

WE CAME –
following our privileged path, to the center of the kingdom we flew, deft as a stampcrab.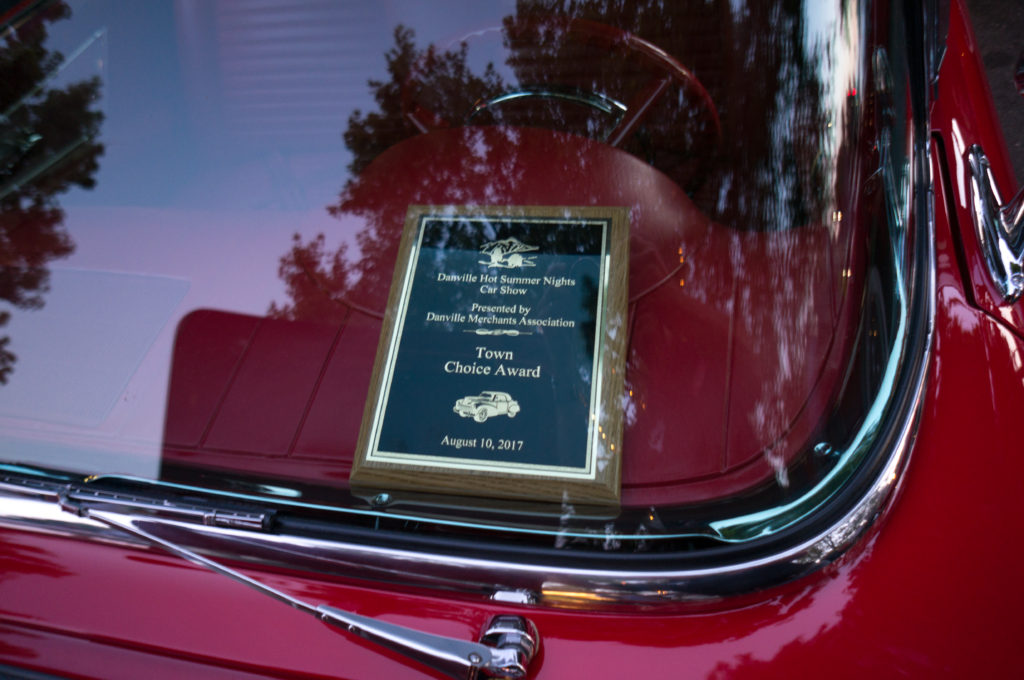 We conquered –
one of the flock became the chosen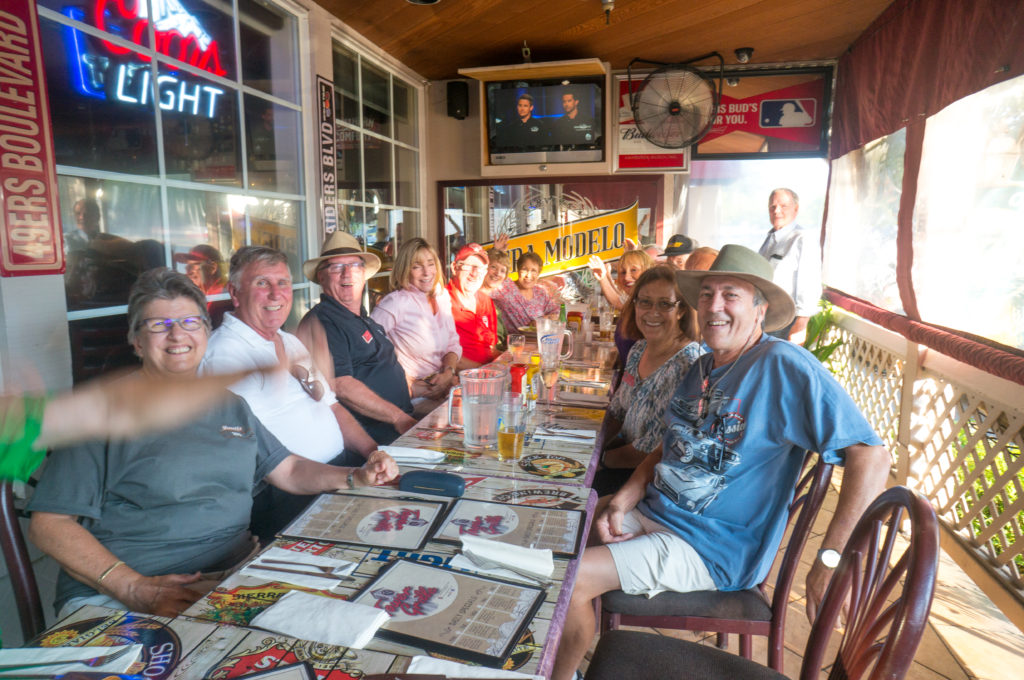 WE ATE –
Much merriment surrounded the celebratory feast, even while haunted by spirits
Most all the attendees are represented.  However, no spirits were captured on film.  Remember, they are downloadable. (The pictures only, you'll need to provide your own spirits)
******************
July
Saturday July 15th – Progressive Dinner
The club shares our deep condolences to Skip, our founder and would be desert host, who lost his wife the week before this dinner.
To all of our hosts, we cannot thank you enough for your generosity of time and spirit to make this memory for all of us.
_________________________________________
First, to the olson's beautiful home for tasty Hors d'oeuvres, an spectacular view, and great conversation.
Thank you David & Dolores for your gracious hosting and all your effort. you made it a great time for all of us.   The food was wonderful. The route 66 theme so dear to our hearts was extra fun. The company was, of course, as always, unbeatable.

Then to the Benson's gorgeous home for an incredible meal
Thank you Ed & Donna for your company, sharing your amazing home with us, for a very full day of cooking and the presentation of a marvelous dinner.  The club took full advantage of your great outdoors and your artful home, oh and also the bar(s).
Then, off to see Dave and Susan where we capped the day with an evening of beverage, bake goods and burr, cold ice cream (yeah, I know. Cut me some slack.  I was trying for alliteration, whatever that is) in what can only be described as their in their enchanted property.
Always the consummate hosts, Thank you Dave and Susan for providing the perfect fun and relaxed close to the day.
Special thanks to David and Susan for stepping in at the last minute.
********************
Hot Summer Nights
A perfect day for classic rolling stock, tasty Tri-Tip and a libation or two
Special thanks to roving photographer Michael Rosenzweig for sharing some of his great photos with us.
See more of Mike's Photos here
********************
june
********************
BATOC's 59th Anniversary Party
A perfect day for friends celebrating 59 years of BATOC
Brunch at Campo Di Bocce
MAY
Saturday May 28th 1PM to 5PM – 2nd annual "Birds in the Valley"
On a beautiful afternoon in May a number of gorgeous Tbirds descended upon Veteran's Park in Tracy to celebrate the beginning of summer. Sponsored by our Vice President Marlon and his lovely wife Phoebe. Kim and I were not able to attend. We were on a mission to scope out an October run for the club but it seems that everyone had a good time. There was the morning gathering at Jim and Maria's party headquarters in Livermore and the subsequent cruise through the beautiful countryside to Tracy where Marlon had secured the BBQ/party area and parking for the birds. From the looks of the pics posted to the BATOC website, it seems like it was a wonderful affair. Looks like Paul and Irene took home the iron this year (I suppose Jim and Maria must be running out of award room) for their 55 with a continental kit. Looks like everything went well and no breakdowns this year on the trip home. YAY! A big thank you goes out to Marlon and Phoebe for killing it again this year. (More to come on the friggin awesome overnighter that we are working up for October)
FLYER: 2017 Birds in the Valley.1
Saturday May 20th – Ford Thunderbird Migration/Concours
Thanks to all folks at the NorCal vintage thunderbird club folks for hosting a fun time and delicious BBQ.
Batoc was represented at the event and walked away with awards for best 55 and 56.
Click here for map and directions to event
Entry form and flyer: Thunderbird Migration-concours- concord
 April
 Sunday April 9th – WINE COUNTRY DRIVE
for a full array of pictures: Wine Country Drive
BATOC NEVER STOPS WINE'N
OMG look at the Gull Wing!!!
We all lucked out for our wine country drive on Sunday morning. Thirteen beautiful Tbirds headed up Interstate 680, through American Canyon and on into Napa Valley wine country. After a short pitstop in downtown Napa at the Oxbow Market Place in spite of the parking shortage caused by the Easter egg hunt next door at the Culinary Institute. We all headed out and wound our way up a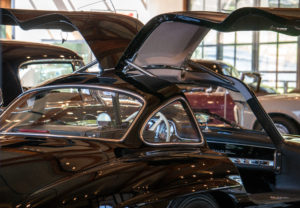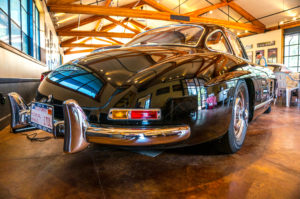 narrow two lane road through Dry Creek valley.
Using a non–competition scavenger hunt list we were all alerted to keep watch out for various sightings like dinosaurs, barn finds, one lane bridges and volunteer fire departments. We all arrived safe and sound at the collection of Pat & Patti Matthews high on Mayacamas Mountain.
After some bubbly and a short tour of their collection, we all sat down for some very tasty box lunches. Once our hunger
was satisfied Pat gave a formal tour of the collection includingthe fascinating history and restoration of each car. He even included a tour of his auxiliary garage, basement and machine shop where he did the complete frameoff restorations.
After a raffle drawing for a prize generously donated by the Matthews some headed on home returning through Sonoma Valley and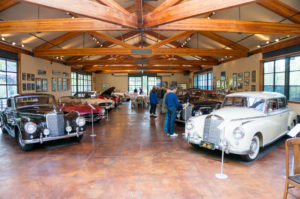 the rest of us headed down the mountain for a little wine tasting of the delicious wines offered by Muscardini Cellars. They even gave us front row parking along the highway to showcase our cars which included Pat & Patti's bright red Alfa Romeo.
A great time was had by all.
JV
Thanks to John and Alice for hosting this event and providing the writeup.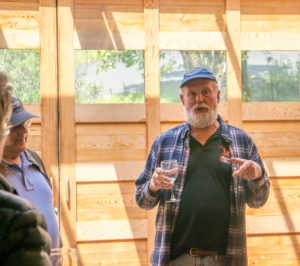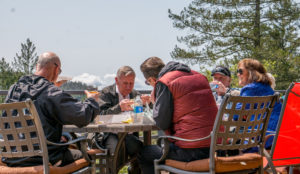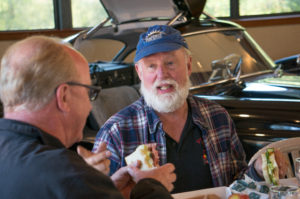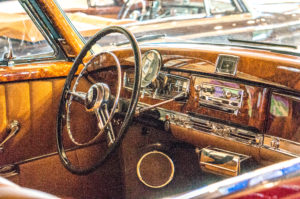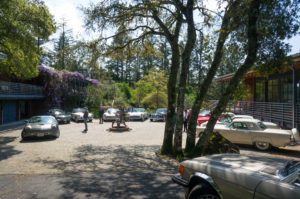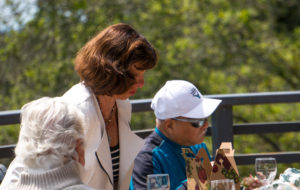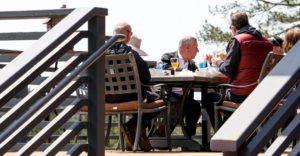 March 25th – BOCCE-TOC

BATOC goes BOCCE-TOC

for a full array of pictures: Bocce PICs

On March 25th, BATOC members descended on Livermore for a fun-filled and memorable day. We started out at the Duarte Garage located on what was the original Lincoln Highway. Will Bolton, museum curator, welcomed us warmly and lead us on a tour through the history of the garage including lots of historic memorabilia, historic Livermore fire engines beautifully restored to operating condition, the pulley operated machine shop, and much, much more. We kindly thank Will Bolton, Anna Siig and the Livermore Heritage Guild for their hospitality.
Next came the caravan through downtown Livermore! What a sight it was to see a dozen or so classic T-Birds driving through town! I'm told many locals actually actually stopped their dining or shopping, got their phones and cameras out, and captured some really great photos!
Lastly, we ended up at Campo di Bocce. After receiving a lesson in how to play Bocce Ball, we divided ourselves into 4 teams and were left to our own accord to battle it out. The competition was fierce, but great fun was had by all — especially those who won and couldn't stop doing the happy dance! We ended the day reviving our energy with an Italian feast and….oh such great desserts!!
November
October
September
August
July
June
May