What's New On the BATOC Route 66 Caravan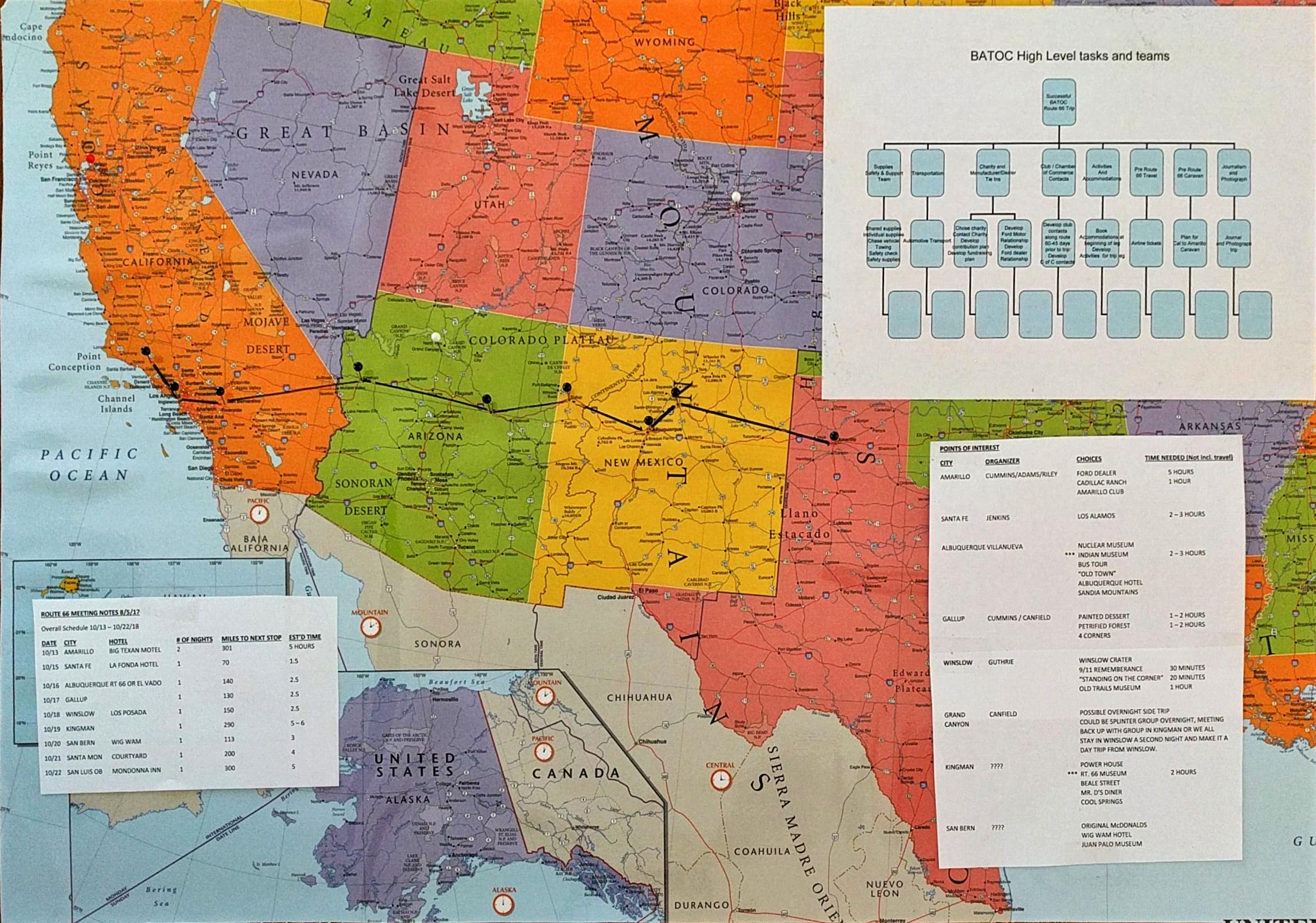 Flyer: Route 66 Planning Meeting #3
THIS MONTH'S MINUTES:
NEXT BATOC 2018 Route 66 Trip Planning Meeting
September 9th 10/14/17 after the Club meeting.
This will be our sixth planning meeting.  Dont forget to bring your homework.  Again: A huge thank-you to all who participated.
 Meeting. It is open for all interested to attend.  Please join a committee. 
Committees: BATOC Route 66 Caravan (you will need a power point reader for this document)
Minutes from previous meetings:
10-14 agenda BATOC RT 66 Caravan
General
Bucketlist Items:
Maria – Sleep in a Wigwam
Paul Gravelle – Cadillac Ranch
DJ – See the Big Texan
Maria – Las Posada Hotel
your bucket-list item here
and yours here
and you there, here is where yours goes
you get the idea
see above
Budget Estimates: (based on a 12 night trip for two people, including car transportation and one-way driving)
Hotel Accommodations: ($120/night) $1500
Food: ($100/day) $1200
Gas: (approx. 1750 mi./13mpg/$3gal) $ 400
Entertainment Expenses $ 300
One-way airfare to Amarillo ($250/person) $ 500
Car Transportation estimated at $500 – $1000
Total: approximately $5000 per couple
 Tentative Itinerary by stop:
Amarillo TX (2 nights)
Santa Fe NM (1 night)
Albuquerque NM (1 night)
Gallup NM (1 night)
Winslow AZ (1 night) — Las Posada Hotel (Maria to plan this day)
Flagstaff AZ (1 night)
Williams AZ (1 night)
Kingman AZ (1 night)
San Bernardino (1 night) — Wigwam Hotel
Santa Monica Area (1 night)
Return to Bay Area
Next meeting:
Saturday, after the Monthly Club Meeting @ Buttercup
Agenda Items:
Follow-up on Car Transportation
Begin discussion on Activities (bring your ideas!!!)