Your BATOC Historians are Susan Goldenberg and Marianne Grech. With technical support provided by Mark and Matthew Goldenberg. If you wish to contribute to this site please contact ether of the BATOC Historians listed here or email batochistorian@gmail.com.
---
History
BATOC was America's first Thunderbird club, founded in 1958 in Oakland, Ca. by Skip Riggs, the clubs first President.  Skip remains an important and valuable member to this day.
Lew & Faye 1950s
 

Our first meetings were held at a Ford Dealership.  In the subsequent early years, our monthly meeting place changed from restaurant to restaurant until we finally settled for several years at Art's Restaurant on Broadway in downtown Oakland.
In the mid-80's we moved to the Days Inn in Emeryville and in 1997 moved to our current location at the Buttercup Grill in Walnut Creek, Ca.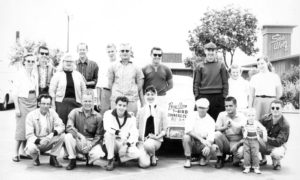 First group Photo 1950s
---
This is the complete archive of every newsletter that we have been able to locate to date. Please check your archives and help us locate our missing WNIBL issues.
This is a complete collection of every photograph that has been contributed to the clubs historical archives. If you have additional BATOC related pictures that you would like to contribute please contact one of the Historians. We can accept digital or prints. (All original prints will be returned.)
This is a collection of past events that occurred more than a year ago. Includes event photos, flyers and maps.