Bud Riley's 1957 White Bird
The first T-bird I had was a 1956 White bird with automatic transmission, in 1958. I sold that one, but ended up with a Red 1955 bird in 1962. The Red bird was a 3-speed stick with overdrive. I put a 390 high performance engine with 401 horsepower in it so I could win my street drag races. A year or two later I put a highly modified 427 in it to keep my winning streaks alive at the local drag strip, Sacramento Raceway. I had that Red 1955 until 2010. I finally sold it because putting it back on the street was more money and work than I cared to deal with. Around that time my buddy in Elko, Nevada told me he found a nice Ford dealer-owned White 1957 bird there that was essentially stock. Jean and I bought it sight unseen, based on his recommendation. When we went to pick it up in Elko, NV, it was in much rougher shape than I had anticipated. My friend hauled it to Sacramento and dropped Jean and I off to go home. It was 5:00, commute hour, pouring rain and we had the scariest ride home ever. The windshield wip-ers didn't work, it leaked, and when we slowed down or stopped, the engine quit. After a lot of work and new parts, we have turned it into a very reliable, nice car. We enjoy it a lot now, and espe-cially going on outings with the BATOC. Lesson learned – don't buy a car sight unseen or without driving it, no matter how highly it is recommended!
______________________________________________________________________________
From Tony & Kathy Lloyd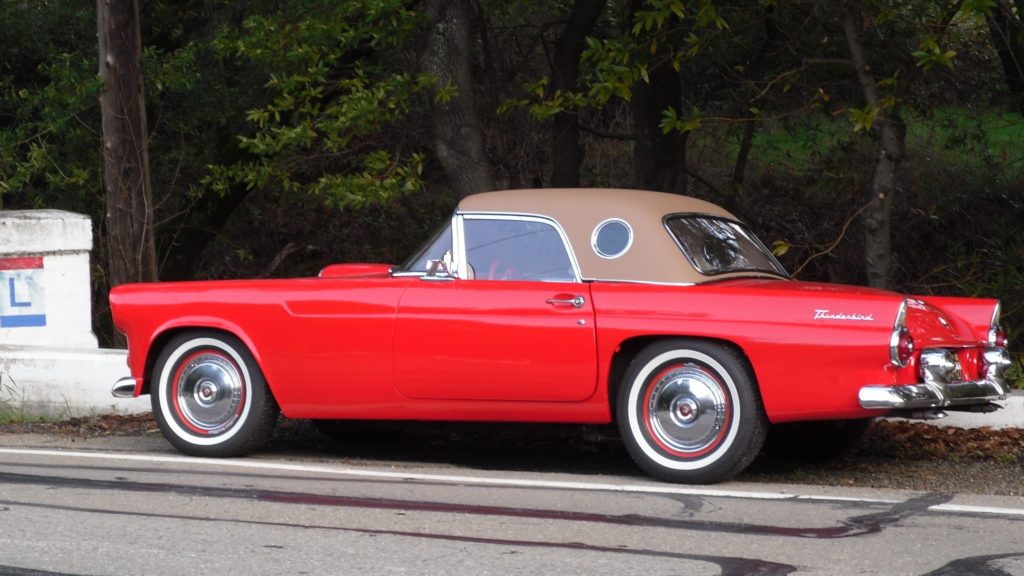 Regarding our T-bird history.
I have owned this car for 55 years. It was a worn out 100,000+, hit multiple times, beater when I got it.
Since then, it got hit two more times and I personally drove it another 400,000 miles. This was my daily driver the whole time The only original moving part is the glove box hinge.
In 1962 I purchased a red 1955 Thunderbird that was in poor condition at best. I only paid $1300 so knowing the car had slightly over 100K miles on it, I knew I had some work to do. It had so little compression that it wouyld only start when dead cold. There was no starting it when it was warmed up. I pulled the engine and transmission and ripped it apart on my dad's clean garage floor. He was less than pleased.
Some help from Green's Auto Parts machine shop, new bores, pistons, bearings and heads were done. I put it all together with a new clutch and back in the car it went. I then scrubbed the garage floor for three days until my father was satisfied.
Now I had a decent driving "boulevard cruiser" capable of running back and forth between Walnut Creek and the northwest coast of Washington State where I was serving in the US Coast Guard.
By 1967 I was assigned to US Coast Guard Lifeboat Station Point Reyes. I settled into a relax-ing tour of duty in one of the most beautiful areas I could imagine. The station was located on leased property owned by the Nunes family, operators of a large dairy ranch. Both the Coast Guard station and the ranch supported each other in day to day operations.
One day after I returned from liberty one of the guys told me that George Nunes needed my help. I took the Tbird and headed over to his farm to see what I could do. I found George fill-ing his vacuum tank truck at the honey pit. You may say, What the hell is a honey pit? It seems that when you milk cows they get fed grain which causes them to pee and poop. This material drains out of the barn and down the hill into a dammed up hole in the ground filled with cow crap and water. When the farmer wants to, he fills the vacuum truck with that free fertilizer and then sprays it in the fields for the grass to grow nice and green. It seems that I got a little too close to the Honey Pit as the bank gave way and the Tbird slid below the "liquid". In horror, I somehow went out of the passenger window as the little car slipped almost completely below the surface. The only thing visible was the right taillight. George thought it was very humorous. I did not.  George left to get his Caterpillar tractor and a long chain. He told me to hook it up. "Oh Shit!" I was able to find a bumper bracket without putting my face completely under the surface of the "liquid". The car was pulled out.
By now the whole crew was there having a wonderful time at my expense. However, I convinced them to help me completely disassemble the car, washing everything down, including me, and drying it out. They towed me in the Tbird to the (closed for the winter) fish dock where I opened the hood, doors ,trunk and washed it as best I could with a fire hose and fresh water.
All upholstery, headliner, carpet and door panels were ripped out. We removed the hood. The engine and transmission were pulled and the valve covers off, pan removed and interior of the engine was washed with fresh water. The transmission side cover was removed and the interior was washed. I went under the dash with the fire hose and washed the destroyed instruments
and radio. Understand that the engine was running when it went under. I spent about a month repairing the car. Insurance did not pay a dime. State Farm accused me of trying to get a free upholstery job. They said I made up the whole story! NO ONE TOOK A PICTURE. I considered that to be everyday life. For years when it rained and the heater was on you could still smell
cow poop!
A little aside to this story occurred during the 2005 paint and body restoration. A very talented
metalsmith was cutting out the hopelessly rusted rocker panel and was digging around this
strange dried up substance within. "What the heck is this" he questioned?
I replied "I have no idea".