UPCOMING EVENTS
Look for the "click here for map and directions to event" link and let your phone guide you to the event. iPhone users may need to download google maps from the apps store for the best experience
after the club meeting at Buttercup
*******************
2018
*******************
July
*******************
Saturday, July 21 – Day at Coppola Winery
Directions to meet point (Buttercup)
Directions to Coppola Winery
Join us on a trip to the Francis Ford Coppola Winery, Geyserville. Leaving from the Butter Cup, Walnut Creek at 9 AM. We will caravan to the location on the country roads as much as possible. We will have designated parking at the winery. See Director Coppola's movie-making memorabilia and Oscars on display at the museum.
Optional wine tasting $20-$25 payable on site.
we will caravan to Historic Santa Rosa Railroad Square (15-20 minute drive) where we are on our own for lunch, shopping, and browsing at many quaint stores including antiques/ collectibles.  Then on to the winery.
Schedule:
 > 9:00 AM – Leave Buttercup
 > 11 AM to 1 PM – Coppola winery – The wine tasting rate is $20-25 per person.
 > 1:30 PM to 4 PM – cruise to Railroad Square in Santa Rosa for dining and shopping
Contact Nick Verhoek at njbrv@aol.com to confirm and for more information
*******************
Sunday July 22 – Hot Summer Sundays#1 – Danville
*******************
August
*******************
Sunday August 19 – Hot Summer Nights #2 – Danville
Wednesday, August 15 – Sunday, August 19, 2018 – CTCI International Conference, Knoxville, TN
CTCI FLYER: Room announcement 9-29
2018 CTCI International Convention Knoxville, TN
Wednesday August 15 – Sunday August 19, 2018
The hotels for the 2018 Convention can now take your reservations. The Knoxville Convention Center will be the center of all activities, so there is no "host" hotel as at most conventions. We have two hotels available for occupancy and both charge the same rate of $125. The Holiday Inn World's Fair Park is across the street from the Convention Center. The Crowne Plaza is just a short walk or free trolley ride away. The CTCI Board Meeting and Membership Meetings will take place on Wednesday afternoon and the Welcome Party will be Wednesday evening.
You can use the information below to make your reservations (they can be canceled later if your plans change). The website works well for the block dates. You can also use the phone number if you are staying within the block dates. If you are planning to stay for nights outside of the convention block timing (Tuesday through Saturday) please note the comment below.
Hotel: World's Fair (Downtown Knoxville) Holiday Inn; Call-in Code (800-264-1579): The block code is CTC On-line reservation link: Hold down the "CTR" key and then click, or just click on the link below:
2018 Classic Thunderbird Club Convention Booking Link for the Holiday Inn World's Fair Park
For dates outside of the block timing please use this number (866-910-2844). Pricing is the same $125. ONLY in the event of "Special Requests" or other problems, use the following number (865-934-3290). PLEASE NOTE: Your confirmation may mention a standard parking rate of $12. We have negotiated a lower rate and a free nearby lot. Many downtown lots offer free parking after work hours and on weekends. Cars entered in the Convention Center will enjoy complimentary parking at the Holiday Inn for nights not housed in the Convention Center.
===============================================================================
Hotel: Crowne Plaza Hotel; Phone: 865-522-2600 (ask for Jamie Julius and mention the Smoky Mountain Classic Thunderbird Club) Use this same number for dates outside of the block timing. Pricing is the same $125
On-line reservation link
Parking at the Crowne Plaza is $10 or free at the lot near the Convention Center.
Hosted by Smoky Mountain Classic Thunderbird Club
If you have problems, send an email to our Chairman – Bill Long at "tbirdbill@yahoo.com"
*******************
September
*******************
Sept 22 – Ironstone, Murphys, CA (Canfield)
Entry is Now!
Applications are now open. Please refer to the list of classes 
here
 and refer to Entry Standards below.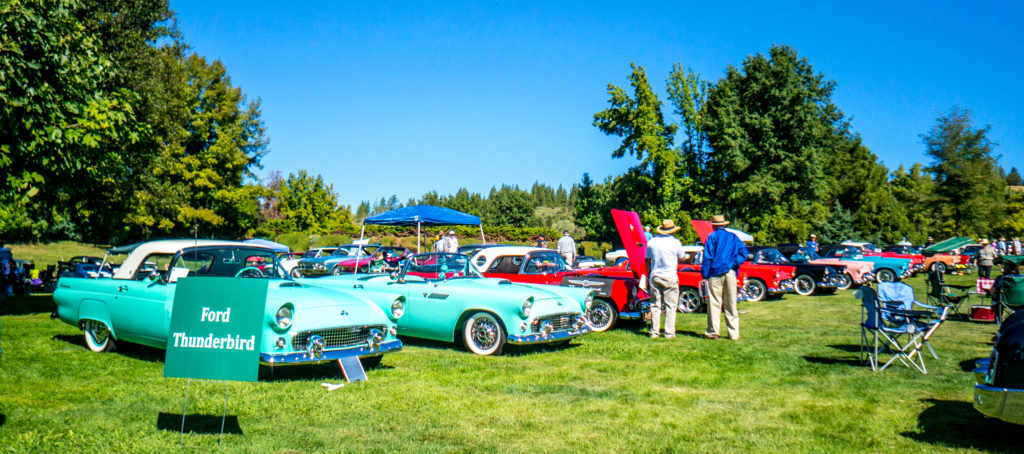 Judging Standards



Rather than awarding first, second and third prizes in each class, our judges will be asked to designate a percentage of the cars in each class to receive a ribbon indicating an Award of Merit. From that group, judges will choose one vehicle designated Best of Class. From the Best of Class winners, an overall Best of Show entry will be selected. The Race Car Class will also designate one car to receive the Martin Swig Memorial Award for outstanding contribution to the support of vintage racing.
As has been our custom, in addition to our usual overall awards and several new ones, Best of Class vehicles will parade over the Ironstone Amphitheater stage. We feel this change is consistent with our determination to keep the Ironstone Concours d'Elegance a fun, relaxing and elegant event…more reminiscent of the European Concours d'elegance of the 1930s, where each car was judged on its overall elegance and style rather than for its minutely detailed restoration or physical perfection.
Entry deadline is September 1, 2018. The show field will be available for car placement starting at 10:00 a.m. on Friday. To avoid the Saturday-morning rush, we prefer that entrants come early and place their vehicles on the field Friday afternoon. All entered vehicles must be in their assigned spaces no later than 9:30 a.m. on Saturday.
*******************
Saturday, Sept 29 – Birds on the Wharf, Santa Cruz

Link: Travel Blog Article on the Event
Entry Form: wharfentry
Directions: To the Warf
Where we stay: Beachview Inn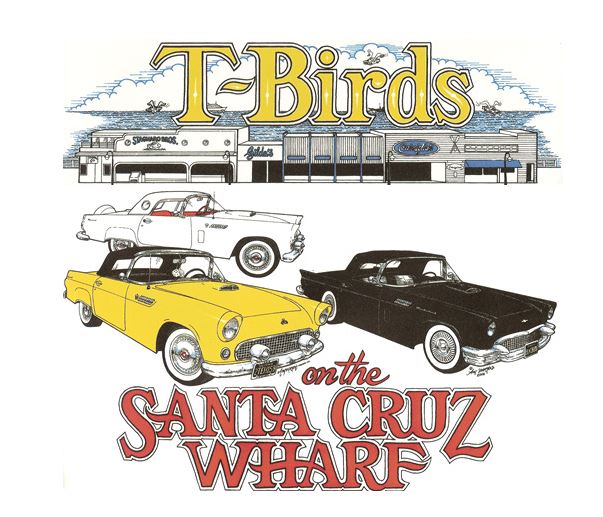 Monterey Bay Classic Thunderbird Club host of the annual event "THUNDERBIRDS ON THE SANTA CRUZ WHARF" with an assist from BATOC, featuring the classic 1955-1957, the 1958-1965 vintage and the retro, 2002-2005 Thunderbirds. Each year about 100 Thunderbirds and hundreds of people participated in the show. Spectators from throughout the area come to view the classic Thunderbirds, join in the events and participate in the raffles. Additionally, Thunderbird clubs from all over California and Nevada caravan to the wharf in Santa Cruz to participate. Many stay the weekend. The ocean, the mountains, the wharf, the restaurants, and the retail stores all create a powerful attraction.
*******************
October
*******************
Oct 5 – 17 Route 66 Caravan
So exciting it has its own page! Route 66 Page
We are excited planning for our 2018 caravan across Route 66 in our classic Birds and perhaps a few friends in classics to-be.
Not in the mood yet! Bobby Troup's song and Nat King Cole have gotten generations pumped up but I have a soft spot for daughters so for route 66 mood music, I suggest you
CLICK HERE to listen to route 66.
Please share your ideas with the committee
*******************
November
*******************
Nov XX – Veterans Parade (Baumgarter)
*******************
December
*******************
Dec XX – BATOC Holiday Party (TBD) Phil and Vi / Kathy
We are getting excited planning for a 2018 caravan across Route 66 in our classic Birds and perhaps a few friends in classics to be.
There are so many great websites to choose you need to look at them all, but here is one from the National Park Service to get you started, just for kicks: ROUTE 66 
Please share your ideas with the committee