*******************
Learn how to get your bird into the 2020 BATOC calendar
**CLICK HERE**
*******************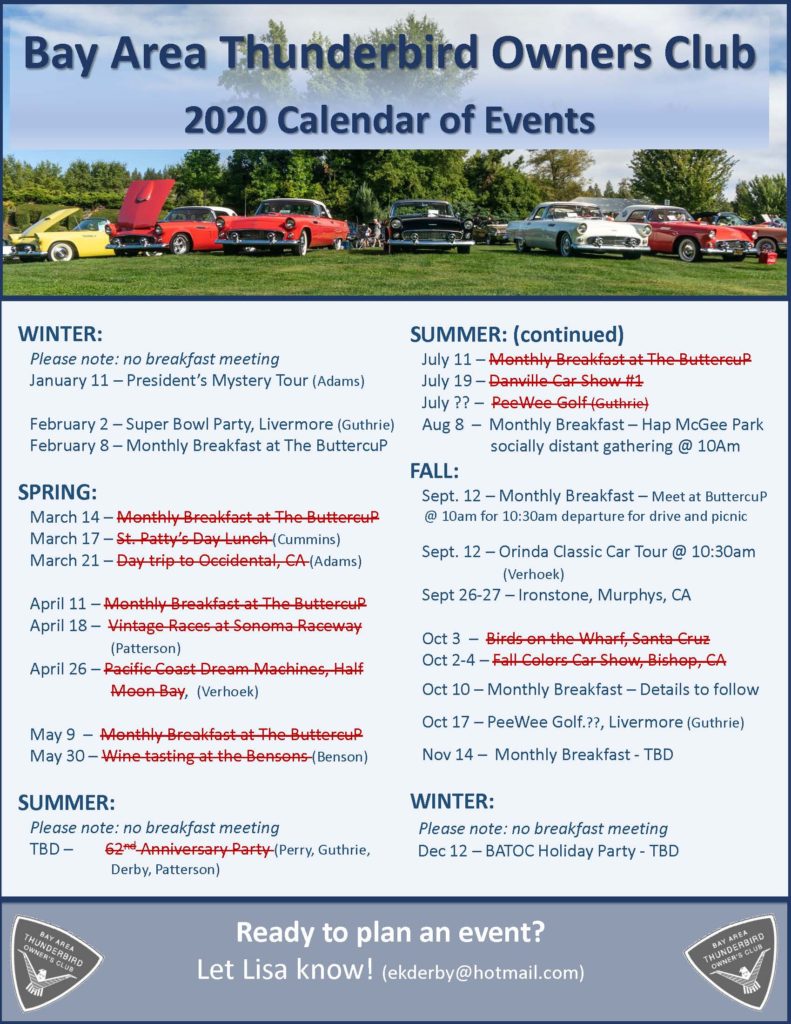 *******************
*************
April
*******************
Hello all BATOC friends,
I am sure you have already guessed this possibility but I wanted to formally let you know that the BATOC events planned for April have been canceled.
This includes the CSRG Race Day at Sonoma with the paddock parking and lap for Thunderbirds on the track, as well as the Pacific Coast Dream Machines event in Half Moon Bay.
If the CSRG event gets rescheduled we will certainly let you know.  The Pacific Coast Dream Machines will not happen again until 2021.
Until we see you again, please stay safe and take care,
Our best
Lisa and Chris
A day at the races (Patterson)
CANCELLED
Flyer: 2020 CSRG Sonoma Race Flier – PDF
Directions  – To Sears Point (Sonoma Raceway)
Websites  – Sonoma Raceway  –  CSRG
The CSDRG puts on a super Vintage Racing event here at the David Love Memorial Historic Car Races.  Lets get at least 20 of our birds to the event Close to 8:00 AM so we can all take a lap on the raceway.  Thunderbird parking reserved. Advance purchase tickets are only $14; kids, active duty military and veterans are admitted free.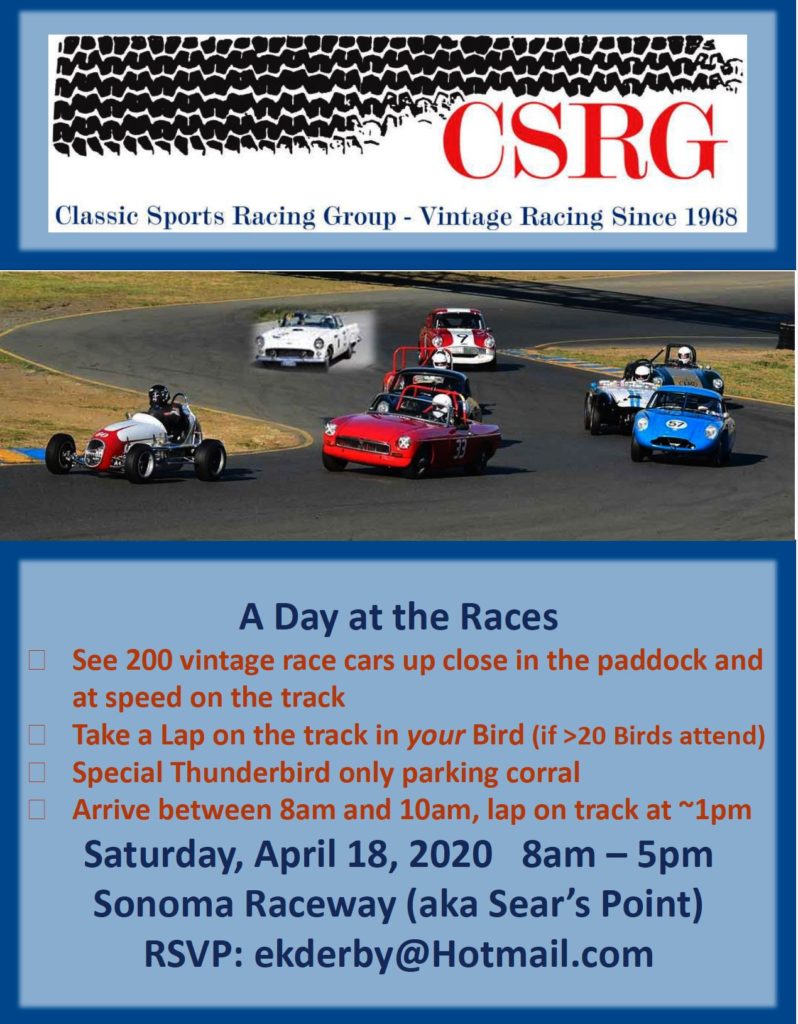 *******************
Pacific Coast Dream Machines (Verhoek)
CANCELLED
Website: CLICK HERE
Directions: CLICK HERE
Registration: CLICK HERE (then click in the green "tickets" box to go to vehicle registration)
Flyer: CLICK HERE

Half Moon Bay California's Festival of Magnificent Machines Marks 30th Year
It's quite simply the "Coolest Show on Earth". This year's spectacular 30th annual show will be held on Sunday, April 26, a one-day mega-show, from 10 a.m. to 4 p.m. at Half Moon Bay Airport.The registration fee is $40 ($50 for entries postmarked after April 15) and includes a dash plaque and admission for the registrant plus one passenger (must be together in the registered vehicle). We prefer T-Birds, but I know that others in the club have some very nice other vehicles, so go ahead and bring them. 
Web site for registration: Click Here
Click on the green "tickets" box. This will send you to the vehicle registration form.
Check-in will open at 6:30AM at Half Moon Bay Airport on the day of the show. Registrants should be in place on the field by 9:30 AM and are expected to remain on the field until 4PM. Spectators wish to see all of the machines.
Caravan information: We have to be there early and go in as a group in order to be able to park together. For those wishing to caravan, I suggest you meet at Buttercup, Walnut Creek at 6:30 AM. We will meet at Pillar Point Harbor parking lot at no later that 7:30 AM, earlier is better.
Dinner is planned after the event at the Half Moon Bay Brewing Company so I will need a head count. Please sign up if you plan to go and be sure to register your car in advance on your own.
Contact Nick Verhoek at njbrv@aol.com or phone: 510-207-5034
There are car shows, air shows, motorcycle shows, tractor shows, maker fairs, music festivals, food festivals, and living history festivals galore. Mix them all together in one venue on one day and you've got Half Moon Bay California's remarkable, one and only Pacific Coast Dream Machines Show—marking its 30th year in 2020 with a massive celebration of mechanical ingenuity, power and style.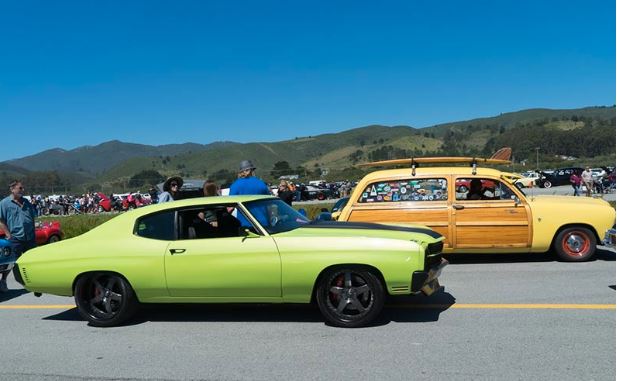 World-Class Tricked-Out Cars and Trucks, Fantastic Flying Machines, Custom Motorcycles, Quirky Contraptions, Warbird Flyovers, Dream Machine of the Year Awards, High-Flying Freestyle Motocross Stunt Shows, Quad Wars Wheel to Wheel Racing
, Monster Truck Rides, P-51 Mustang Rides, Unimotorcycle Drag Racing, Spectacular Skydiving, Special Robotics Display and Demo, Plus Bob Senz' Big Cacklefest—a Mass Firing-Up of Engines—Headline The Coolest Show on Earth, a Benefit for the Coastside Adult Day Health Center
*******************